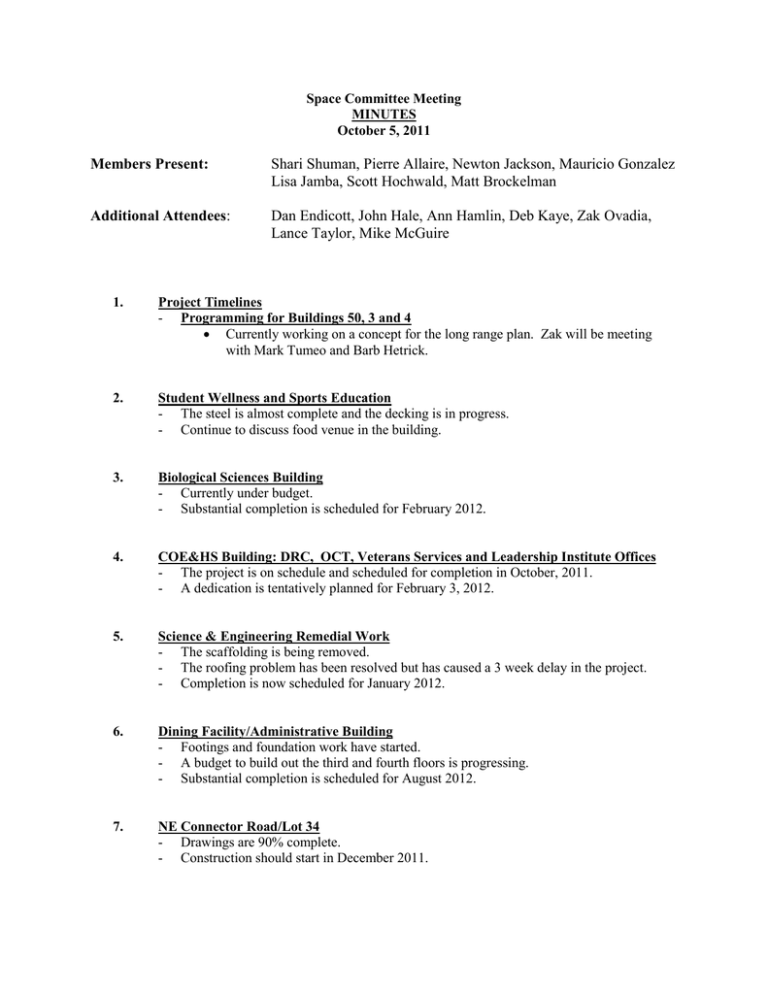 Space Committee Meeting
MINUTES
October 5, 2011
Members Present:
Shari Shuman, Pierre Allaire, Newton Jackson, Mauricio Gonzalez
Lisa Jamba, Scott Hochwald, Matt Brockelman
Additional Attendees:
Dan Endicott, John Hale, Ann Hamlin, Deb Kaye, Zak Ovadia,
Lance Taylor, Mike McGuire
1.
Project Timelines
- Programming for Buildings 50, 3 and 4
 Currently working on a concept for the long range plan. Zak will be meeting
with Mark Tumeo and Barb Hetrick.
2.
Student Wellness and Sports Education
- The steel is almost complete and the decking is in progress.
- Continue to discuss food venue in the building.
3.
Biological Sciences Building
- Currently under budget.
- Substantial completion is scheduled for February 2012.
4.
COE&HS Building: DRC, OCT, Veterans Services and Leadership Institute Offices
- The project is on schedule and scheduled for completion in October, 2011.
- A dedication is tentatively planned for February 3, 2012.
5.
Science & Engineering Remedial Work
- The scaffolding is being removed.
- The roofing problem has been resolved but has caused a 3 week delay in the project.
- Completion is now scheduled for January 2012.
6.
Dining Facility/Administrative Building
- Footings and foundation work have started.
- A budget to build out the third and fourth floors is progressing.
- Substantial completion is scheduled for August 2012.
7.
NE Connector Road/Lot 34
- Drawings are 90% complete.
- Construction should start in December 2011.
8.
Student Government Food Bank
- A food bank sponsored by the Student Government will be located in the former Bistro
space at UNF Hall. This will be an on-going drive and will be manned by Student
Government volunteers.
9.
Student Government Study Hall Space
- A study hall space will be set up in the current seating area adjacent to Sbarro in Building
8 and in the future, potentially the space occupied by Chartwells.
10.
Sanctuary Site
- A marriage renewal of vows event for UNF Alumni is being planned for the spring on the
proposed Sanctuary site.
11.
Additional Items
- Mauricio Gonzalez shared with the committee the need for space for a Confucius
Institute. One suggestion was the Veteran's space.