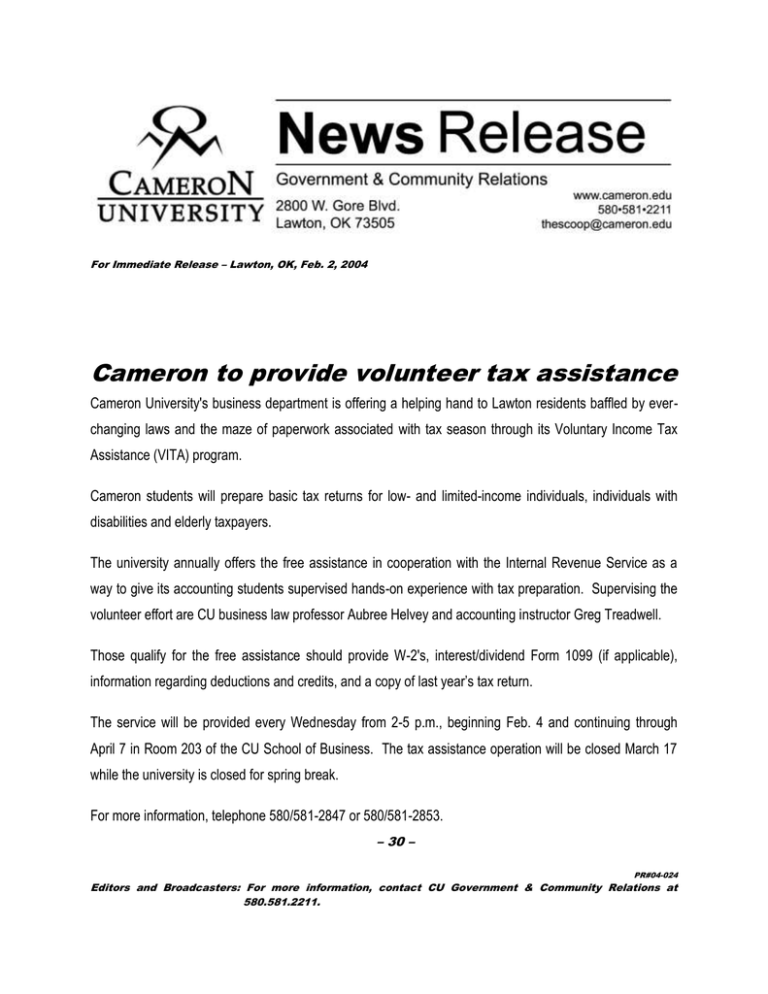 For Immediate Release – Lawton, OK, Feb. 2, 2004
Cameron to provide volunteer tax assistance
Cameron University's business department is offering a helping hand to Lawton residents baffled by everchanging laws and the maze of paperwork associated with tax season through its Voluntary Income Tax
Assistance (VITA) program.
Cameron students will prepare basic tax returns for low- and limited-income individuals, individuals with
disabilities and elderly taxpayers.
The university annually offers the free assistance in cooperation with the Internal Revenue Service as a
way to give its accounting students supervised hands-on experience with tax preparation. Supervising the
volunteer effort are CU business law professor Aubree Helvey and accounting instructor Greg Treadwell.
Those qualify for the free assistance should provide W-2's, interest/dividend Form 1099 (if applicable),
information regarding deductions and credits, and a copy of last year's tax return.
The service will be provided every Wednesday from 2-5 p.m., beginning Feb. 4 and continuing through
April 7 in Room 203 of the CU School of Business. The tax assistance operation will be closed March 17
while the university is closed for spring break.
For more information, telephone 580/581-2847 or 580/581-2853.
– 30 –
PR#04-024
Editors and Broadcasters: For more information, contact CU Government & Community Relations at
580.581.2211.