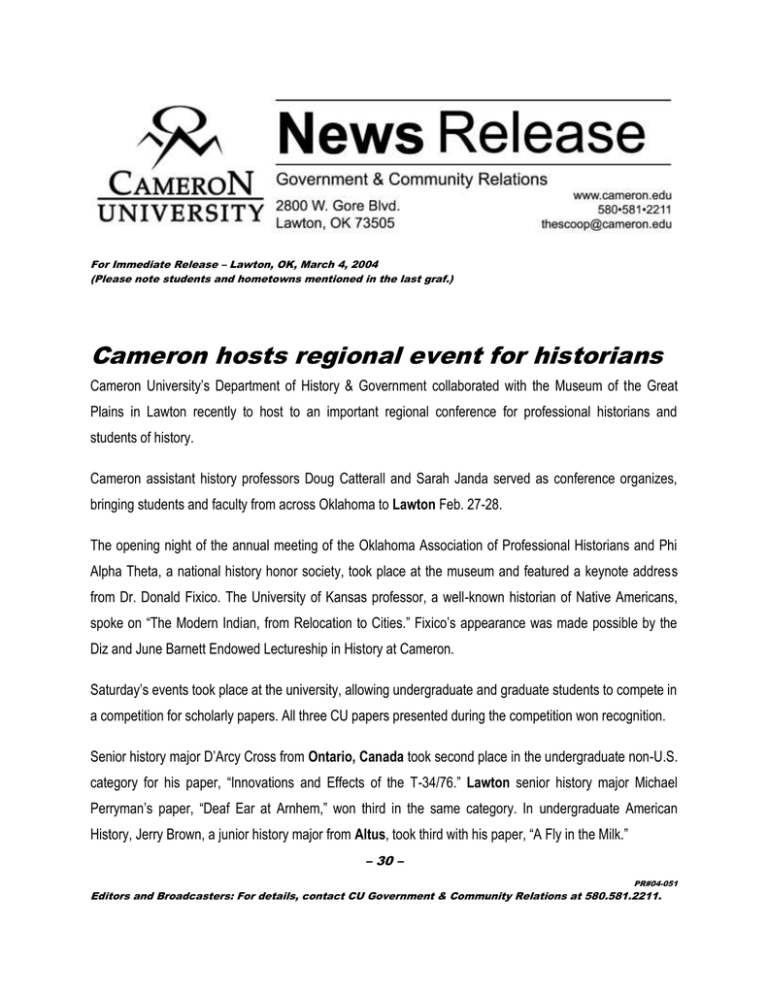 For Immediate Release – Lawton, OK, March 4, 2004
(Please note students and hometowns mentioned in the last graf.)
Cameron hosts regional event for historians
Cameron University's Department of History & Government collaborated with the Museum of the Great
Plains in Lawton recently to host to an important regional conference for professional historians and
students of history.
Cameron assistant history professors Doug Catterall and Sarah Janda served as conference organizes,
bringing students and faculty from across Oklahoma to Lawton Feb. 27-28.
The opening night of the annual meeting of the Oklahoma Association of Professional Historians and Phi
Alpha Theta, a national history honor society, took place at the museum and featured a keynote address
from Dr. Donald Fixico. The University of Kansas professor, a well-known historian of Native Americans,
spoke on "The Modern Indian, from Relocation to Cities." Fixico's appearance was made possible by the
Diz and June Barnett Endowed Lectureship in History at Cameron.
Saturday's events took place at the university, allowing undergraduate and graduate students to compete in
a competition for scholarly papers. All three CU papers presented during the competition won recognition.
Senior history major D'Arcy Cross from Ontario, Canada took second place in the undergraduate non-U.S.
category for his paper, "Innovations and Effects of the T-34/76." Lawton senior history major Michael
Perryman's paper, "Deaf Ear at Arnhem," won third in the same category. In undergraduate American
History, Jerry Brown, a junior history major from Altus, took third with his paper, "A Fly in the Milk."
– 30 –
PR#04-051
Editors and Broadcasters: For details, contact CU Government & Community Relations at 580.581.2211.