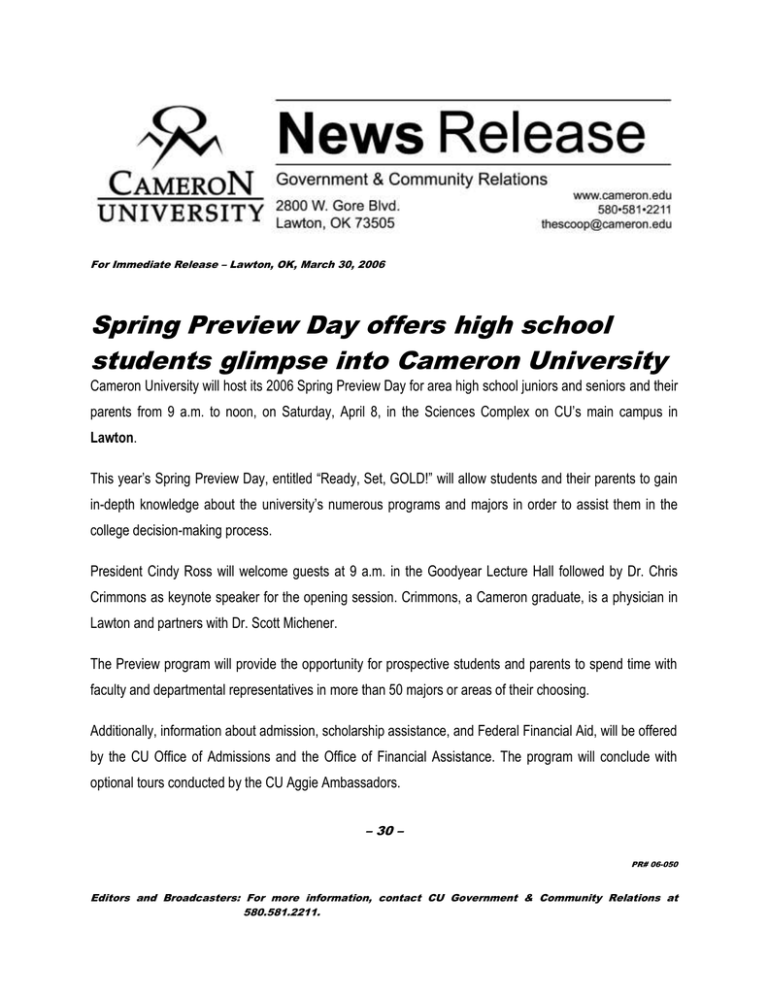 For Immediate Release – Lawton, OK, March 30, 2006
Spring Preview Day offers high school
students glimpse into Cameron University
Cameron University will host its 2006 Spring Preview Day for area high school juniors and seniors and their
parents from 9 a.m. to noon, on Saturday, April 8, in the Sciences Complex on CU's main campus in
Lawton.
This year's Spring Preview Day, entitled "Ready, Set, GOLD!" will allow students and their parents to gain
in-depth knowledge about the university's numerous programs and majors in order to assist them in the
college decision-making process.
President Cindy Ross will welcome guests at 9 a.m. in the Goodyear Lecture Hall followed by Dr. Chris
Crimmons as keynote speaker for the opening session. Crimmons, a Cameron graduate, is a physician in
Lawton and partners with Dr. Scott Michener.
The Preview program will provide the opportunity for prospective students and parents to spend time with
faculty and departmental representatives in more than 50 majors or areas of their choosing.
Additionally, information about admission, scholarship assistance, and Federal Financial Aid, will be offered
by the CU Office of Admissions and the Office of Financial Assistance. The program will conclude with
optional tours conducted by the CU Aggie Ambassadors.
– 30 –
PR# 06-050
Editors and Broadcasters: For more information, contact CU Government & Community Relations at
580.581.2211.