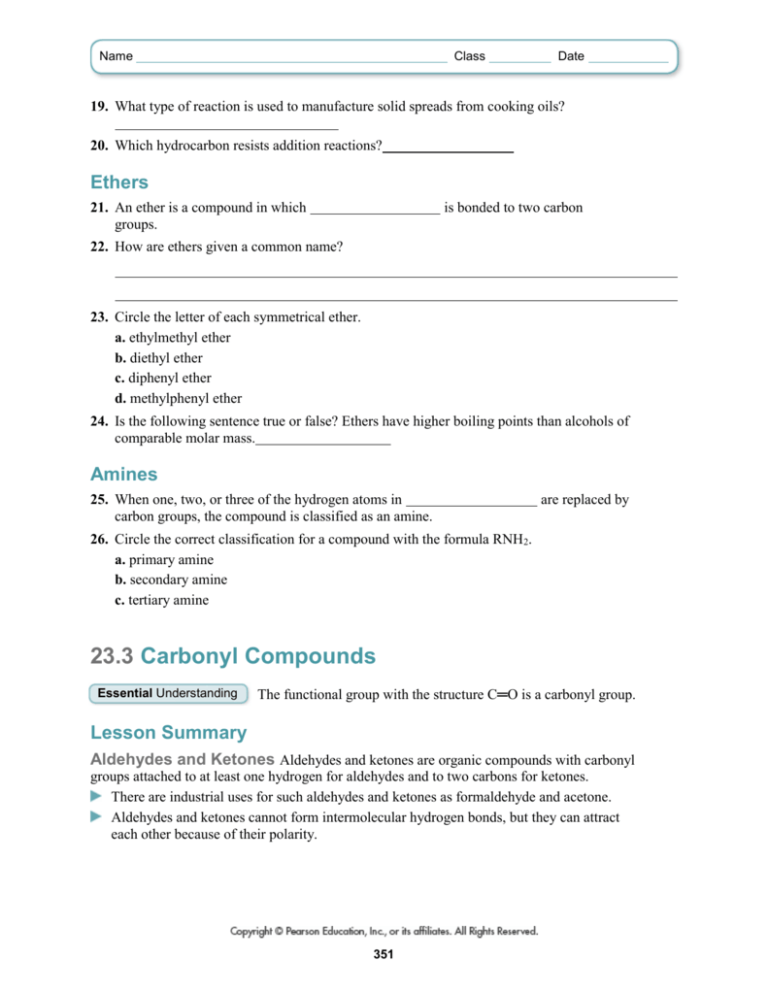 Name
Class
Date
19. What type of reaction is used to manufacture solid spreads from cooking oils?
20. Which hydrocarbon resists addition reactions?
Ethers
21. An ether is a compound in which
groups.
is bonded to two carbon
22. How are ethers given a common name?
23. Circle the letter of each symmetrical ether.
a. ethylmethyl ether
b. diethyl ether
c. diphenyl ether
d. methylphenyl ether
24. Is the following sentence true or false? Ethers have higher boiling points than alcohols of
comparable molar mass.
Amines
25. When one, two, or three of the hydrogen atoms in
carbon groups, the compound is classified as an amine.
are replaced by
26. Circle the correct classification for a compound with the formula RNH2.
a. primary amine
b. secondary amine
c. tertiary amine
23.3 Carbonyl Compounds
Essential Understanding
The functional group with the structure C═O is a carbonyl group.
Lesson Summary
Aldehydes and Ketones Aldehydes and ketones are organic compounds with carbonyl
groups attached to at least one hydrogen for aldehydes and to two carbons for ketones.
There are industrial uses for such aldehydes and ketones as formaldehyde and acetone.
Aldehydes and ketones cannot form intermolecular hydrogen bonds, but they can attract
each other because of their polarity.
351
Name
Class
Date
Carboxylic Acids A carboxylic acid is a carbonyl group with a hydroxy group attached.
Carboxylic acids are weak acids because they ionize weakly in solution.
The -e ending is dropped and -oic acid is added when naming carboxylic acids.
Carboxylic acids are abundant in nature and are found in citrus fruits and fats.
Begin with
carbonyl group
Add
General
formula
aldehyde
C═O
R and H or
H and H
RCHO
ketone
C═O
R&R
RCOR
carboxylic acid
C═O
OH
RCOOH
To make a(n)
How to name
Drop -e and add –al
Drop -e and add –one
Add number at beginning to
note position of added group
Drop -e and add -oic acid
Esters An ester is formed when the —OR group from an alcohol replaces the —OH of a
carboxyl group.
Esters are found in fruit and are used in perfumes because of their pleasant, fruity
aromas.
The general formula of an ester is RCOOR.
Esters may be prepared from a carboxylic acid and an alcohol in a process called
esterification.
After reading Lesson 23.3, complete the following questions.
Aldehydes and Ketones
1. A
oxygen atom.
consists of a carbon joined by a double bond to an
2. What is the difference between an aldehyde and a ketone?
3. What ending is used in the IUPAC system to indicate an aldehyde? A ketone?
4. Circle the letter of each statement that is true about aldehydes and ketones.
a. In an aldehyde or ketone sample, the molecules cannot form intermolecular hydrogen
bonds.
b. The molecules in an aldehyde or ketone sample do not attract each other through
polar–polar interactions.
c. Most aldehydes and ketones are gases at room temperature.
d. Aldehydes and ketones can form weak hydrogen bonds with water.
Name
Class
Date
Match the aldehyde or ketone with its use.
5. methanal
a. almond flavoring
6. propanone
b. preservative
7. benzaldehyde
c. oil of cinnamon
8. 3-phenyl-2-propenal
d. solvent
9. Aromatic aldehydes are often used as
agents.
Carboxylic Acids
10. What is a carboxyl group?
11. Is the following sentence true or false? Carboxylic acids are weak acids.
12. What ending is used under the IUPAC system to designate a carboxylic acid?
13. Carboxylic acids with three or more carbons in a straight chain are also known as
acids.
14. Complete the table about saturated aliphatic carboxylic acids.
IUPAC name
Common name
Carbon atoms
Formula
4
CH3(CH2)2COOH
Octanoic acid
CH3(CH2)6COOH
Acetic acid
Octadecanoic acid
2
Stearic acid
Esters
23. An ester is a derivative of a
substituted for the —OH.
that has an —OR
24. Write the general formula for an ester.
25. What two products are formed when an ester is hydrolyzed in the presence of a strong
acid or base?