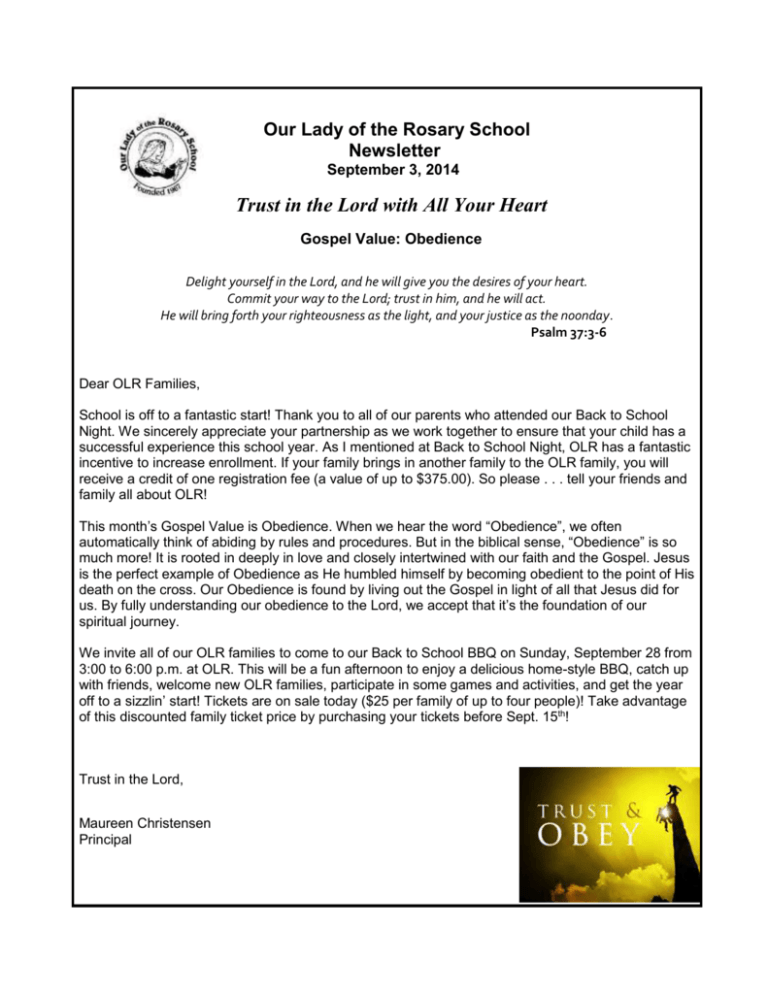 Our Lady of the Rosary School
Newsletter
September 3, 2014
Trust in the Lord with All Your Heart
Gospel Value: Obedience
Delight yourself in the Lord, and he will give you the desires of your heart.
Commit your way to the Lord; trust in him, and he will act.
He will bring forth your righteousness as the light, and your justice as the noonday.
Psalm 37:3-6
Dear OLR Families,
School is off to a fantastic start! Thank you to all of our parents who attended our Back to School
Night. We sincerely appreciate your partnership as we work together to ensure that your child has a
successful experience this school year. As I mentioned at Back to School Night, OLR has a fantastic
incentive to increase enrollment. If your family brings in another family to the OLR family, you will
receive a credit of one registration fee (a value of up to $375.00). So please . . . tell your friends and
family all about OLR!
This month's Gospel Value is Obedience. When we hear the word "Obedience", we often
automatically think of abiding by rules and procedures. But in the biblical sense, "Obedience" is so
much more! It is rooted in deeply in love and closely intertwined with our faith and the Gospel. Jesus
is the perfect example of Obedience as He humbled himself by becoming obedient to the point of His
death on the cross. Our Obedience is found by living out the Gospel in light of all that Jesus did for
us. By fully understanding our obedience to the Lord, we accept that it's the foundation of our
spiritual journey.
We invite all of our OLR families to come to our Back to School BBQ on Sunday, September 28 from
3:00 to 6:00 p.m. at OLR. This will be a fun afternoon to enjoy a delicious home-style BBQ, catch up
with friends, welcome new OLR families, participate in some games and activities, and get the year
off to a sizzlin' start! Tickets are on sale today ($25 per family of up to four people)! Take advantage
of this discounted family ticket price by purchasing your tickets before Sept. 15th!
Trust in the Lord,
Maureen Christensen
Principal
Important Dates to Remember:
September
1
No School/Labor Day
3
All School Liturgy 8:15 am; Early Dismissal 2 pm
9
Non-Uniform Free Dress (Aug/Sept Birthdays)
10
All School Liturgy 8;15 am/Early Dismissal 2 pm
11
Volunteer Meeting 6 pm/PTC Meeting 7 pm
12
Elementary Staff Day/No School
14
Catechetical Sunday 11:30 am Liturgy
15-22 IOWA Testing
17
All School Liturgy 8:15 am/School Board Meeting 7 pm
19
Faith Families Liturgy 8:15 am
24
All School Liturgy 8:15 am/Progress Reports/Early Dismissal 2 pm
25
WCEA/WASC Leadership Training #1
26
All school Liturgy 8:15 am/Denim for $$ Day (only Jeans)
28
Back to School BBQ 3 – 6 pm
30
Goal Setting Conferences/Minimum Day 12:00 pm
Information and Reminders:
School Website
Please make sure you visit our website at www.olrschool.org. You will find the weekly parent newsletter,
handbook, school calendar, teacher webpages, photos, etc. available online.
Parent/Student Handbook & Other Related Paperwork
Please sign and return the form acknowledging that you have been informed of all of our policies and
procedures. All other documents, such as Photograph/Video Authorization, Cell Phone Policy, and
Technology Policy are due back to the office this week.
Back to School BBQ Sunday, September 28, 2014 3 – 6 pm
Let's Kick Off the New School Year with a fun-filled BBQ picnic at OLR on Sunday, September 28! This
will be a great opportunity to see your old friends and welcome some new OLR friends! Enjoy a delicious
BBQ and we will have a variety of games and activities for all. See flyer for details!
Prayers Needed: Please keep these families in your prayers –the Amezquita family (Arturo-7), the
Antiporda family (Tara-6, Travis-K), and the Armstrong family (Tyler-7, Joshua-8). We pray in gratitude for
all of our OLR friends and ask God's blessings upon them for a successful school year. We pray for those
who are in need of God's assistance at this moment, including Mrs. Chu's father, Mrs. Orozco's mother,
and Ms. Christensen's father. May they put their trust in Lord and renew and strengthen their faith in Him.
Mark your calendars!
ITBS/IOWA Testing – Testing will occur from Sept. 15-23. Parents, please be reminded that all students
should be well rested, eat a healthy breakfast, and pack a nutritious snack during this week.
Back to School BBQ – Sunday, September 28 from 3 – 6 pm. Please join us for an evening of fun,
great food, & festivities.
Goal Setting Conference Week – Monday, Sept. 30 – Thurs. Oct. 3 (Min Day Dismissal) – Students
in grades 3 – 8 attend the conference with their parent(s). Parents only for K – 2 conferences.