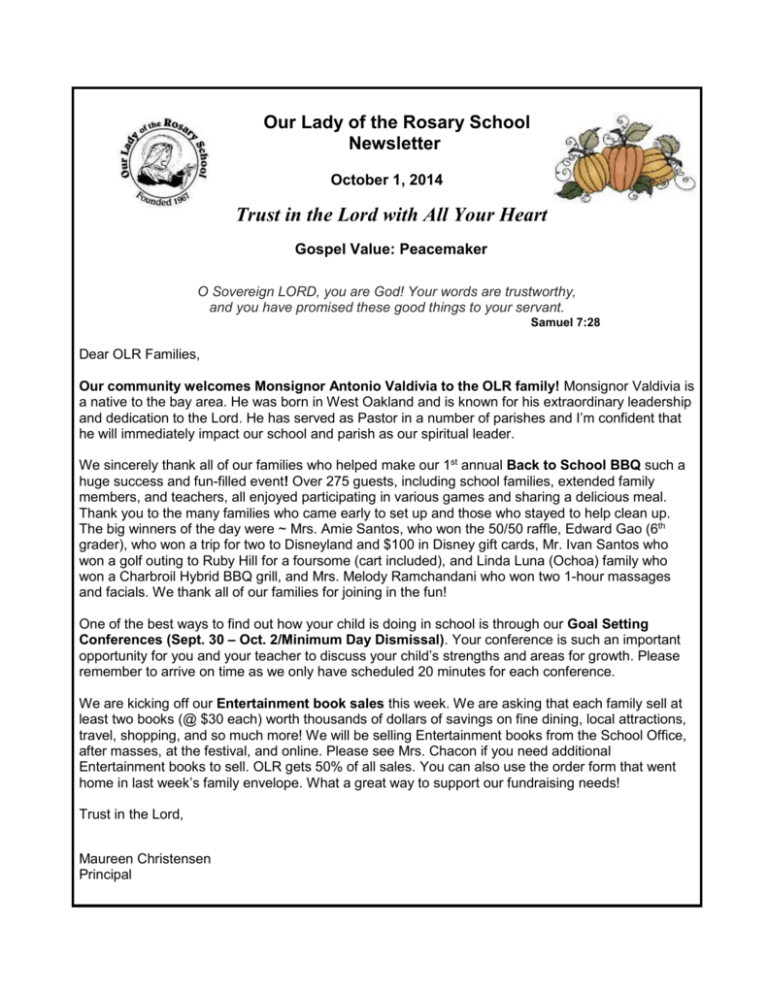 Our Lady of the Rosary School
Newsletter
October 1, 2014
Trust in the Lord with All Your Heart
Gospel Value: Peacemaker
O Sovereign LORD, you are God! Your words are trustworthy,
and you have promised these good things to your servant.
Samuel 7:28
Dear OLR Families,
Our community welcomes Monsignor Antonio Valdivia to the OLR family! Monsignor Valdivia is
a native to the bay area. He was born in West Oakland and is known for his extraordinary leadership
and dedication to the Lord. He has served as Pastor in a number of parishes and I'm confident that
he will immediately impact our school and parish as our spiritual leader.
We sincerely thank all of our families who helped make our 1st annual Back to School BBQ such a
huge success and fun-filled event! Over 275 guests, including school families, extended family
members, and teachers, all enjoyed participating in various games and sharing a delicious meal.
Thank you to the many families who came early to set up and those who stayed to help clean up.
The big winners of the day were ~ Mrs. Amie Santos, who won the 50/50 raffle, Edward Gao (6th
grader), who won a trip for two to Disneyland and $100 in Disney gift cards, Mr. Ivan Santos who
won a golf outing to Ruby Hill for a foursome (cart included), and Linda Luna (Ochoa) family who
won a Charbroil Hybrid BBQ grill, and Mrs. Melody Ramchandani who won two 1-hour massages
and facials. We thank all of our families for joining in the fun!
One of the best ways to find out how your child is doing in school is through our Goal Setting
Conferences (Sept. 30 – Oct. 2/Minimum Day Dismissal). Your conference is such an important
opportunity for you and your teacher to discuss your child's strengths and areas for growth. Please
remember to arrive on time as we only have scheduled 20 minutes for each conference.
We are kicking off our Entertainment book sales this week. We are asking that each family sell at
least two books (@ $30 each) worth thousands of dollars of savings on fine dining, local attractions,
travel, shopping, and so much more! We will be selling Entertainment books from the School Office,
after masses, at the festival, and online. Please see Mrs. Chacon if you need additional
Entertainment books to sell. OLR gets 50% of all sales. You can also use the order form that went
home in last week's family envelope. What a great way to support our fundraising needs!
Trust in the Lord,
Maureen Christensen
Principal
Important Dates to Remember:
October
1
2
3
4/5
6
7
8
10
13
Gospel Value: Peacemaker, Saint: St. Francis of Assisi, Prayer: Prayer of St. Francis
Goal Setting Conferences/Minimum Day 12:00 p.m./ELP Open
Goal Setting Conferences/Minimum Day 12:00 p.m./ELP Open
No School/Festival Set Up/No ELP
Festival
No School/Pastor's Holiday
Non-Uniform Free Dress (October Birthdays)
K-2 Field Trip to Ardenwood Historic Farm
Student Council Inauguration
Faith Family Liturgy/Raffle
Columbus Day/No School/No ELP
Information and Reminders:
Did You Know?
We are working on re-establishing the OLR School Library. We have received thousands of book donations.
These books need to be sorted for our new library. If you are interested in helping us sort books and earning
Service Hours, please contact Mrs. Orozco at corozco@csdo.org.
Did You Also Know?
OLR School purchased new classroom projectors this summer! We were able to do this because of a
generous donor who asked to remain anonymous. We thank this OLR family for making such an important
difference in our students' education. Teachers are now able to use the projectors in their daily instruction by
providing engaging lessons for students.
Our Lady of the Rosary Facebook Page:
Be sure to check out OLR's Facebook page and "like" Our Lady of the Rosary School on Facebook. We thank
Mrs. Jaime Maldonado who graciously agreed to maintain our Facebook page for us.
Friday Hot Lunch is Back!
Our Friday Hot Lunch program is back! Please complete the attached order Hot Lunch Order form so that your
child(ren) can enjoy our Friday lunch.
Annual Fund Envelopes are Due:
Parents, please return your Annual Fund envelopes this week. We have only received 25% of our Parents'
Annual Fund envelopes. Your prayers and/or monetary support is greatly appreciated.
OLR Festival Raffle – ENTER NOW TO WIN BIG!!!! This year we are holding a raffle for $1,000 off your
tuition for all OLR school families and $750 in CASH for parishioners & festival guests! Tickets are $5 each or
5 tickets for $20. Buy or sell your tickets starting today for a chance to WIN BIG!!!! The drawing will be held at
4 p.m. on Sunday, Oct. 5. You don't need to be present to win.
Prayers Needed: Please keep these families in your prayers –the Cobarrubia family (Alejandra-5), the
Corona family (Eduardo-7, Jessica-2, & Leonardo-K), and the De Araujo family (Maddie-3). We pray in
gratitude for all of our OLR families and ask God's blessings upon them for a successful school year. We pray
for those who are in need of God's assistance at this moment, including all of our family members who are ill.
May they put their trust in Lord and renew and strengthen their faith in Him.
Mark your calendars!
Goal Setting Conference Week – Monday, Sept. 30 – Thurs. Oct. 3 (Min Day Dismissal) – Students in
grades 3 – 8 attend the conference with their parent(s). Parents only for K – 2 conferences.
OLR Festival – Saturday, Oct. 4 and Sunday, Oct. 5 – Join in the fun! Raffle: $1000 off tuition or $750 CASH
Annual Halloween Parade – Friday, Oct. 31 at 11:30 a.m./Minimum Day Dismissal – Parents, please join
us for our annual Halloween parade! Students may wear costumes to school (no weapons, masks, blood, or
inappropriate "teen" costumes will be allowed). We look forward to a "Spooktacular" time!