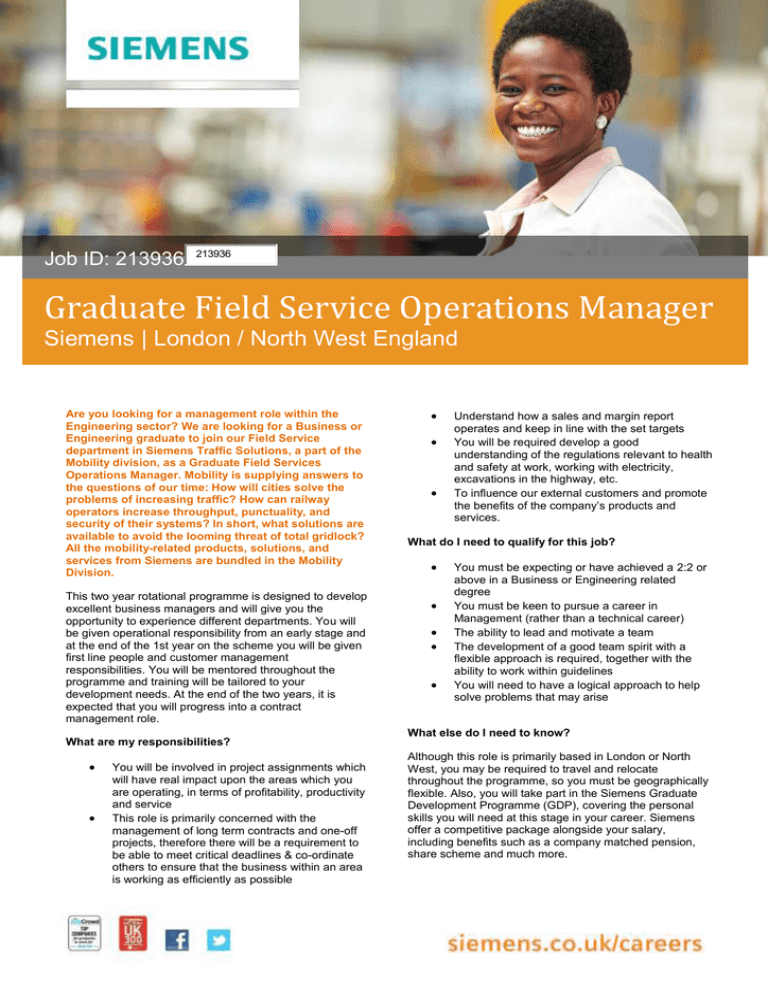 Job ID: 213936
213936
Graduate Field Service Operations Manager
Siemens | London / North West England
Are you looking for a management role within the
Engineering sector? We are looking for a Business or
Engineering graduate to join our Field Service
department in Siemens Traffic Solutions, a part of the
Mobility division, as a Graduate Field Services
Operations Manager. Mobility is supplying answers to
the questions of our time: How will cities solve the
problems of increasing traffic? How can railway
operators increase throughput, punctuality, and
security of their systems? In short, what solutions are
available to avoid the looming threat of total gridlock?
All the mobility-related products, solutions, and
services from Siemens are bundled in the Mobility
Division.
This two year rotational programme is designed to develop
excellent business managers and will give you the
opportunity to experience different departments. You will
be given operational responsibility from an early stage and
at the end of the 1st year on the scheme you will be given
first line people and customer management
responsibilities. You will be mentored throughout the
programme and training will be tailored to your
development needs. At the end of the two years, it is
expected that you will progress into a contract
management role.
What are my responsibilities?


You will be involved in project assignments which
will have real impact upon the areas which you
are operating, in terms of profitability, productivity
and service
This role is primarily concerned with the
management of long term contracts and one-off
projects, therefore there will be a requirement to
be able to meet critical deadlines & co-ordinate
others to ensure that the business within an area
is working as efficiently as possible



Understand how a sales and margin report
operates and keep in line with the set targets
You will be required develop a good
understanding of the regulations relevant to health
and safety at work, working with electricity,
excavations in the highway, etc.
To influence our external customers and promote
the benefits of the company's products and
services.
What do I need to qualify for this job?





You must be expecting or have achieved a 2:2 or
above in a Business or Engineering related
degree
You must be keen to pursue a career in
Management (rather than a technical career)
The ability to lead and motivate a team
The development of a good team spirit with a
flexible approach is required, together with the
ability to work within guidelines
You will need to have a logical approach to help
solve problems that may arise
What else do I need to know?
Although this role is primarily based in London or North
West, you may be required to travel and relocate
throughout the programme, so you must be geographically
flexible. Also, you will take part in the Siemens Graduate
Development Programme (GDP), covering the personal
skills you will need at this stage in your career. Siemens
offer a competitive package alongside your salary,
including benefits such as a company matched pension,
share scheme and much more.