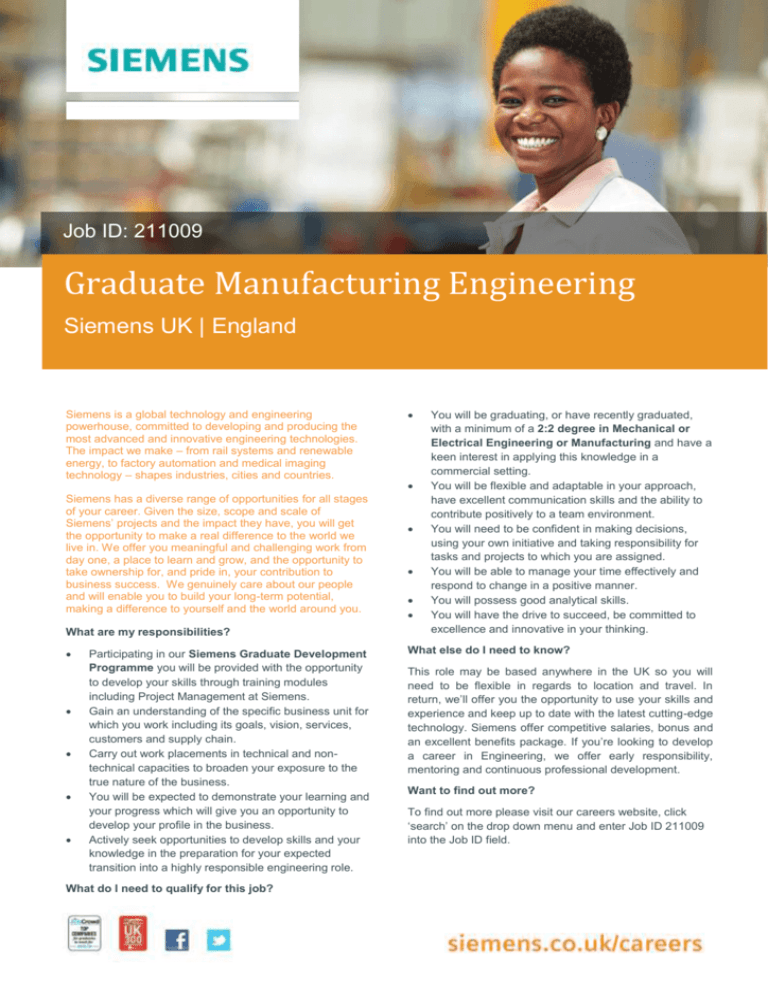 Job ID: 211009
Graduate Manufacturing Engineering
Siemens UK | England
Siemens is a global technology and engineering
powerhouse, committed to developing and producing the
most advanced and innovative engineering technologies.
The impact we make – from rail systems and renewable
energy, to factory automation and medical imaging
technology – shapes industries, cities and countries.
Siemens has a diverse range of opportunities for all stages
of your career. Given the size, scope and scale of
Siemens' projects and the impact they have, you will get
the opportunity to make a real difference to the world we
live in. We offer you meaningful and challenging work from
day one, a place to learn and grow, and the opportunity to
take ownership for, and pride in, your contribution to
business success. We genuinely care about our people
and will enable you to build your long-term potential,
making a difference to yourself and the world around you.
What are my responsibilities?





Participating in our Siemens Graduate Development
Programme you will be provided with the opportunity
to develop your skills through training modules
including Project Management at Siemens.
Gain an understanding of the specific business unit for
which you work including its goals, vision, services,
customers and supply chain.
Carry out work placements in technical and nontechnical capacities to broaden your exposure to the
true nature of the business.
You will be expected to demonstrate your learning and
your progress which will give you an opportunity to
develop your profile in the business.
Actively seek opportunities to develop skills and your
knowledge in the preparation for your expected
transition into a highly responsible engineering role.
What do I need to qualify for this job?






You will be graduating, or have recently graduated,
with a minimum of a 2:2 degree in Mechanical or
Electrical Engineering or Manufacturing and have a
keen interest in applying this knowledge in a
commercial setting.
You will be flexible and adaptable in your approach,
have excellent communication skills and the ability to
contribute positively to a team environment.
You will need to be confident in making decisions,
using your own initiative and taking responsibility for
tasks and projects to which you are assigned.
You will be able to manage your time effectively and
respond to change in a positive manner.
You will possess good analytical skills.
You will have the drive to succeed, be committed to
excellence and innovative in your thinking.
What else do I need to know?
This role may be based anywhere in the UK so you will
need to be flexible in regards to location and travel. In
return, we'll offer you the opportunity to use your skills and
experience and keep up to date with the latest cutting-edge
technology. Siemens offer competitive salaries, bonus and
an excellent benefits package. If you're looking to develop
a career in Engineering, we offer early responsibility,
mentoring and continuous professional development.
Want to find out more?
To find out more please visit our careers website, click
'search' on the drop down menu and enter Job ID 211009
into the Job ID field.