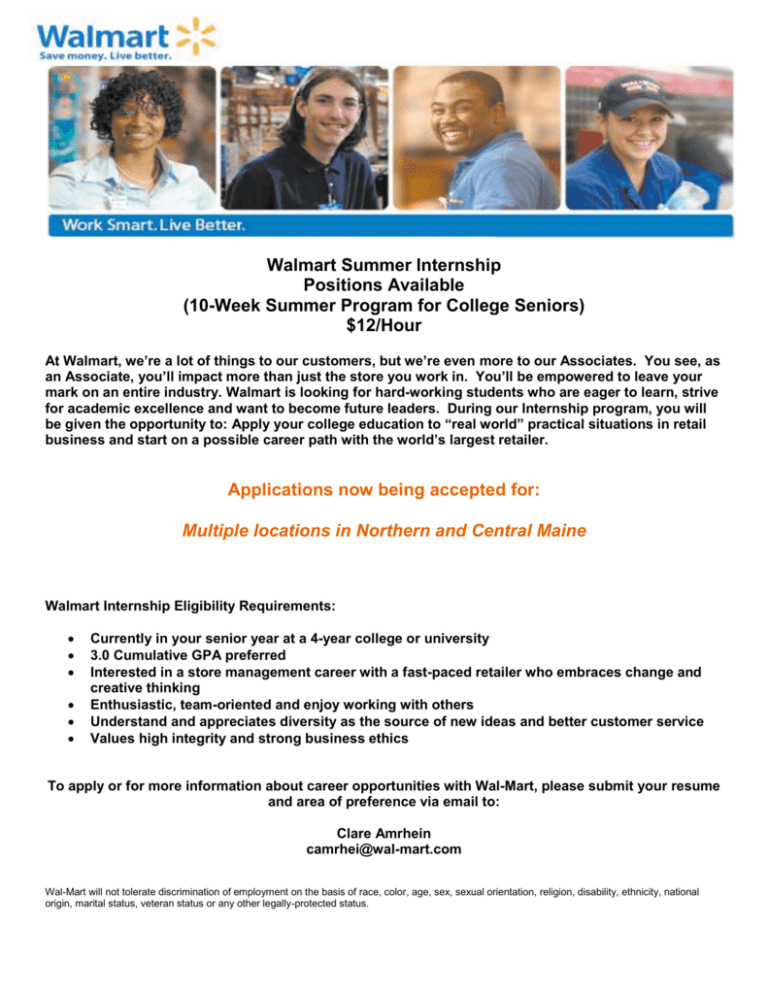 Walmart Summer Internship
Positions Available
(10-Week Summer Program for College Seniors)
$12/Hour
At Walmart, we're a lot of things to our customers, but we're even more to our Associates. You see, as
an Associate, you'll impact more than just the store you work in. You'll be empowered to leave your
mark on an entire industry. Walmart is looking for hard-working students who are eager to learn, strive
for academic excellence and want to become future leaders. During our Internship program, you will
be given the opportunity to: Apply your college education to "real world" practical situations in retail
business and start on a possible career path with the world's largest retailer.
Applications now being accepted for:
Multiple locations in Northern and Central Maine
Walmart Internship Eligibility Requirements:






Currently in your senior year at a 4-year college or university
3.0 Cumulative GPA preferred
Interested in a store management career with a fast-paced retailer who embraces change and
creative thinking
Enthusiastic, team-oriented and enjoy working with others
Understand and appreciates diversity as the source of new ideas and better customer service
Values high integrity and strong business ethics
To apply or for more information about career opportunities with Wal-Mart, please submit your resume
and area of preference via email to:
Clare Amrhein
camrhei@wal-mart.com
Wal-Mart will not tolerate discrimination of employment on the basis of race, color, age, sex, sexual orientation, religion, disability, ethnicity, national
origin, marital status, veteran status or any other legally-protected status.