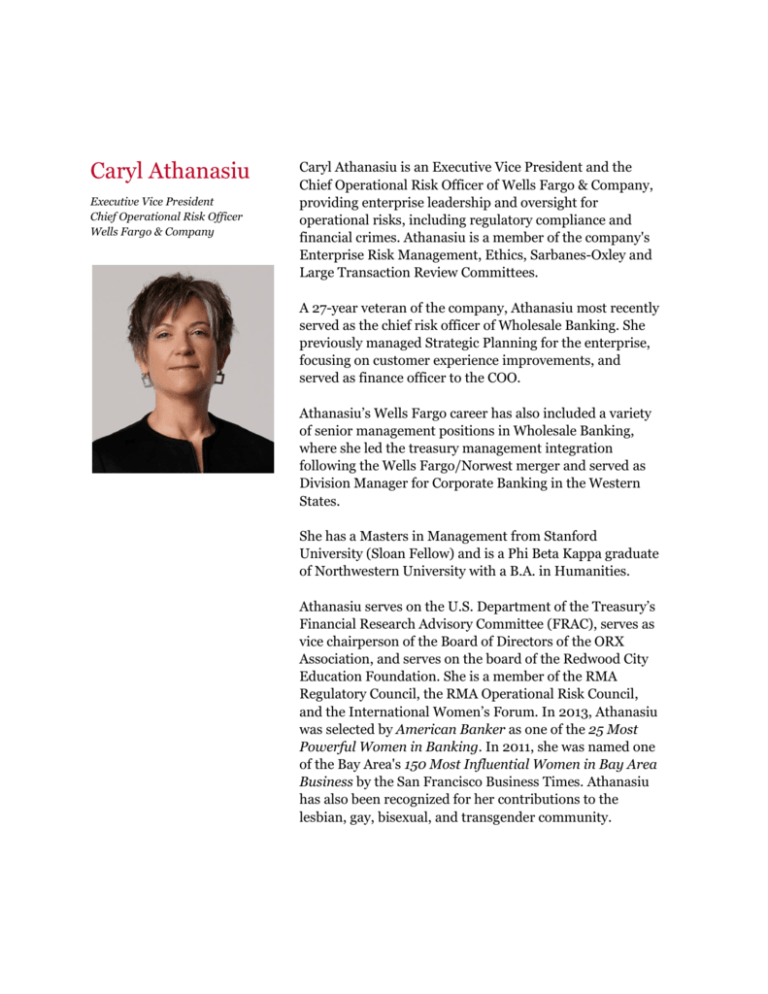 Caryl Athanasiu
Executive Vice President
Chief Operational Risk Officer
Wells Fargo & Company
Caryl Athanasiu is an Executive Vice President and the
Chief Operational Risk Officer of Wells Fargo & Company,
providing enterprise leadership and oversight for
operational risks, including regulatory compliance and
financial crimes. Athanasiu is a member of the company's
Enterprise Risk Management, Ethics, Sarbanes-Oxley and
Large Transaction Review Committees.
A 27-year veteran of the company, Athanasiu most recently
served as the chief risk officer of Wholesale Banking. She
previously managed Strategic Planning for the enterprise,
focusing on customer experience improvements, and
served as finance officer to the COO.
Athanasiu's Wells Fargo career has also included a variety
of senior management positions in Wholesale Banking,
where she led the treasury management integration
following the Wells Fargo/Norwest merger and served as
Division Manager for Corporate Banking in the Western
States.
She has a Masters in Management from Stanford
University (Sloan Fellow) and is a Phi Beta Kappa graduate
of Northwestern University with a B.A. in Humanities.
Athanasiu serves on the U.S. Department of the Treasury's
Financial Research Advisory Committee (FRAC), serves as
vice chairperson of the Board of Directors of the ORX
Association, and serves on the board of the Redwood City
Education Foundation. She is a member of the RMA
Regulatory Council, the RMA Operational Risk Council,
and the International Women's Forum. In 2013, Athanasiu
was selected by American Banker as one of the 25 Most
Powerful Women in Banking. In 2011, she was named one
of the Bay Area's 150 Most Influential Women in Bay Area
Business by the San Francisco Business Times. Athanasiu
has also been recognized for her contributions to the
lesbian, gay, bisexual, and transgender community.