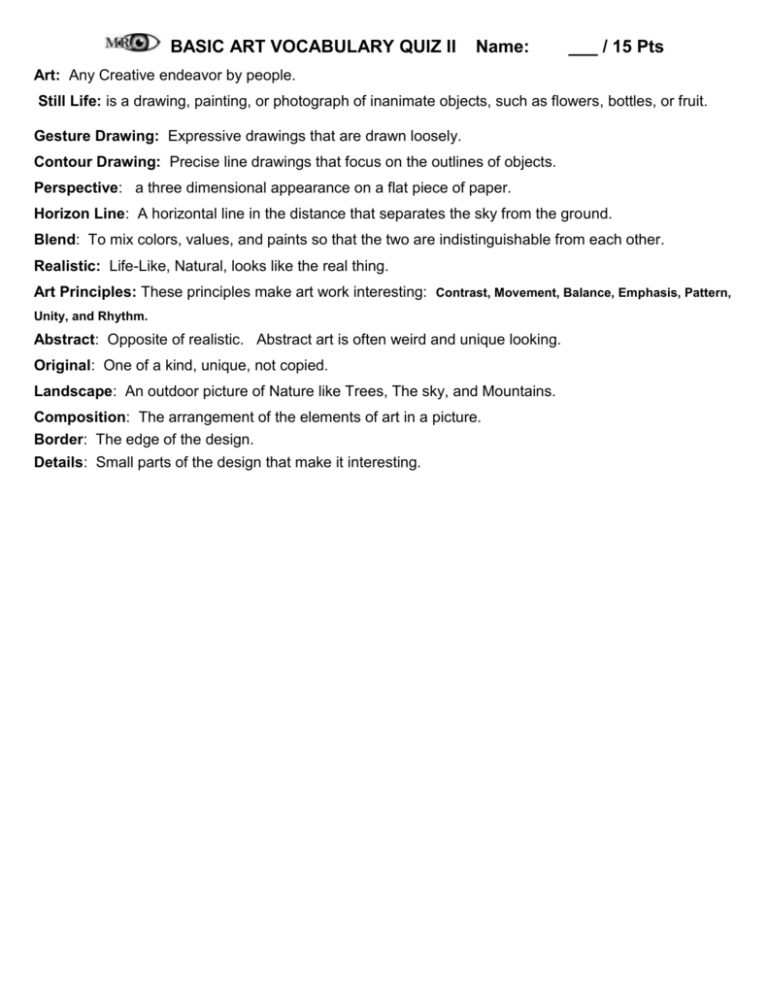 BASIC ART VOCABULARY QUIZ II
Name:
___ / 15 Pts
Art: Any Creative endeavor by people.
Still Life: is a drawing, painting, or photograph of inanimate objects, such as flowers, bottles, or fruit.
Gesture Drawing: Expressive drawings that are drawn loosely.
Contour Drawing: Precise line drawings that focus on the outlines of objects.
Perspective: a three dimensional appearance on a flat piece of paper.
Horizon Line: A horizontal line in the distance that separates the sky from the ground.
Blend: To mix colors, values, and paints so that the two are indistinguishable from each other.
Realistic: Life-Like, Natural, looks like the real thing.
Art Principles: These principles make art work interesting: Contrast, Movement, Balance, Emphasis, Pattern,
Unity, and Rhythm.
Abstract: Opposite of realistic. Abstract art is often weird and unique looking.
Original: One of a kind, unique, not copied.
Landscape: An outdoor picture of Nature like Trees, The sky, and Mountains.
Composition: The arrangement of the elements of art in a picture.
Border: The edge of the design.
Details: Small parts of the design that make it interesting.