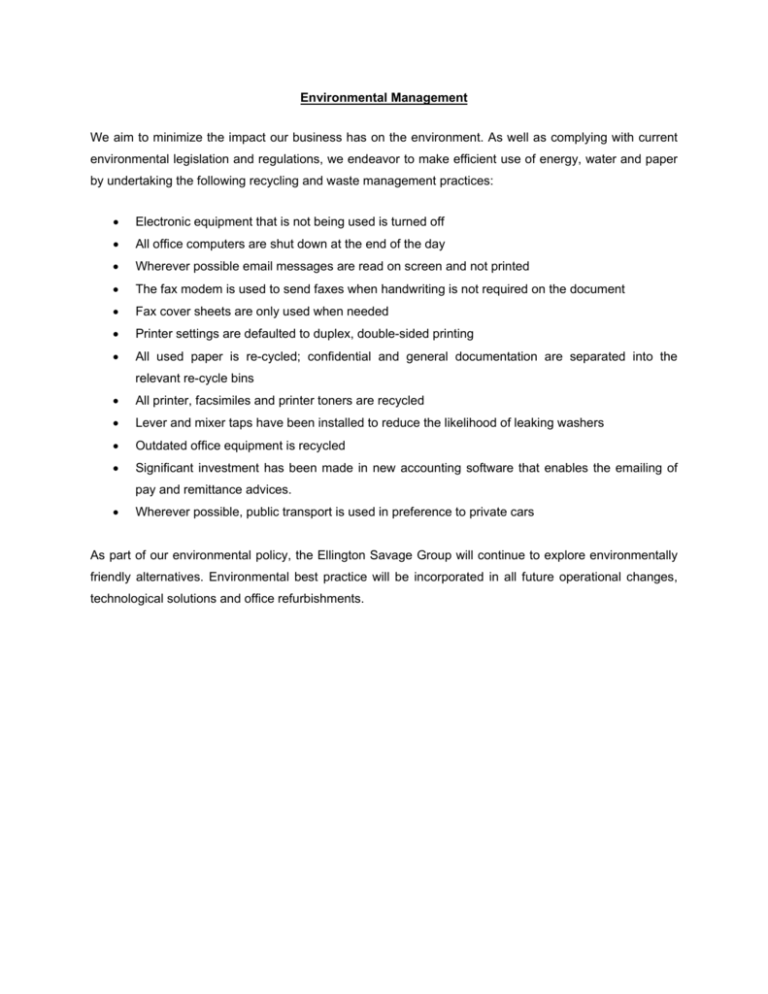 Environmental Management
We aim to minimize the impact our business has on the environment. As well as complying with current
environmental legislation and regulations, we endeavor to make efficient use of energy, water and paper
by undertaking the following recycling and waste management practices:
•
Electronic equipment that is not being used is turned off
•
All office computers are shut down at the end of the day
•
Wherever possible email messages are read on screen and not printed
•
The fax modem is used to send faxes when handwriting is not required on the document
•
Fax cover sheets are only used when needed
•
Printer settings are defaulted to duplex, double-sided printing
•
All used paper is re-cycled; confidential and general documentation are separated into the
relevant re-cycle bins
•
All printer, facsimiles and printer toners are recycled
•
Lever and mixer taps have been installed to reduce the likelihood of leaking washers
•
Outdated office equipment is recycled
•
Significant investment has been made in new accounting software that enables the emailing of
pay and remittance advices.
•
Wherever possible, public transport is used in preference to private cars
As part of our environmental policy, the Ellington Savage Group will continue to explore environmentally
friendly alternatives. Environmental best practice will be incorporated in all future operational changes,
technological solutions and office refurbishments.