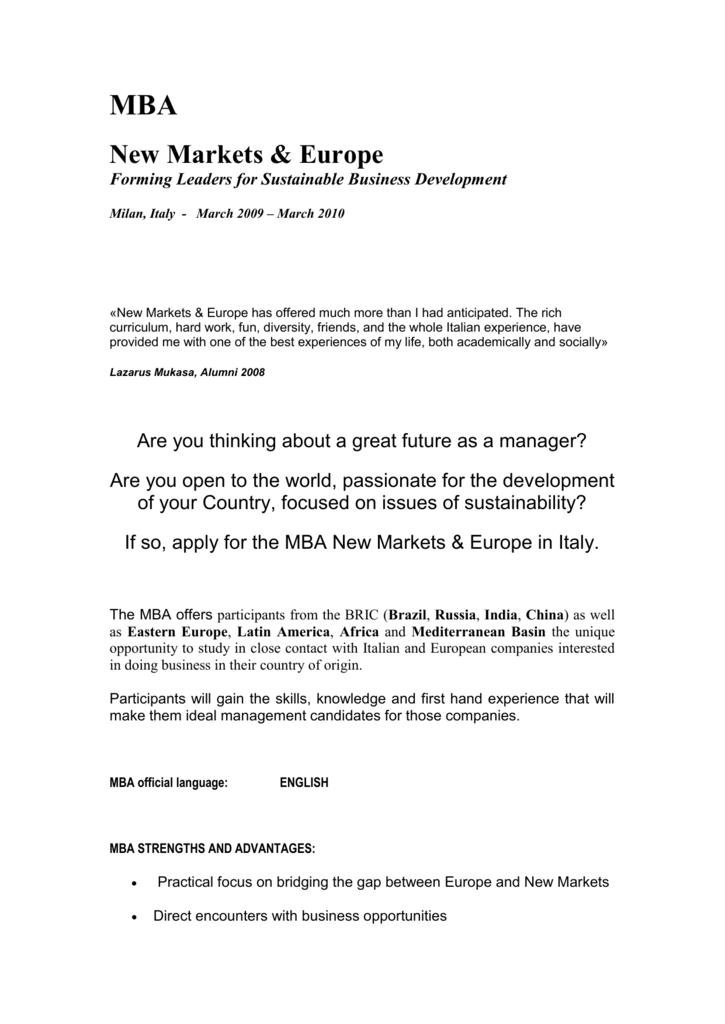 MBA
New Markets & Europe
Forming Leaders for Sustainable Business Development
Milan, Italy - March 2009 – March 2010
«New Markets & Europe has offered much more than I had anticipated. The rich
curriculum, hard work, fun, diversity, friends, and the whole Italian experience, have
provided me with one of the best experiences of my life, both academically and socially»
Lazarus Mukasa, Alumni 2008
Are you thinking about a great future as a manager?
Are you open to the world, passionate for the development
of your Country, focused on issues of sustainability?
If so, apply for the MBA New Markets & Europe in Italy.
The MBA offers participants from the BRIC (Brazil, Russia, India, China) as well
as Eastern Europe, Latin America, Africa and Mediterranean Basin the unique
opportunity to study in close contact with Italian and European companies interested
in doing business in their country of origin.
Participants will gain the skills, knowledge and first hand experience that will
make them ideal management candidates for those companies.
MBA official language:
ENGLISH
MBA STRENGTHS AND ADVANTAGES:


Practical focus on bridging the gap between Europe and New Markets
Direct encounters with business opportunities


Emphasis on sustainable dimension of business
Action project designed to create a career path tailored for each
participant.
The MBA is organized by Università Cattolica del Sacro Cuore–ALTIS, Postgraduate School Business
& Society.
MORE INFO ABOUT the MBA:
website: www.unicatt.it/MBA
MBA brochure: http://altis.unicatt.it/allegati/MBA-brochure-DEF-080710.pdf
do you still have other questions?
Contact: [email protected] . She will be back to you as soon as possible as of September 1, 2008.