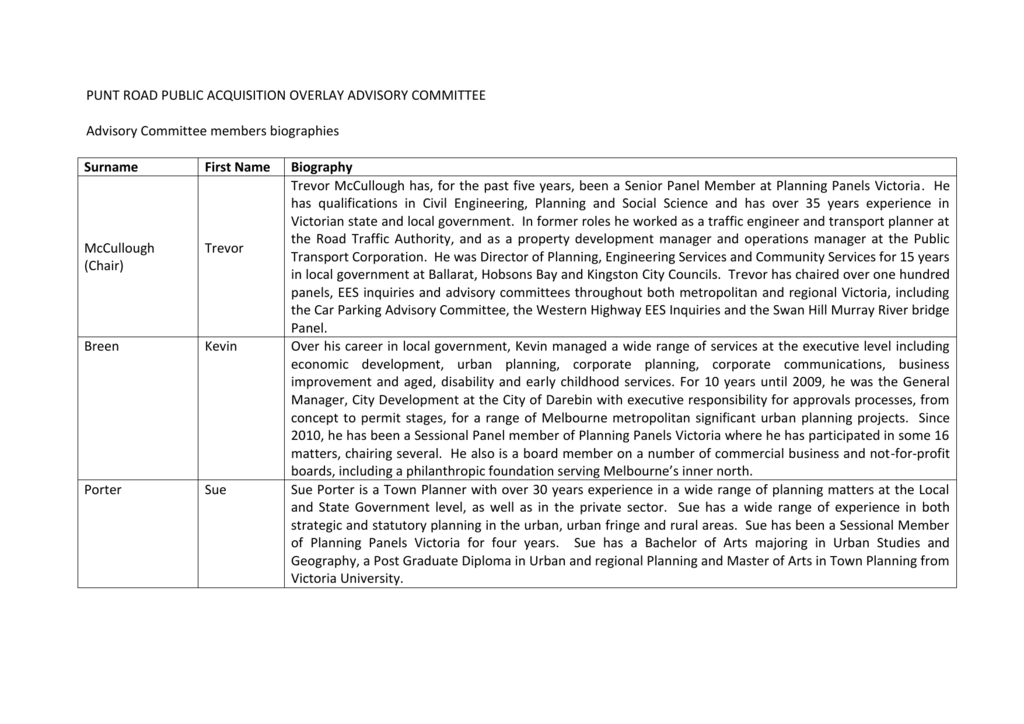 PUNT ROAD PUBLIC ACQUISITION OVERLAY ADVISORY COMMITTEE
Advisory Committee members biographies
Surname
First Name
McCullough
(Chair)
Trevor
Breen
Kevin
Porter
Sue
Biography
Trevor McCullough has, for the past five years, been a Senior Panel Member at Planning Panels Victoria. He
has qualifications in Civil Engineering, Planning and Social Science and has over 35 years experience in
Victorian state and local government. In former roles he worked as a traffic engineer and transport planner at
the Road Traffic Authority, and as a property development manager and operations manager at the Public
Transport Corporation. He was Director of Planning, Engineering Services and Community Services for 15 years
in local government at Ballarat, Hobsons Bay and Kingston City Councils. Trevor has chaired over one hundred
panels, EES inquiries and advisory committees throughout both metropolitan and regional Victoria, including
the Car Parking Advisory Committee, the Western Highway EES Inquiries and the Swan Hill Murray River bridge
Panel.
Over his career in local government, Kevin managed a wide range of services at the executive level including
economic development, urban planning, corporate planning, corporate communications, business
improvement and aged, disability and early childhood services. For 10 years until 2009, he was the General
Manager, City Development at the City of Darebin with executive responsibility for approvals processes, from
concept to permit stages, for a range of Melbourne metropolitan significant urban planning projects. Since
2010, he has been a Sessional Panel member of Planning Panels Victoria where he has participated in some 16
matters, chairing several. He also is a board member on a number of commercial business and not-for-profit
boards, including a philanthropic foundation serving Melbourne's inner north.
Sue Porter is a Town Planner with over 30 years experience in a wide range of planning matters at the Local
and State Government level, as well as in the private sector. Sue has a wide range of experience in both
strategic and statutory planning in the urban, urban fringe and rural areas. Sue has been a Sessional Member
of Planning Panels Victoria for four years. Sue has a Bachelor of Arts majoring in Urban Studies and
Geography, a Post Graduate Diploma in Urban and regional Planning and Master of Arts in Town Planning from
Victoria University.
Turnbull
Henry
Henry Turnbull is a consulting transport planner & traffic engineer with formal qualifications in Civil
Engineering. He started his career with the former Country Roads Board (VicRoads) and has for the past 25
years run a major traffic engineering consulting firm. Henry has been a Sessional Panel Member since 1982.
Major recent appointments include the Barwon Heads Bridge Refurbishment and Frankston Bypass (Peninsula
Link) Advisory Committees and the Armstrong Creek Panels and Advisory Committees. Henry is a former
President and Life Fellow of the Victorian Planning and Environmental Law Association, a former Shire
President of the Shire of Euroa. Henry was a member of the previous Car Parking (Review of Clause 52-06)
Advisory Committee.