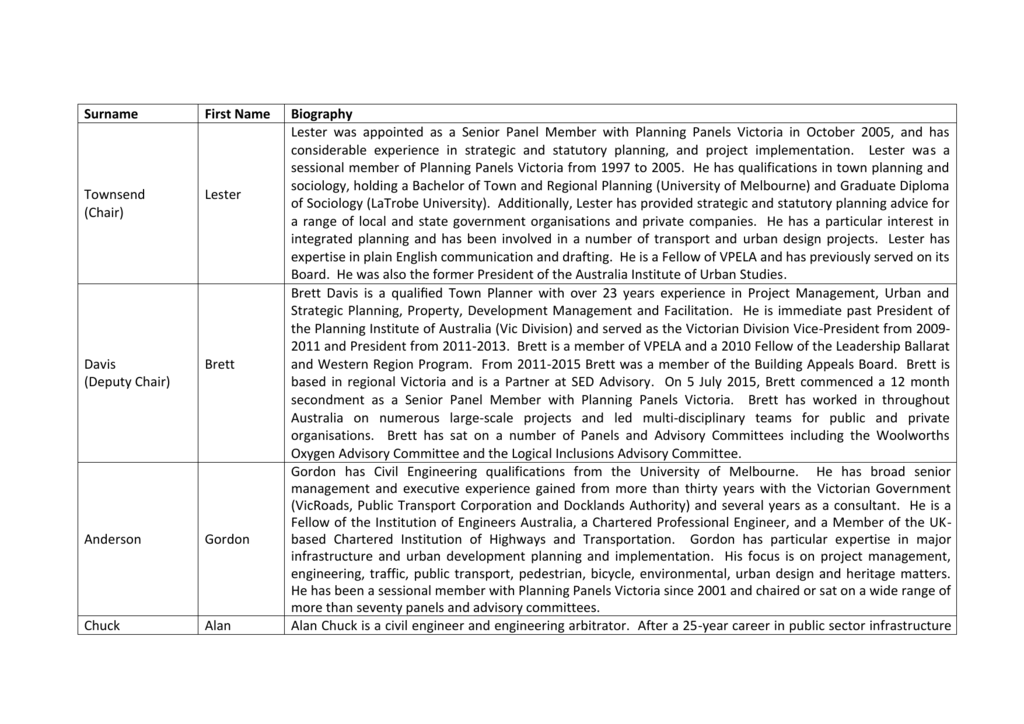 Surname
First Name
Townsend
(Chair)
Lester
Davis
(Deputy Chair)
Brett
Anderson
Gordon
Chuck
Alan
Biography
Lester was appointed as a Senior Panel Member with Planning Panels Victoria in October 2005, and has
considerable experience in strategic and statutory planning, and project implementation. Lester was a
sessional member of Planning Panels Victoria from 1997 to 2005. He has qualifications in town planning and
sociology, holding a Bachelor of Town and Regional Planning (University of Melbourne) and Graduate Diploma
of Sociology (LaTrobe University). Additionally, Lester has provided strategic and statutory planning advice for
a range of local and state government organisations and private companies. He has a particular interest in
integrated planning and has been involved in a number of transport and urban design projects. Lester has
expertise in plain English communication and drafting. He is a Fellow of VPELA and has previously served on its
Board. He was also the former President of the Australia Institute of Urban Studies.
Brett Davis is a qualified Town Planner with over 23 years experience in Project Management, Urban and
Strategic Planning, Property, Development Management and Facilitation. He is immediate past President of
the Planning Institute of Australia (Vic Division) and served as the Victorian Division Vice-President from 20092011 and President from 2011-2013. Brett is a member of VPELA and a 2010 Fellow of the Leadership Ballarat
and Western Region Program. From 2011-2015 Brett was a member of the Building Appeals Board. Brett is
based in regional Victoria and is a Partner at SED Advisory. On 5 July 2015, Brett commenced a 12 month
secondment as a Senior Panel Member with Planning Panels Victoria. Brett has worked in throughout
Australia on numerous large-scale projects and led multi-disciplinary teams for public and private
organisations. Brett has sat on a number of Panels and Advisory Committees including the Woolworths
Oxygen Advisory Committee and the Logical Inclusions Advisory Committee.
Gordon has Civil Engineering qualifications from the University of Melbourne. He has broad senior
management and executive experience gained from more than thirty years with the Victorian Government
(VicRoads, Public Transport Corporation and Docklands Authority) and several years as a consultant. He is a
Fellow of the Institution of Engineers Australia, a Chartered Professional Engineer, and a Member of the UKbased Chartered Institution of Highways and Transportation. Gordon has particular expertise in major
infrastructure and urban development planning and implementation. His focus is on project management,
engineering, traffic, public transport, pedestrian, bicycle, environmental, urban design and heritage matters.
He has been a sessional member with Planning Panels Victoria since 2001 and chaired or sat on a wide range of
more than seventy panels and advisory committees.
Alan Chuck is a civil engineer and engineering arbitrator. After a 25-year career in public sector infrastructure
Collins
John
Elliott
Mandy
Sweeney
Lynn
projects, both in Australia and overseas, he now runs his own practice in Ashburton. He is a Sessional Member
of the Victorian Civil and Administrative Tribunal, serving mainly on the Planning and Environment List. He has
been a Sessional Member of Planning Panels Victoria since 2003.
John has over forty years experience in management and management review roles in the public sector with
both State and Commonwealth agencies. His main areas of expertise are in the fields of urban and regional
planning, housing policy, public utilities, environmental management and the planning and evaluation of
government agency programs. His experience includes five years periods responsible for strategic planning for
the Sydney greater metropolitan region (Sydney, Newcastle, the Central Coast and Illawarra) and subsequently
for Melbourne and regional Victoria.
Mandy Elliott has qualifications in social science, applied science (environmental management) and
environmental law. Mandy is a Principal Environmental Scientist with over 17 years of professional experience
in both the private (consulting) and public sector, including ten years at the Department of Planning and
Community Development within the Environmental Assessment Unit. Mandy's key role at DPCD was to
manage large private and public projects that required environmental impact assessment under the
Environment Effects Act 1978. From February 2010 Mandy has been working in the private sector as a
Principal Environmental Scientist, based in the Geelong region and as Director of EnviroME Pty Ltd. As a
consultant, Mandy has undertaken projects for and provided advice to State Government Agencies and a range
of private clients. Mandy has credentials in Environmental Impact Assessment in Australia and is co-Author of
Environmental Impact Assessment in Australia: Theory and Practice 5th Ed. (February 2009). Mandy is a
Certified Environmental Practitioner (Impact Assessment Specialist) under the Environment Institute of
Australia and New Zealand's certified environmental practitioner scheme.
Lynn is a Strategic Planner with 25 years experience working with local government and the development
industry to plan successful urban development through effective strategic planning, social planning and
community engagement. She has extensive experience in managing planning issues in inner Melbourne and
has strong project management, research and policy analysis skills. Lynn was appointed as a Sessional Member
of Planning Panels Victoria in 2013. She is a clear communicator committed to working with the community to
improve understanding, listening to input, ideas and reporting to reach optimal outcomes.