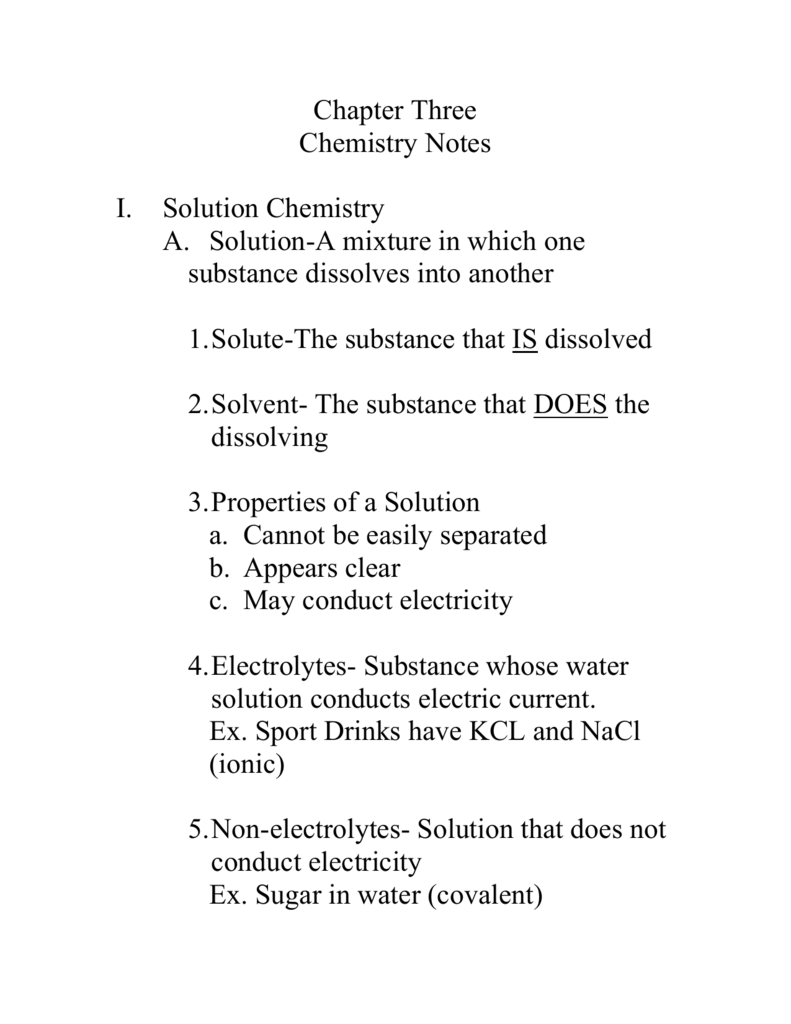 Chapter Three
Chemistry Notes
I.
Solution Chemistry
A. Solution-A mixture in which one
substance dissolves into another
1. Solute-The substance that IS dissolved
2. Solvent- The substance that DOES the
dissolving
3. Properties of a Solution
a. Cannot be easily separated
b. Appears clear
c. May conduct electricity
4. Electrolytes- Substance whose water
solution conducts electric current.
Ex. Sport Drinks have KCL and NaCl
(ionic)
5. Non-electrolytes- Solution that does not
conduct electricity
Ex. Sugar in water (covalent)
B. Types of solutions
Solute Solvent ExampleGas
Gas
Air ( O in N)
Gas
Liquid Soda water (CO2 in H2O)
Gas
Solid
Charcoal gas mask (gas on
C)
Liquid Gas
Humid Air (H2O in air)
Liquid Liquid Antifreeze (C6H7 in H2O)
Liquid Solid
Dental filling (Hg in Ag)
Solid
Gas
Soot in air (C in air)
Solid
Liquid Ocean water(NaCl inH2O)
Solid
Solid
Gold jewelry (Cu in Au)
C. Rates of Solutions- similar to rate of
collision theory in chemical reactions.
D. Solubility- The rate of the solute
dissolving into the solvent. (Speed)
1. Temperaturea. (solid vs. liquid) direct relationship
Increase Temp = Increase Solubility
Ex. Sugar in hot tea vs. cold tea
b.(gas in liquid) indirect relationship
Increase temp=decreases solubility
2. Pressurea. gas in liquid increase pressure
increases solubility.
E.Concentration- amount of solute dissolved
into the solvent. The opposite is dilute.
Ex. Orange juice pulp = concentrated
Orange juice in water = dilute
1. Saturated solution= Contains as much
solute as the solvent can possible hold
2. Unsaturated solution- Contains less
solute than it can possible hold at a
given temperature.
F. Special Properties
II. ACIDS AND BASES
A. Properties of Acids
1. Sour taste ex. Lemons
2. Effect the color of indicators
a. Litmus- changes from blue to red.
b. Phenolphthalein is colorless in acid
3. React with active metals to form H2 gas
4. Contain H- proton donor
B. Common Acids – see page 74
C. Properties of Bases
1. Bitter tast
2. Effect the color of indicators
a. Litmus- change from red to blue
b. Phenolphthalein- turn bright pink
3. React with fat and oil to form soapcleaner.
4. Contain hydroxide (OH-) ion
D. Common Bases
III. ACID AND BASE in solution: SALTS
A. pH Scale- The measure of the
hydronium ion concentration (H3O)
1. Numbers 0 to 14 (fig 3-14)
B. Determining Solution pH- use an
indicator such as litmus paper or
Phenolphthalein, methyl orange,
bromthymol blue
C. Formation of Salts-When acids react with
bases they form a class of compounds called
salt (neutralization.