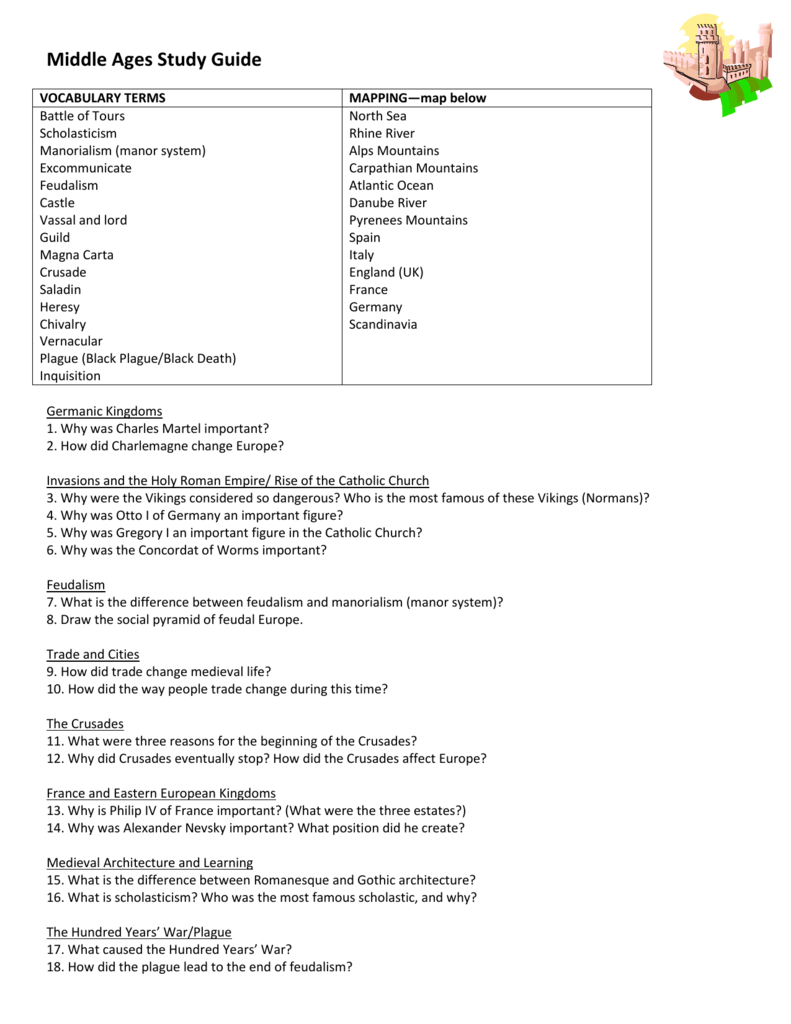 Middle Ages Study Guide
VOCABULARY TERMS
Battle of Tours
Scholasticism
Manorialism (manor system)
Excommunicate
Feudalism
Castle
Vassal and lord
Guild
Magna Carta
Crusade
Saladin
Heresy
Chivalry
Vernacular
Plague (Black Plague/Black Death)
Inquisition
MAPPING—map below
North Sea
Rhine River
Alps Mountains
Carpathian Mountains
Atlantic Ocean
Danube River
Pyrenees Mountains
Spain
Italy
England (UK)
France
Germany
Scandinavia
Germanic Kingdoms
1. Why was Charles Martel important?
2. How did Charlemagne change Europe?
Invasions and the Holy Roman Empire/ Rise of the Catholic Church
3. Why were the Vikings considered so dangerous? Who is the most famous of these Vikings (Normans)?
4. Why was Otto I of Germany an important figure?
5. Why was Gregory I an important figure in the Catholic Church?
6. Why was the Concordat of Worms important?
Feudalism
7. What is the difference between feudalism and manorialism (manor system)?
8. Draw the social pyramid of feudal Europe.
Trade and Cities
9. How did trade change medieval life?
10. How did the way people trade change during this time?
The Crusades
11. What were three reasons for the beginning of the Crusades?
12. Why did Crusades eventually stop? How did the Crusades affect Europe?
France and Eastern European Kingdoms
13. Why is Philip IV of France important? (What were the three estates?)
14. Why was Alexander Nevsky important? What position did he create?
Medieval Architecture and Learning
15. What is the difference between Romanesque and Gothic architecture?
16. What is scholasticism? Who was the most famous scholastic, and why?
The Hundred Years' War/Plague
17. What caused the Hundred Years' War?
18. How did the plague lead to the end of feudalism?