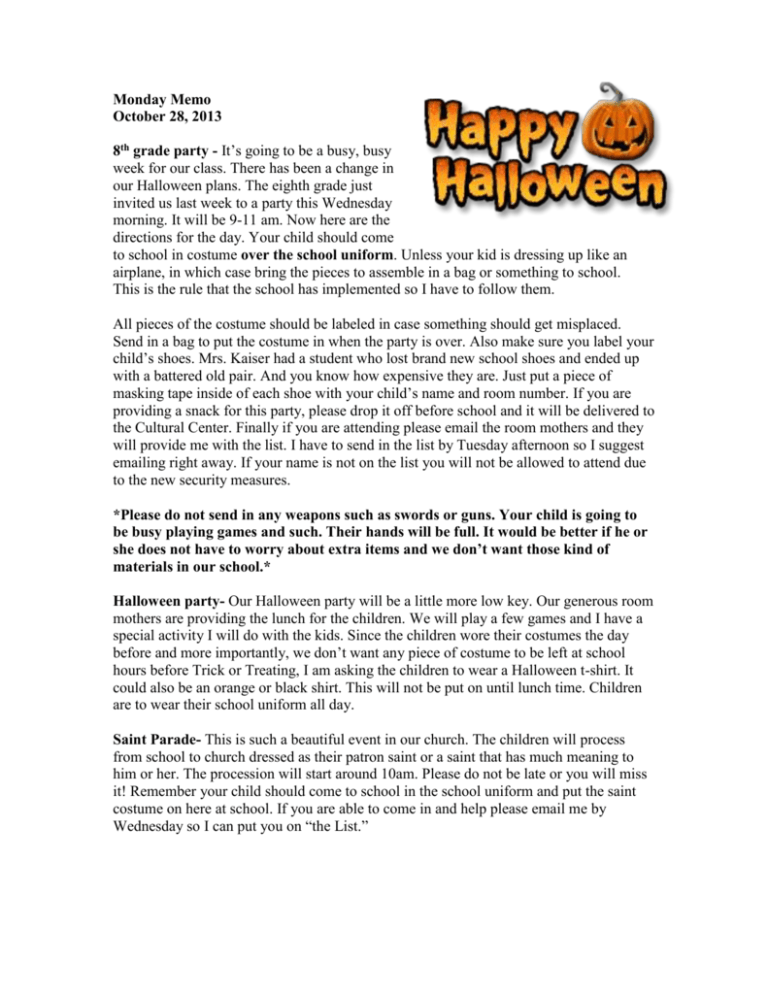 Monday Memo
October 28, 2013
8th grade party - It's going to be a busy, busy
week for our class. There has been a change in
our Halloween plans. The eighth grade just
invited us last week to a party this Wednesday
morning. It will be 9-11 am. Now here are the
directions for the day. Your child should come
to school in costume over the school uniform. Unless your kid is dressing up like an
airplane, in which case bring the pieces to assemble in a bag or something to school.
This is the rule that the school has implemented so I have to follow them.
All pieces of the costume should be labeled in case something should get misplaced.
Send in a bag to put the costume in when the party is over. Also make sure you label your
child's shoes. Mrs. Kaiser had a student who lost brand new school shoes and ended up
with a battered old pair. And you know how expensive they are. Just put a piece of
masking tape inside of each shoe with your child's name and room number. If you are
providing a snack for this party, please drop it off before school and it will be delivered to
the Cultural Center. Finally if you are attending please email the room mothers and they
will provide me with the list. I have to send in the list by Tuesday afternoon so I suggest
emailing right away. If your name is not on the list you will not be allowed to attend due
to the new security measures.
*Please do not send in any weapons such as swords or guns. Your child is going to
be busy playing games and such. Their hands will be full. It would be better if he or
she does not have to worry about extra items and we don't want those kind of
materials in our school.*
Halloween party- Our Halloween party will be a little more low key. Our generous room
mothers are providing the lunch for the children. We will play a few games and I have a
special activity I will do with the kids. Since the children wore their costumes the day
before and more importantly, we don't want any piece of costume to be left at school
hours before Trick or Treating, I am asking the children to wear a Halloween t-shirt. It
could also be an orange or black shirt. This will not be put on until lunch time. Children
are to wear their school uniform all day.
Saint Parade- This is such a beautiful event in our church. The children will process
from school to church dressed as their patron saint or a saint that has much meaning to
him or her. The procession will start around 10am. Please do not be late or you will miss
it! Remember your child should come to school in the school uniform and put the saint
costume on here at school. If you are able to come in and help please email me by
Wednesday so I can put you on "the List."
Phanatic about reading- We are going to start this program and hopefully if our school
is chosen the Phillies Phanatic will stop by for a visit. More information will follow
soon!
Scholastic book order- Tomorrow I will send home the new Scholastic Book order
forms. The orders are due in next Tuesday, November 5th. There are some fantastic books
for Christmas. And best of all, they are inexpensive. There are more selections online. If
you have any questions please feel free to email me.
Homework- this week there will not be homework assigned on Thursday. The
assignments this week are a math page each night and three sentences. The sentences
must include a contraction. I am giving three different contractions to use each night.
please check the wiki page.
Theme test- the only other test given this week is the theme 1 & 2 test. Review the
robust and high frequency words with your child. I also sent home an email to every
about what in detail will be on the test. Tomorrow I am issuing the comprehension
component and phonics. Wednesday afternoon is the robust, high frequency words and
grammar.
Conferences- It was wonderful meeting with everyone last Friday. I hope your questions
were answered and as always, feel free to contact me with any questions.