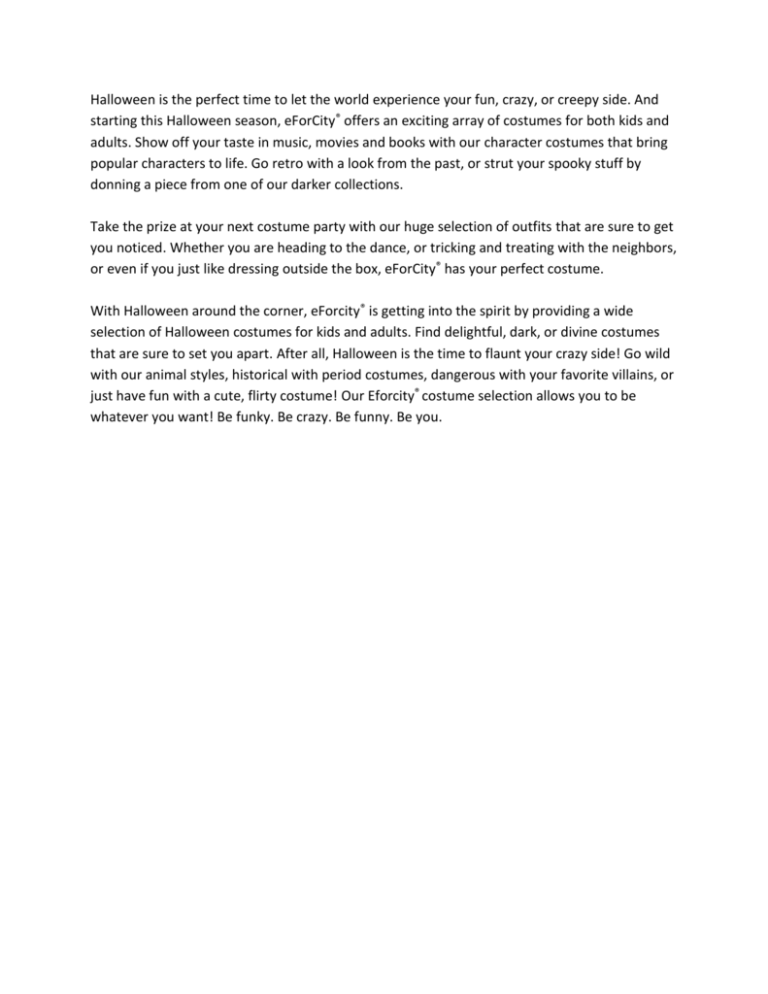 Halloween is the perfect time to let the world experience your fun, crazy, or creepy side. And
starting this Halloween season, eForCity® offers an exciting array of costumes for both kids and
adults. Show off your taste in music, movies and books with our character costumes that bring
popular characters to life. Go retro with a look from the past, or strut your spooky stuff by
donning a piece from one of our darker collections.
Take the prize at your next costume party with our huge selection of outfits that are sure to get
you noticed. Whether you are heading to the dance, or tricking and treating with the neighbors,
or even if you just like dressing outside the box, eForCity® has your perfect costume.
With Halloween around the corner, eForcity® is getting into the spirit by providing a wide
selection of Halloween costumes for kids and adults. Find delightful, dark, or divine costumes
that are sure to set you apart. After all, Halloween is the time to flaunt your crazy side! Go wild
with our animal styles, historical with period costumes, dangerous with your favorite villains, or
just have fun with a cute, flirty costume! Our Eforcity® costume selection allows you to be
whatever you want! Be funky. Be crazy. Be funny. Be you.