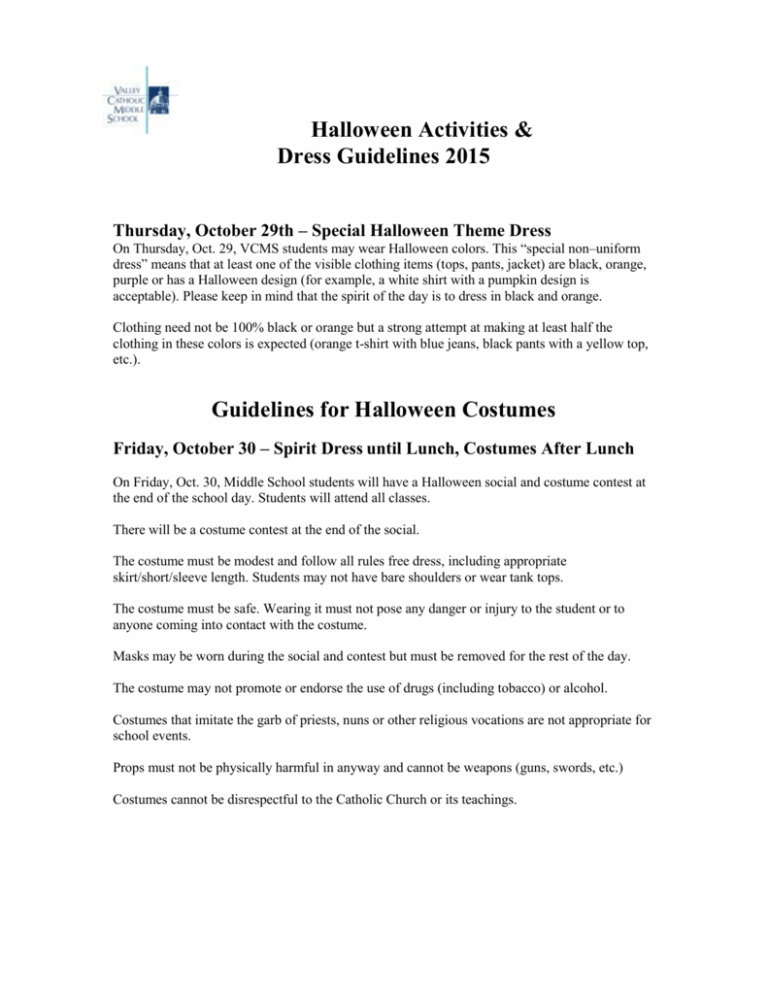 Halloween Activities &
Dress Guidelines 2015
Thursday, October 29th – Special Halloween Theme Dress
On Thursday, Oct. 29, VCMS students may wear Halloween colors. This "special non–uniform
dress" means that at least one of the visible clothing items (tops, pants, jacket) are black, orange,
purple or has a Halloween design (for example, a white shirt with a pumpkin design is
acceptable). Please keep in mind that the spirit of the day is to dress in black and orange.
Clothing need not be 100% black or orange but a strong attempt at making at least half the
clothing in these colors is expected (orange t-shirt with blue jeans, black pants with a yellow top,
etc.).
Guidelines for Halloween Costumes
Friday, October 30 – Spirit Dress until Lunch, Costumes After Lunch
On Friday, Oct. 30, Middle School students will have a Halloween social and costume contest at
the end of the school day. Students will attend all classes.
There will be a costume contest at the end of the social.
The costume must be modest and follow all rules free dress, including appropriate
skirt/short/sleeve length. Students may not have bare shoulders or wear tank tops.
The costume must be safe. Wearing it must not pose any danger or injury to the student or to
anyone coming into contact with the costume.
Masks may be worn during the social and contest but must be removed for the rest of the day.
The costume may not promote or endorse the use of drugs (including tobacco) or alcohol.
Costumes that imitate the garb of priests, nuns or other religious vocations are not appropriate for
school events.
Props must not be physically harmful in anyway and cannot be weapons (guns, swords, etc.)
Costumes cannot be disrespectful to the Catholic Church or its teachings.