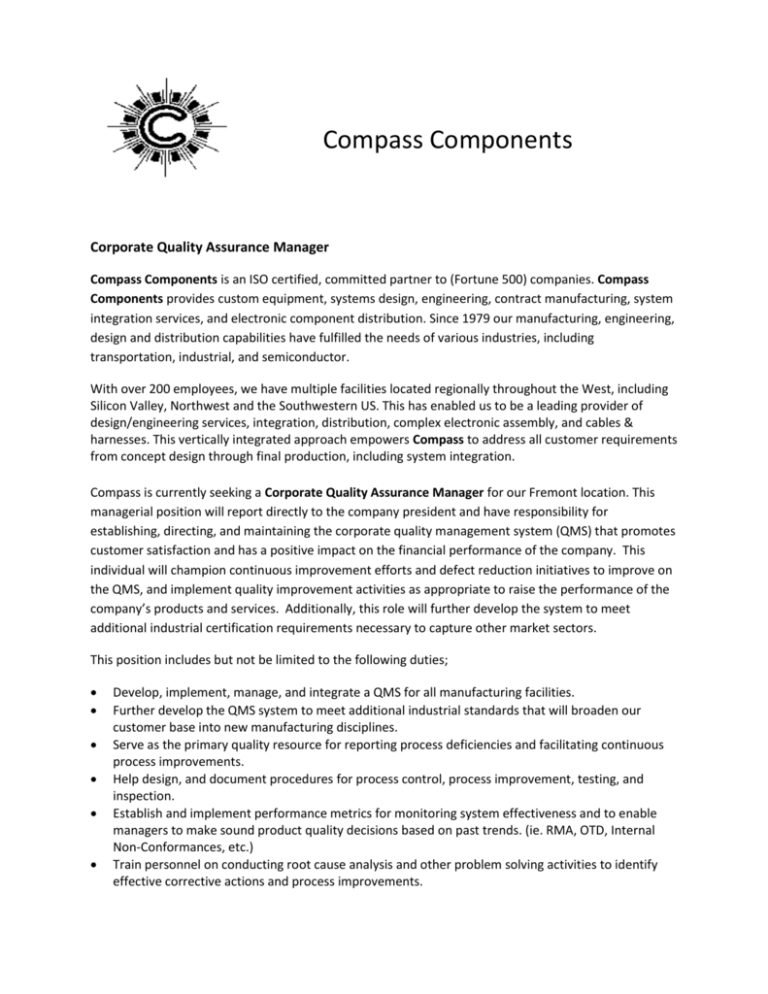 Compass Manufacturing
Compass Components
Services
Corporate Quality Assurance Manager
Compass Components is an ISO certified, committed partner to (Fortune 500) companies. Compass
Components provides custom equipment, systems design, engineering, contract manufacturing, system
integration services, and electronic component distribution. Since 1979 our manufacturing, engineering,
design and distribution capabilities have fulfilled the needs of various industries, including
transportation, industrial, and semiconductor.
With over 200 employees, we have multiple facilities located regionally throughout the West, including
Silicon Valley, Northwest and the Southwestern US. This has enabled us to be a leading provider of
design/engineering services, integration, distribution, complex electronic assembly, and cables &
harnesses. This vertically integrated approach empowers Compass to address all customer requirements
from concept design through final production, including system integration.
Compass is currently seeking a Corporate Quality Assurance Manager for our Fremont location. This
managerial position will report directly to the company president and have responsibility for
establishing, directing, and maintaining the corporate quality management system (QMS) that promotes
customer satisfaction and has a positive impact on the financial performance of the company. This
individual will champion continuous improvement efforts and defect reduction initiatives to improve on
the QMS, and implement quality improvement activities as appropriate to raise the performance of the
company's products and services. Additionally, this role will further develop the system to meet
additional industrial certification requirements necessary to capture other market sectors.
This position includes but not be limited to the following duties;






Develop, implement, manage, and integrate a QMS for all manufacturing facilities.
Further develop the QMS system to meet additional industrial standards that will broaden our
customer base into new manufacturing disciplines.
Serve as the primary quality resource for reporting process deficiencies and facilitating continuous
process improvements.
Help design, and document procedures for process control, process improvement, testing, and
inspection.
Establish and implement performance metrics for monitoring system effectiveness and to enable
managers to make sound product quality decisions based on past trends. (ie. RMA, OTD, Internal
Non-Conformances, etc.)
Train personnel on conducting root cause analysis and other problem solving activities to identify
effective corrective actions and process improvements.










Help improve supplier relationships by establishing supplier quality requirements.
Interface with supplier and customer quality representatives concerning problems with quality
control, and assure that effective corrective action is implemented.
Monitor supplier performance and establish criteria and rating system for critical suppliers, and
process for disengagement when necessary.
Interact with customers to identify opportunities to improve quality and establish feedback with
manufacturing and training personnel.
Participate in internal and external quality audits.
Conduct quarterly management review meetings on quality issues, trends and losses.
Develop process certification standards and assist in implement Plan, promote and organize training
activities related to product consistency and quality.
Consistent on-going employee communication.
Maintain the company's Quality Management System.
Interface with all customers and departments on quality issues.
Requirements
 B.S. Degree preferred.
 Ten years Quality experience in related field.
 Strong background in developing QMS to meet AS9100 & ISO 13485.
 Minimum 5 years managerial level experience.
 Must possess strong leadership and communication skills.
 Proficient in Microsoft windows.
 EPICOR software or any similar manufacturing operation software.