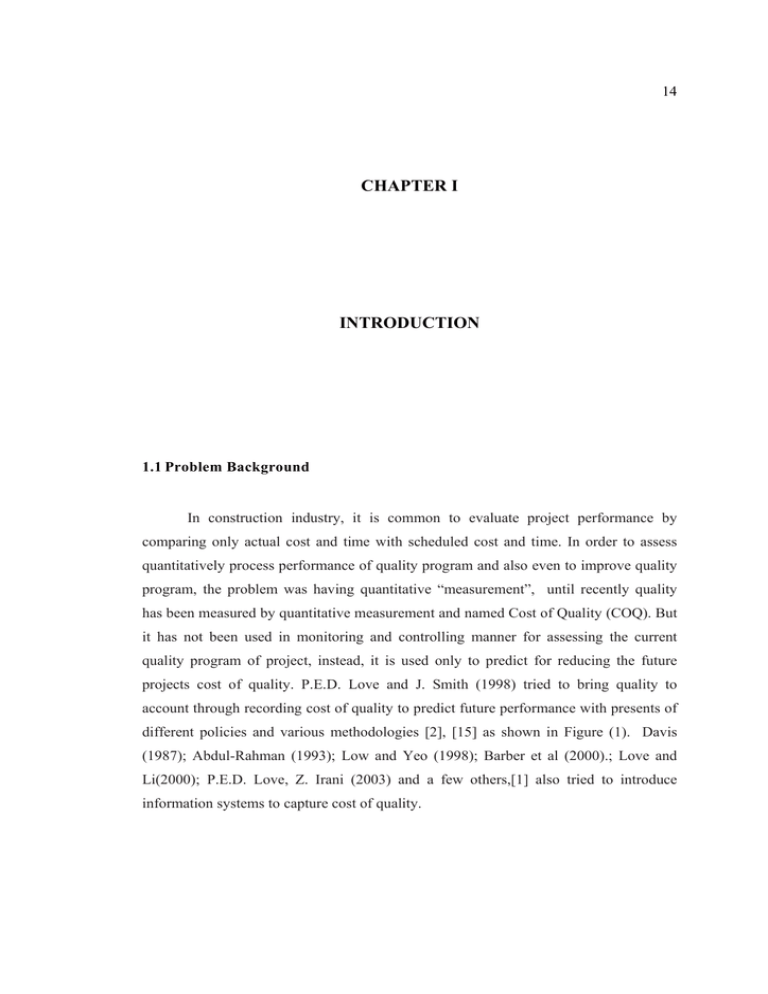 14
CHAPTER I
INTRODUCTION
1.1 Problem Background
In construction industry, it is common to evaluate project performance by
comparing only actual cost and time with scheduled cost and time. In order to assess
quantitatively process performance of quality program and also even to improve quality
program, the problem was having quantitative "measurement", until recently quality
has been measured by quantitative measurement and named Cost of Quality (COQ). But
it has not been used in monitoring and controlling manner for assessing the current
quality program of project, instead, it is used only to predict for reducing the future
projects cost of quality. P.E.D. Love and J. Smith (1998) tried to bring quality to
account through recording cost of quality to predict future performance with presents of
different policies and various methodologies [2], [15] as shown in Figure (1). Davis
(1987); Abdul-Rahman (1993); Low and Yeo (1998); Barber et al (2000).; Love and
Li(2000); P.E.D. Love, Z. Irani (2003) and a few others,[1] also tried to introduce
information systems to capture cost of quality.
15
This study tried to perform an intelligent organizational model, for quantitative
assessment (based on cost of quality) and self improvement framework for quality
program in building construction in contractor sector.
Figure 1: A conceptual model for benchmarking the interfaces of the quality chain.
(P.E.D. Love and J. Smith (1998))
16
1.2 Problem Statement
Referring to ISO TR 15504 as a process improvement principle, beside the
fast growths of construction project complexity especially in terms of quality, it is
necessary to implement self quality assessment system for QMS tools as a technique to
analyses the quality plan of construction projects for catching better quality
performance. In this manner it can implement by defining job description, rather than
job specifications which act as policies. In other words, in order to have self
improvement QMS system as a key performance indicator, it is subjected to lead quality
of construction, even QMS tools, by itself. It will also to use project descriptions rather
than project specification and finally to use task oriented assessment system rather than
skill oriented.
1.3 Aim
The study is carry out in order to solve the stated problems based on cost value
of quality, by continues assessment and improvement of the quality plan, in construction
project has been studied. Therefore, in order to cover the overall aim of study, this
effort goes to the development of one framework (IDEF4 (Integration DEFinition) semistructured based) model and tools. It is focusing on contractor's party for in process
assessing and self-improvement framework to improve the implemented QMS tools and
techniques in collaborative environment to construct building projects. It will be
assumed as bases for internal benchmarking quality assessment system which referred to
cost of quality for health check of quality assurance performance.
17
1.4 Objectives
Therefore, for archiving overall aim of study, the objectives of study are as
follows:
• To identify the elements of cost of quality in construction projects as quantitative
measurement for assessing principles of the QMS tools and techniques
• To identify improvement principles of QMS tools and techniques
• To identify the success factors of an intelligent assessment and improvement
system as self assessment and self improvement framework system
• To develop a framework technique and it's tools, for cost assessment of
implemented QMS tools for building contractors
1.5 Scope
In order to capture the objectives of this study, the scope includes reviewing
previous efforts on cost quality measurement, checked out principles of Taguchi
methods, process of Failure Mode and Effect Design (FMEA) and Benchmarking
techniques as its Quality engineering methodologies. Furthermore,
this study will
review Shainin, Demings 14 point for Plan for TQM, Six-Sigma and finally Kaizen
management philosophy. It will also include reviewed objectives of intelligent systems,
for this part, this study only have been focused on BIS as it's based intelligent system.
In this research cause of different nature of construction projects like dam, road,
air port, high rise building, office buildings project and further; researcher has selected
office building construction to focus on. Besides, In order to make a feasible model as
time ruled, scope for study is limited only in alike building projects. In term of cost and
function from the same contractor, it is to insure that it has equality in all driven
18
managerial tools and systems for data mining of Quality Performance. Also for
simplicity it is assumed that there is no different in cost of similar work in different
project which also means that area is economically stable.
Another limitation of scope is having a procurement method of contract, which
with believe of complexity of collaborative teamwork environment, this study has
choose collaborative team work environments such as build and design procurement
system as a scope of implementing model.