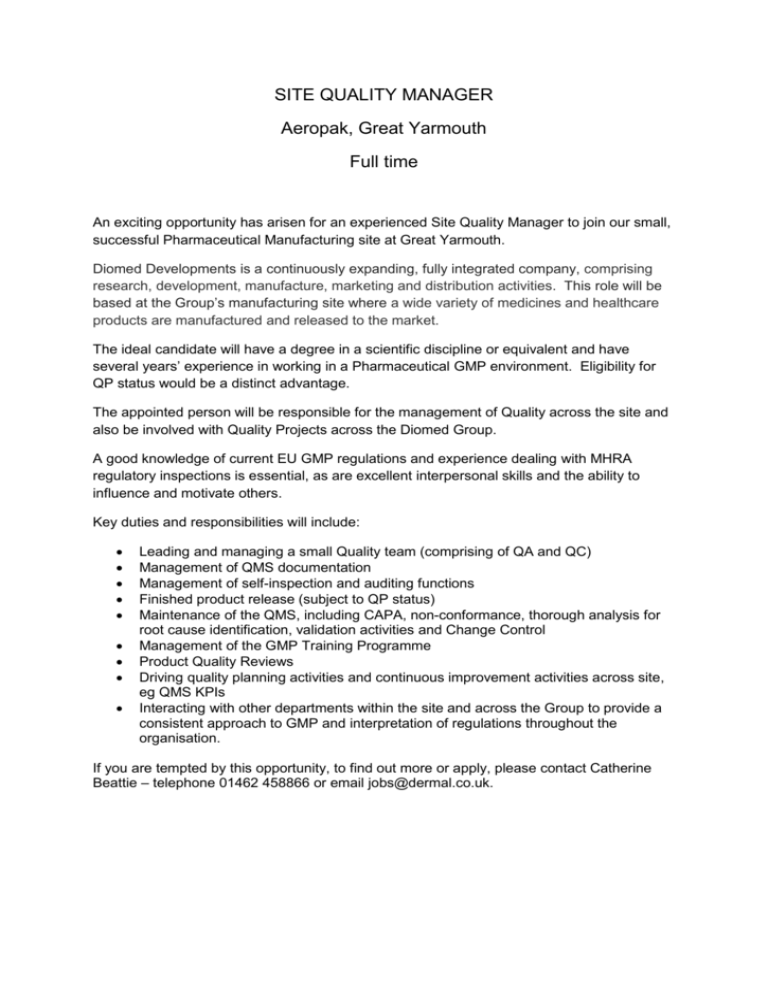 SITE QUALITY MANAGER
Aeropak, Great Yarmouth
Full time
An exciting opportunity has arisen for an experienced Site Quality Manager to join our small,
successful Pharmaceutical Manufacturing site at Great Yarmouth.
Diomed Developments is a continuously expanding, fully integrated company, comprising
research, development, manufacture, marketing and distribution activities. This role will be
based at the Group's manufacturing site where a wide variety of medicines and healthcare
products are manufactured and released to the market.
The ideal candidate will have a degree in a scientific discipline or equivalent and have
several years' experience in working in a Pharmaceutical GMP environment. Eligibility for
QP status would be a distinct advantage.
The appointed person will be responsible for the management of Quality across the site and
also be involved with Quality Projects across the Diomed Group.
A good knowledge of current EU GMP regulations and experience dealing with MHRA
regulatory inspections is essential, as are excellent interpersonal skills and the ability to
influence and motivate others.
Key duties and responsibilities will include:









Leading and managing a small Quality team (comprising of QA and QC)
Management of QMS documentation
Management of self-inspection and auditing functions
Finished product release (subject to QP status)
Maintenance of the QMS, including CAPA, non-conformance, thorough analysis for
root cause identification, validation activities and Change Control
Management of the GMP Training Programme
Product Quality Reviews
Driving quality planning activities and continuous improvement activities across site,
eg QMS KPIs
Interacting with other departments within the site and across the Group to provide a
consistent approach to GMP and interpretation of regulations throughout the
organisation.
If you are tempted by this opportunity, to find out more or apply, please contact Catherine
Beattie – telephone 01462 458866 or email jobs@dermal.co.uk.