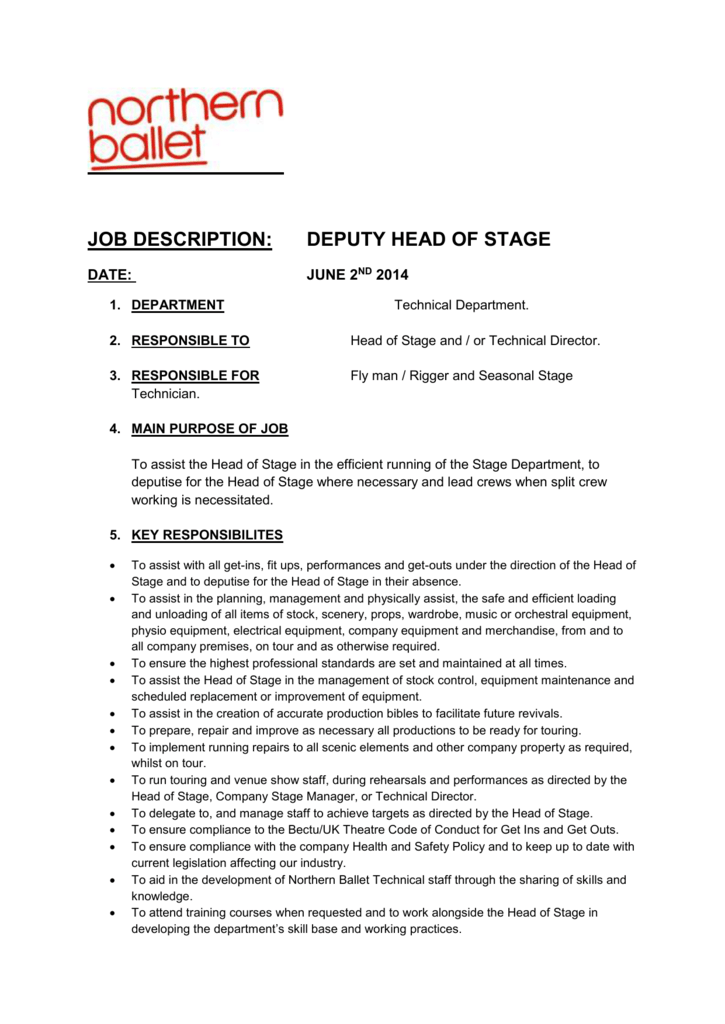 JOB DESCRIPTION:
DEPUTY HEAD OF STAGE
DATE:
JUNE 2ND 2014
1. DEPARTMENT
Technical Department.
2. RESPONSIBLE TO
Head of Stage and / or Technical Director.
3. RESPONSIBLE FOR
Technician.
Fly man / Rigger and Seasonal Stage
4. MAIN PURPOSE OF JOB
To assist the Head of Stage in the efficient running of the Stage Department, to
deputise for the Head of Stage where necessary and lead crews when split crew
working is necessitated.
5. KEY RESPONSIBILITES













To assist with all get-ins, fit ups, performances and get-outs under the direction of the Head of
Stage and to deputise for the Head of Stage in their absence.
To assist in the planning, management and physically assist, the safe and efficient loading
and unloading of all items of stock, scenery, props, wardrobe, music or orchestral equipment,
physio equipment, electrical equipment, company equipment and merchandise, from and to
all company premises, on tour and as otherwise required.
To ensure the highest professional standards are set and maintained at all times.
To assist the Head of Stage in the management of stock control, equipment maintenance and
scheduled replacement or improvement of equipment.
To assist in the creation of accurate production bibles to facilitate future revivals.
To prepare, repair and improve as necessary all productions to be ready for touring.
To implement running repairs to all scenic elements and other company property as required,
whilst on tour.
To run touring and venue show staff, during rehearsals and performances as directed by the
Head of Stage, Company Stage Manager, or Technical Director.
To delegate to, and manage staff to achieve targets as directed by the Head of Stage.
To ensure compliance to the Bectu/UK Theatre Code of Conduct for Get Ins and Get Outs.
To ensure compliance with the company Health and Safety Policy and to keep up to date with
current legislation affecting our industry.
To aid in the development of Northern Ballet Technical staff through the sharing of skills and
knowledge.
To attend training courses when requested and to work alongside the Head of Stage in
developing the department's skill base and working practices.

To work alongside and assist other technical departments as required ensuring the smooth
running of all productions.
This list of responsibilities is not exhaustive and the employee may be required to perform duties
outside this brief, as operationally required and at the discretion of senior management.
ESSENTIAL ATTRIBUTES












A proven track record of working in No.1 UK Touring Theatre.
Experienced in Fit Ups, Show Running and Get Outs.
A logical and methodical approach to planning and preparation.
Ability to problem solve in a theatre environment with a calm, measured approach.
Experience of rigging and counterweight flying.
Physically fit and able to work at height.
Experience of running large scale fit ups and get outs.
Experience of managing staff - good leadership skills with ability to challenge, motivate and
discipline staff.
Good communication and organisational skills.
A solid understanding of Health and Safety and good practice within the theatre industry.
A solid understanding of the Bectu/UK Theatre Code of Conduct for Get in and Get Outs.
Current Passport.
DESIRABLE ATTRIBUTES





Good IT skills, Microsoft office or similar and CAD (Ideally AUTOCAD).
Experience of foreign touring.
Mid and large scale touring experience.
Full UK driving licence.
Experience of managing budgets and the purchase order process.
PERSONAL ATTRIBUTES








An efficient and flexible approach; prioritises workload to meet targets and deadlines.
Ability to work calmly under pressure.
Creative problem solver.
Pro-active; able to self-motivate and use own initiative in the absence of clear guidelines by
identifying tasks, projects and/or potential problems in advance.
Creating solutions and taking ownership of the outcomes.
Good time management.
Able to work as part of a team with friendly approach and remain open to others.
Able to build good working relationships with other departments.