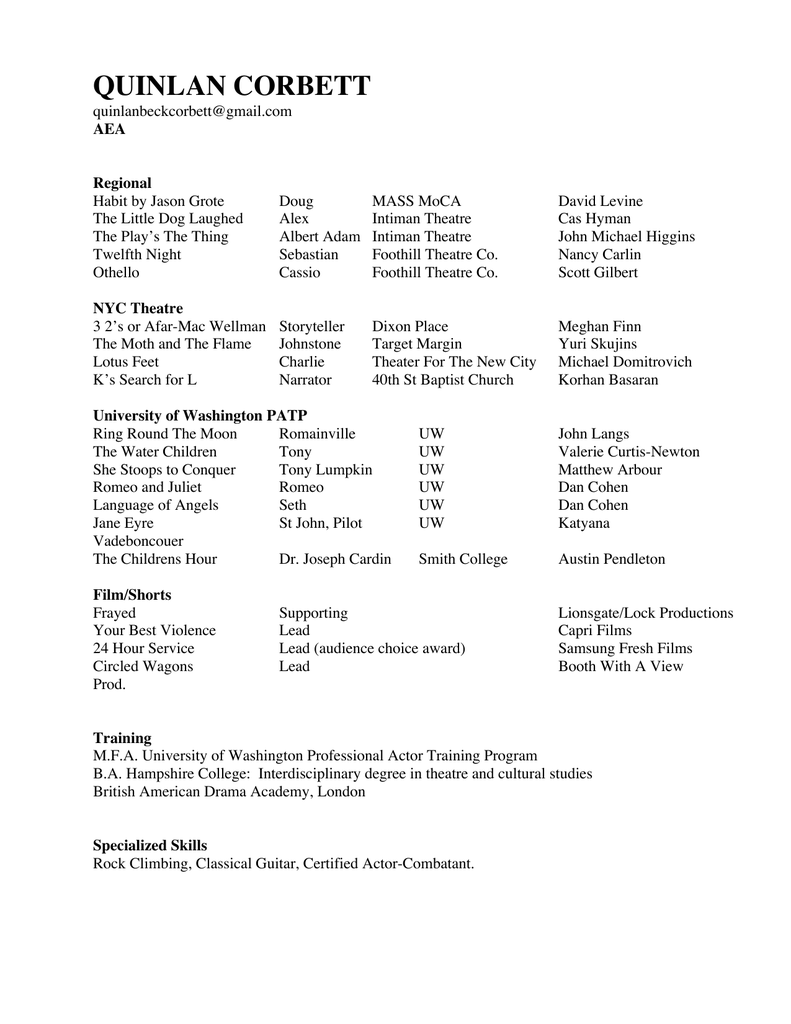 QUINLAN CORBETT
[email protected]
AEA
Regional
Habit by Jason Grote
The Little Dog Laughed
The Play's The Thing
Twelfth Night
Othello
Doug
Alex
Albert Adam
Sebastian
Cassio
MASS MoCA
Intiman Theatre
Intiman Theatre
Foothill Theatre Co.
Foothill Theatre Co.
David Levine
Cas Hyman
John Michael Higgins
Nancy Carlin
Scott Gilbert
NYC Theatre
3 2's or Afar-Mac Wellman
The Moth and The Flame
Lotus Feet
K's Search for L
Storyteller
Johnstone
Charlie
Narrator
Dixon Place
Target Margin
Theater For The New City
40th St Baptist Church
Meghan Finn
Yuri Skujins
Michael Domitrovich
Korhan Basaran
University of Washington PATP
Ring Round The Moon
Romainville
The Water Children
Tony
She Stoops to Conquer
Tony Lumpkin
Romeo and Juliet
Romeo
Language of Angels
Seth
Jane Eyre
St John, Pilot
Vadeboncouer
The Childrens Hour
Dr. Joseph Cardin
Film/Shorts
Frayed
Your Best Violence
24 Hour Service
Circled Wagons
Prod.
UW
UW
UW
UW
UW
UW
John Langs
Valerie Curtis-Newton
Matthew Arbour
Dan Cohen
Dan Cohen
Katyana
Smith College
Austin Pendleton
Supporting
Lead
Lead (audience choice award)
Lead
Lionsgate/Lock Productions
Capri Films
Samsung Fresh Films
Booth With A View
Training
M.F.A. University of Washington Professional Actor Training Program
B.A. Hampshire College: Interdisciplinary degree in theatre and cultural studies
British American Drama Academy, London
Specialized Skills
Rock Climbing, Classical Guitar, Certified Actor-Combatant.