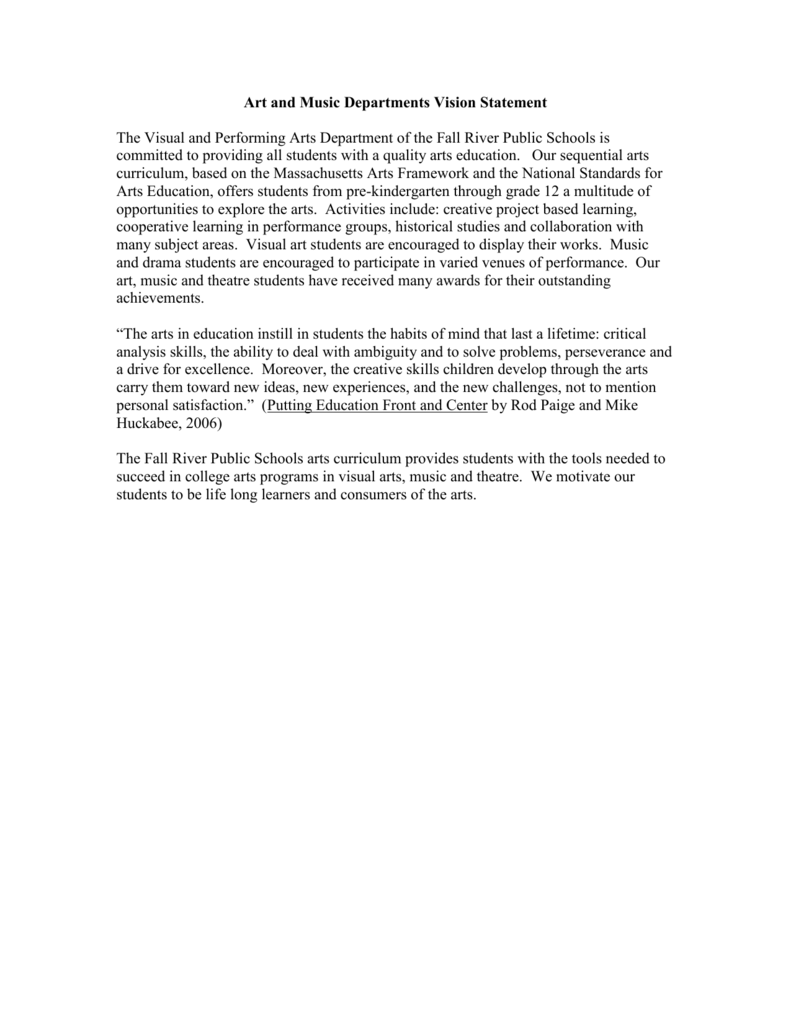 Art and Music Departments Vision Statement
The Visual and Performing Arts Department of the Fall River Public Schools is
committed to providing all students with a quality arts education. Our sequential arts
curriculum, based on the Massachusetts Arts Framework and the National Standards for
Arts Education, offers students from pre-kindergarten through grade 12 a multitude of
opportunities to explore the arts. Activities include: creative project based learning,
cooperative learning in performance groups, historical studies and collaboration with
many subject areas. Visual art students are encouraged to display their works. Music
and drama students are encouraged to participate in varied venues of performance. Our
art, music and theatre students have received many awards for their outstanding
achievements.
"The arts in education instill in students the habits of mind that last a lifetime: critical
analysis skills, the ability to deal with ambiguity and to solve problems, perseverance and
a drive for excellence. Moreover, the creative skills children develop through the arts
carry them toward new ideas, new experiences, and the new challenges, not to mention
personal satisfaction." (Putting Education Front and Center by Rod Paige and Mike
Huckabee, 2006)
The Fall River Public Schools arts curriculum provides students with the tools needed to
succeed in college arts programs in visual arts, music and theatre. We motivate our
students to be life long learners and consumers of the arts.