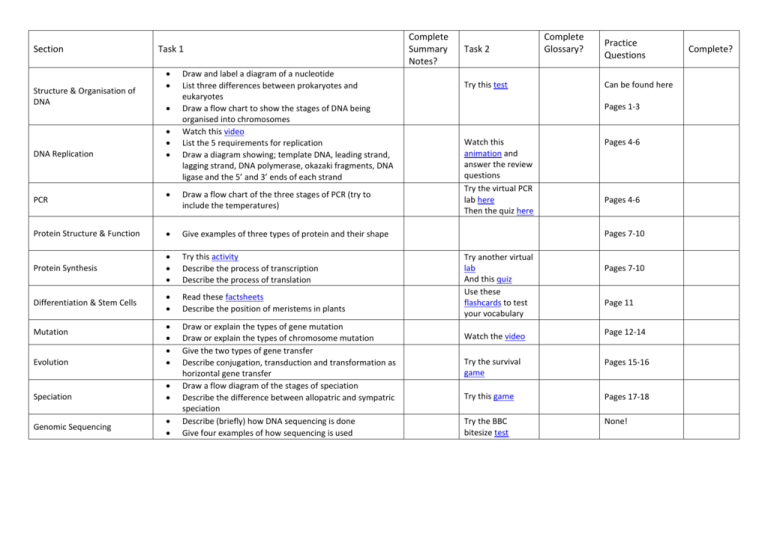 Section
Structure & Organisation of
DNA
DNA Replication
Task 1






Draw and label a diagram of a nucleotide
List three differences between prokaryotes and
eukaryotes
Draw a flow chart to show the stages of DNA being
organised into chromosomes
Watch this video
List the 5 requirements for replication
Draw a diagram showing; template DNA, leading strand,
lagging strand, DNA polymerase, okazaki fragments, DNA
ligase and the 5' and 3' ends of each strand

Draw a flow chart of the three stages of PCR (try to
include the temperatures)
Protein Structure & Function

Give examples of three types of protein and their shape
Protein Synthesis



Try this activity
Describe the process of transcription
Describe the process of translation
Differentiation & Stem Cells


Read these factsheets
Describe the position of meristems in plants
Evolution




Speciation


Draw or explain the types of gene mutation
Draw or explain the types of chromosome mutation
Give the two types of gene transfer
Describe conjugation, transduction and transformation as
horizontal gene transfer
Draw a flow diagram of the stages of speciation
Describe the difference between allopatric and sympatric
speciation
Describe (briefly) how DNA sequencing is done
Give four examples of how sequencing is used
PCR
Mutation
Genomic Sequencing


Complete
Summary
Notes?
Task 2
Try this test
Complete
Glossary?
Practice
Questions
Can be found here
Pages 1-3
Watch this
animation and
answer the review
questions
Try the virtual PCR
lab here
Then the quiz here
Pages 4-6
Pages 4-6
Pages 7-10
Try another virtual
lab
And this quiz
Use these
flashcards to test
your vocabulary
Pages 7-10
Page 11
Watch the video
Page 12-14
Try the survival
game
Pages 15-16
Try this game
Pages 17-18
Try the BBC
bitesize test
None!
Complete?