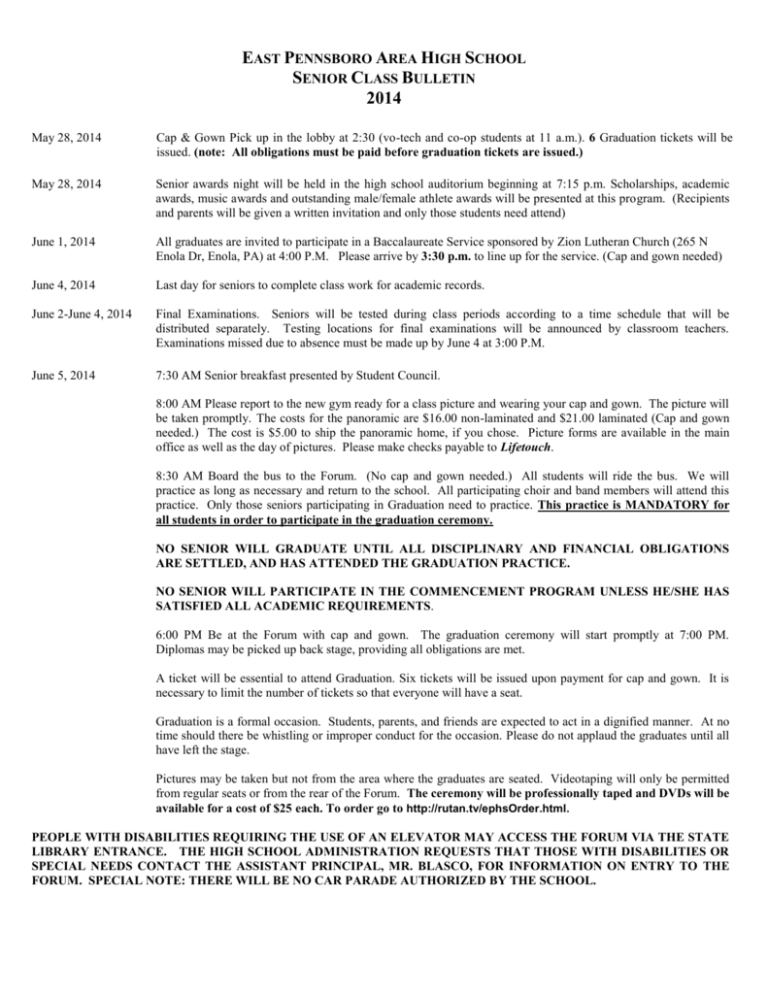 EAST PENNSBORO AREA HIGH SCHOOL
SENIOR CLASS BULLETIN
2014
May 28, 2014
Cap & Gown Pick up in the lobby at 2:30 (vo-tech and co-op students at 11 a.m.). 6 Graduation tickets will be
issued. (note: All obligations must be paid before graduation tickets are issued.)
May 28, 2014
Senior awards night will be held in the high school auditorium beginning at 7:15 p.m. Scholarships, academic
awards, music awards and outstanding male/female athlete awards will be presented at this program. (Recipients
and parents will be given a written invitation and only those students need attend)
June 1, 2014
All graduates are invited to participate in a Baccalaureate Service sponsored by Zion Lutheran Church (265 N
Enola Dr, Enola, PA) at 4:00 P.M. Please arrive by 3:30 p.m. to line up for the service. (Cap and gown needed)
June 4, 2014
Last day for seniors to complete class work for academic records.
June 2-June 4, 2014
Final Examinations. Seniors will be tested during class periods according to a time schedule that will be
distributed separately. Testing locations for final examinations will be announced by classroom teachers.
Examinations missed due to absence must be made up by June 4 at 3:00 P.M.
June 5, 2014
7:30 AM Senior breakfast presented by Student Council.
8:00 AM Please report to the new gym ready for a class picture and wearing your cap and gown. The picture will
be taken promptly. The costs for the panoramic are $16.00 non-laminated and $21.00 laminated (Cap and gown
needed.) The cost is $5.00 to ship the panoramic home, if you chose. Picture forms are available in the main
office as well as the day of pictures. Please make checks payable to Lifetouch.
8:30 AM Board the bus to the Forum. (No cap and gown needed.) All students will ride the bus. We will
practice as long as necessary and return to the school. All participating choir and band members will attend this
practice. Only those seniors participating in Graduation need to practice. This practice is MANDATORY for
all students in order to participate in the graduation ceremony.
NO SENIOR WILL GRADUATE UNTIL ALL DISCIPLINARY AND FINANCIAL OBLIGATIONS
ARE SETTLED, AND HAS ATTENDED THE GRADUATION PRACTICE.
NO SENIOR WILL PARTICIPATE IN THE COMMENCEMENT PROGRAM UNLESS HE/SHE HAS
SATISFIED ALL ACADEMIC REQUIREMENTS.
6:00 PM Be at the Forum with cap and gown. The graduation ceremony will start promptly at 7:00 PM.
Diplomas may be picked up back stage, providing all obligations are met.
A ticket will be essential to attend Graduation. Six tickets will be issued upon payment for cap and gown. It is
necessary to limit the number of tickets so that everyone will have a seat.
Graduation is a formal occasion. Students, parents, and friends are expected to act in a dignified manner. At no
time should there be whistling or improper conduct for the occasion. Please do not applaud the graduates until all
have left the stage.
Pictures may be taken but not from the area where the graduates are seated. Videotaping will only be permitted
from regular seats or from the rear of the Forum. The ceremony will be professionally taped and DVDs will be
available for a cost of $25 each. To order go to http://rutan.tv/ephsOrder.html.
PEOPLE WITH DISABILITIES REQUIRING THE USE OF AN ELEVATOR MAY ACCESS THE FORUM VIA THE STATE
LIBRARY ENTRANCE. THE HIGH SCHOOL ADMINISTRATION REQUESTS THAT THOSE WITH DISABILITIES OR
SPECIAL NEEDS CONTACT THE ASSISTANT PRINCIPAL, MR. BLASCO, FOR INFORMATION ON ENTRY TO THE
FORUM. SPECIAL NOTE: THERE WILL BE NO CAR PARADE AUTHORIZED BY THE SCHOOL.