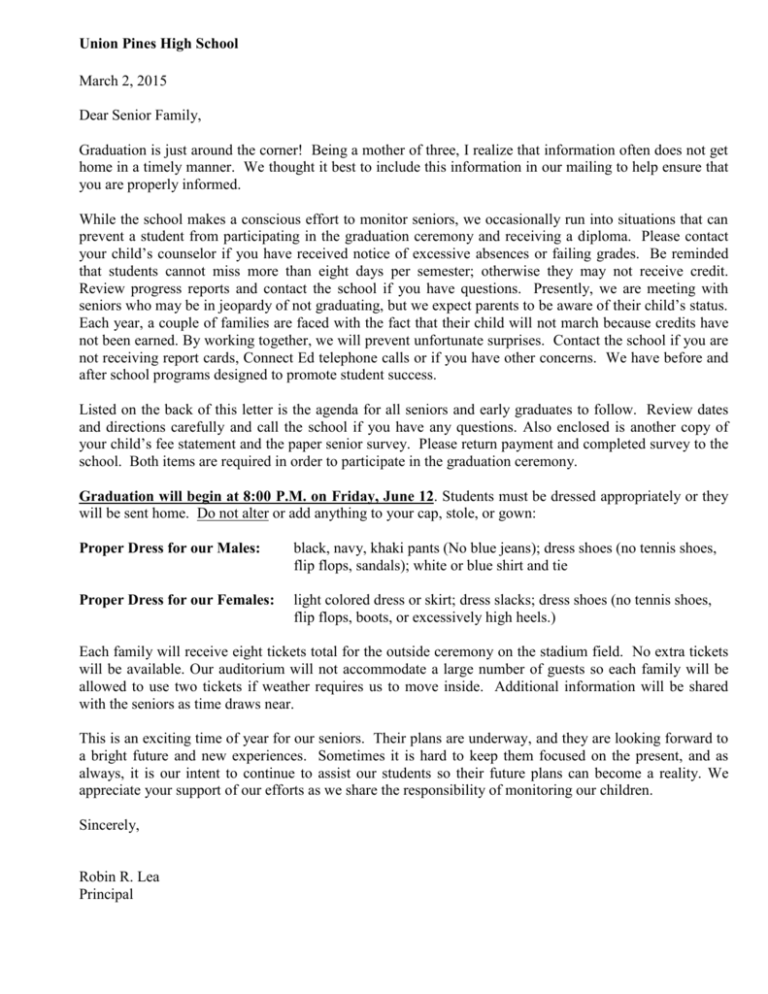 Union Pines High School
March 2, 2015
Dear Senior Family,
Graduation is just around the corner! Being a mother of three, I realize that information often does not get
home in a timely manner. We thought it best to include this information in our mailing to help ensure that
you are properly informed.
While the school makes a conscious effort to monitor seniors, we occasionally run into situations that can
prevent a student from participating in the graduation ceremony and receiving a diploma. Please contact
your child's counselor if you have received notice of excessive absences or failing grades. Be reminded
that students cannot miss more than eight days per semester; otherwise they may not receive credit.
Review progress reports and contact the school if you have questions. Presently, we are meeting with
seniors who may be in jeopardy of not graduating, but we expect parents to be aware of their child's status.
Each year, a couple of families are faced with the fact that their child will not march because credits have
not been earned. By working together, we will prevent unfortunate surprises. Contact the school if you are
not receiving report cards, Connect Ed telephone calls or if you have other concerns. We have before and
after school programs designed to promote student success.
Listed on the back of this letter is the agenda for all seniors and early graduates to follow. Review dates
and directions carefully and call the school if you have any questions. Also enclosed is another copy of
your child's fee statement and the paper senior survey. Please return payment and completed survey to the
school. Both items are required in order to participate in the graduation ceremony.
Graduation will begin at 8:00 P.M. on Friday, June 12. Students must be dressed appropriately or they
will be sent home. Do not alter or add anything to your cap, stole, or gown:
Proper Dress for our Males:
black, navy, khaki pants (No blue jeans); dress shoes (no tennis shoes,
flip flops, sandals); white or blue shirt and tie
Proper Dress for our Females:
light colored dress or skirt; dress slacks; dress shoes (no tennis shoes,
flip flops, boots, or excessively high heels.)
Each family will receive eight tickets total for the outside ceremony on the stadium field. No extra tickets
will be available. Our auditorium will not accommodate a large number of guests so each family will be
allowed to use two tickets if weather requires us to move inside. Additional information will be shared
with the seniors as time draws near.
This is an exciting time of year for our seniors. Their plans are underway, and they are looking forward to
a bright future and new experiences. Sometimes it is hard to keep them focused on the present, and as
always, it is our intent to continue to assist our students so their future plans can become a reality. We
appreciate your support of our efforts as we share the responsibility of monitoring our children.
Sincerely,
Robin R. Lea
Principal
Important Senior Dates for Spring 2015
NOW
Clear all past due fees and other charges with Mrs. Thompson in the Finance
Office. (Payments can be made on-line, too. Check out the UPHS website.)
Complete the paper Senior Survey; return to your Counselor
March 3
College Day/Graduation Project Work Day for All Seniors
(Seniors will not report to UPHS.)
March 11
Report Cards – check grades and attendance!
March 30
Senior Class Meeting at 2:00 in the Auditorium
On-line Survey to be completed.
April 2
Graduation Announcements, Cap and Gown delivery. All past due fees, other
charges, and Senior Surveys must be received before the cap and gown will be issued.
There is a charge of $6.00 for replacement tassels. Picture order forms will be issued
with gown.
April 3-10
Spring Break
April 24
Senior Cap/Gown and Group Photo at 8:45 AM in the Gym
All Seniors will take their individual picture – Purchasing is optional. Picture
payments are made directly to the photographer; NO late payments accepted.
The class picture will be digitally generated from the individual pictures. It is not
necessary for the seniors to bring their cap and gowns. We will have caps and gowns
available for the picture.
April 30
Report Cards – check grades and attendance!
May 4 – 15
AP Exams Students not taking the AP exam are required to take a teacher-made exam.
May 15
National Honor Society Cording Mandatory Rehearsal; 7:30AM Auditorium
May 16
Prom @ Fair Barn in Pinehurst; 8 PM to Midnight – All fees must be paid.
May 27
Scholastic Achievement Awards Banquet – 6:00 (Inform Mrs. Janet Caddell of any
scholarships you receive including student, private, college/university, or parent
employment.)
June 2
Awards Day and National Honor Society Cording Ceremony; 9:00 A.M.
Auditorium
June 5-11
Final Examinations
June 11
Graduation Rehearsal & Social – Mandatory for Seniors 9:30AM – 12 NOON.
June 12
Graduation – Students report to homeroom by 7:00 P.M. dressed appropriately.
Admission to graduation is by ticket only. Seniors must park in the Bus Parking Lot. Each family
receives eight tickets (6 white/2 blue) for the outside graduation ceremony. NO EXTRA TICKETS
are available. The Blue Tickets are admission in the Auditorium in case of rain.