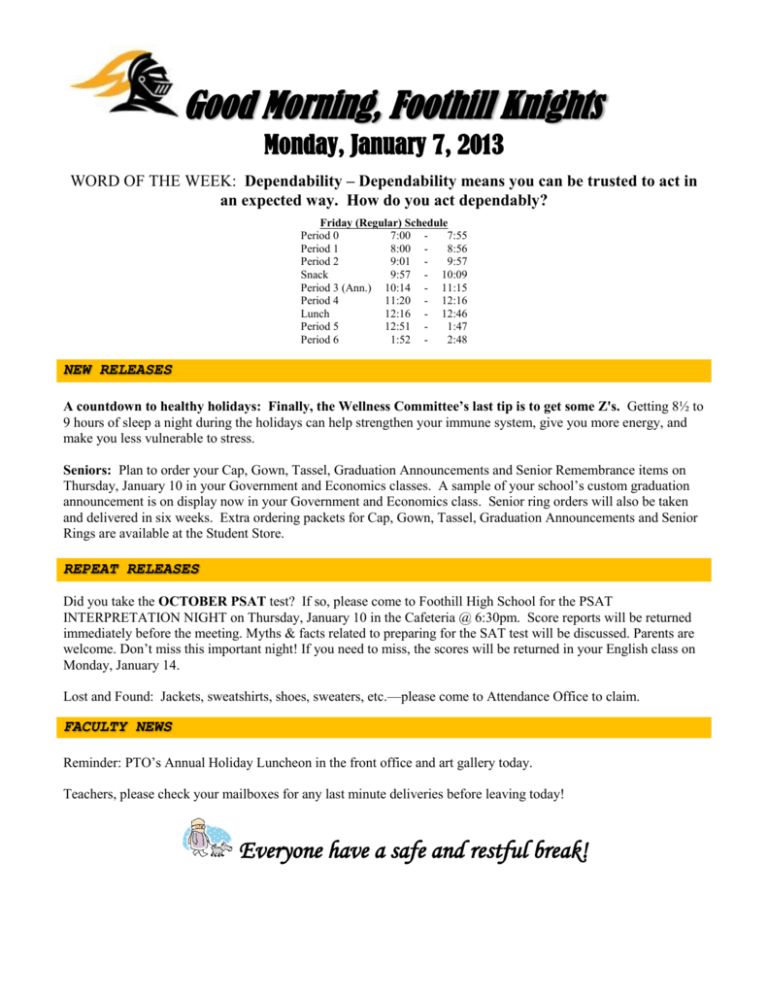 Good Morning, Foothill Knights
Monday, January 7, 2013
WORD OF THE WEEK: Dependability – Dependability means you can be trusted to act in
an expected way. How do you act dependably?
Friday (Regular) Schedule
Period 0
7:00 7:55
Period 1
8:00 8:56
Period 2
9:01 9:57
Snack
9:57 - 10:09
Period 3 (Ann.) 10:14 - 11:15
Period 4
11:20 - 12:16
Lunch
12:16 - 12:46
Period 5
12:51 1:47
Period 6
1:52 2:48
NEW RELEASES
A countdown to healthy holidays: Finally, the Wellness Committee's last tip is to get some Z's. Getting 8½ to
9 hours of sleep a night during the holidays can help strengthen your immune system, give you more energy, and
make you less vulnerable to stress.
Seniors: Plan to order your Cap, Gown, Tassel, Graduation Announcements and Senior Remembrance items on
Thursday, January 10 in your Government and Economics classes. A sample of your school's custom graduation
announcement is on display now in your Government and Economics class. Senior ring orders will also be taken
and delivered in six weeks. Extra ordering packets for Cap, Gown, Tassel, Graduation Announcements and Senior
Rings are available at the Student Store.
REPEAT RELEASES
Did you take the OCTOBER PSAT test? If so, please come to Foothill High School for the PSAT
INTERPRETATION NIGHT on Thursday, January 10 in the Cafeteria @ 6:30pm. Score reports will be returned
immediately before the meeting. Myths & facts related to preparing for the SAT test will be discussed. Parents are
welcome. Don't miss this important night! If you need to miss, the scores will be returned in your English class on
Monday, January 14.
Lost and Found: Jackets, sweatshirts, shoes, sweaters, etc.—please come to Attendance Office to claim.
FACULTY NEWS
Reminder: PTO's Annual Holiday Luncheon in the front office and art gallery today.
Teachers, please check your mailboxes for any last minute deliveries before leaving today!
Everyone have a safe and restful break!