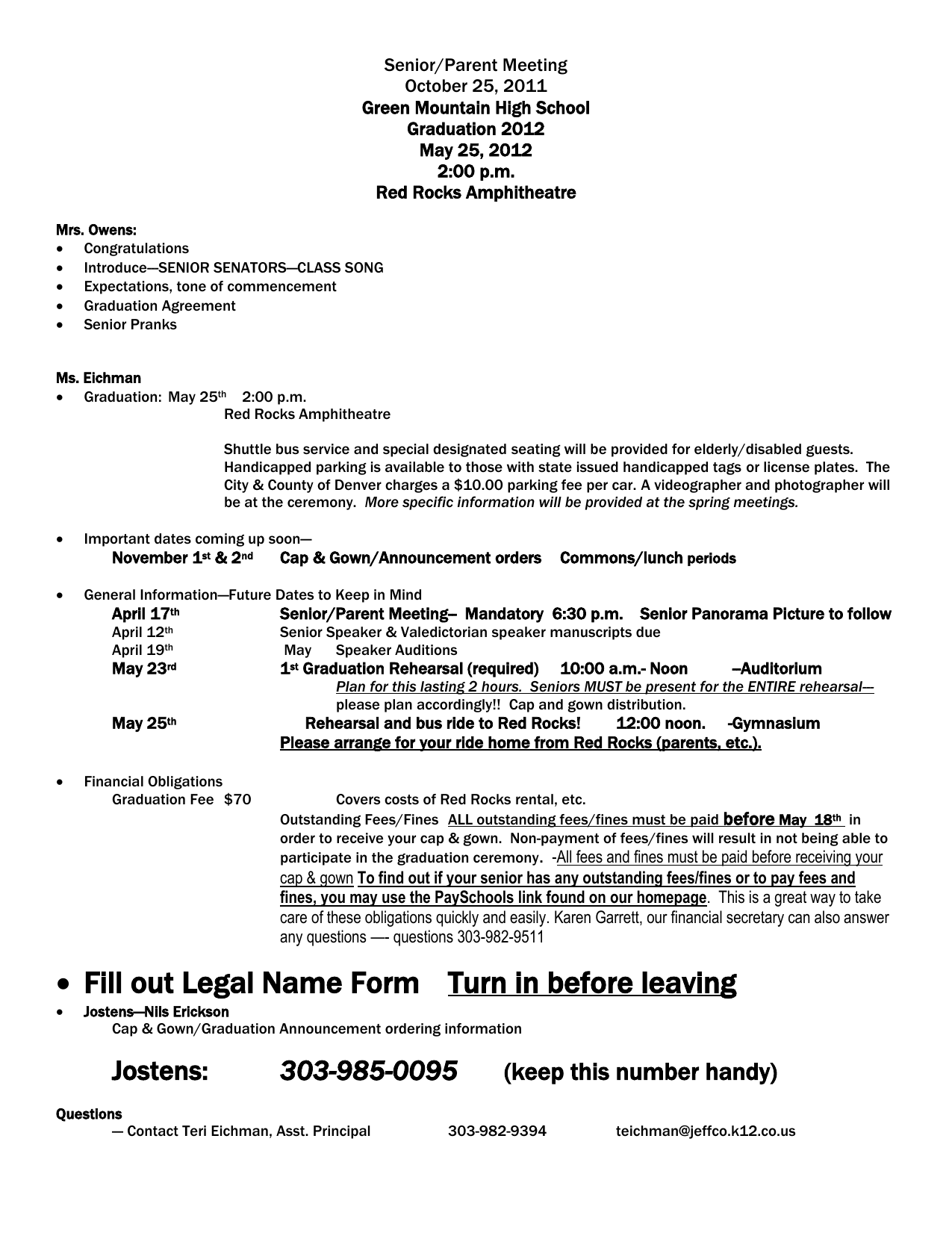 Senior/Parent Meeting October 25, 2011 Green Mountain High School Graduation 2012 May 25, 2012 2:00 p.m. Red Rocks Amphitheatre
Mrs. Owens:  Congratulations  Introduce---SENIOR SENATORS—CLASS SONG  Expectations, tone of commencement   Graduation Agreement Senior Pranks Ms. Eichman  Graduation: May 25 th 2:00 p.m. Red Rocks Amphitheatre Shuttle bus service and special designated seating will be provided for elderly/disabled guests. Handicapped parking is available to those with state issued handicapped tags or license plates. The City & County of Denver charges a $10.00 parking fee per car. A videographer and photographer will be at the ceremony.
More specific information will be provided at the spring meetings.
 Important dates coming up soon— November 1 st & 2 nd Cap & Gown/Announcement orders Commons/lunch periods  General Information—Future Dates to Keep in Mind April 17 th Senior/Parent Meeting-- Mandatory 6:30 p.m. Senior Panorama Picture to follow April 12 th April 19 th May 23 rd Senior Speaker & Valedictorian speaker manuscripts due May Speaker Auditions 1 st Graduation Rehearsal (required) 10:00 a.m.- Noon
Plan for this lasting 2 hours. Seniors MUST be present for the ENTIRE rehearsal---
please plan accordingly!! Cap and gown distribution. --Auditorium May 25 th Rehearsal and bus ride to Red Rocks! 12:00 noon. -Gymnasium Please arrange for your ride home from Red Rocks (parents, etc.).   Financial Obligations Graduation Fee $70 Covers costs of Red Rocks rental, etc. Outstanding Fees/Fines ALL outstanding fees/fines must be paid order to receive your cap & gown. Non-payment of fees/fines will result in not being able to participate in the graduation ceremony . any questions —- questions 303-982-9511
before
May 18 th in -All fees and fines must be paid before receiving your cap & gown To find out if your senior has any outstanding fees/fines or to pay fees and fines, you may use the PaySchools link found on our homepage. This is a great way to take care of these obligations quickly and easily. Karen Garrett, our financial secretary can also answer 
Fill out Legal Name Form Turn in before leaving
Jostens—Nils Erickson Cap & Gown/Graduation Announcement ordering information
Jostens:
303-985-0095
(keep this number handy)
Questions --- Contact Teri Eichman, Asst. Principal 303-982-9394 [email protected]