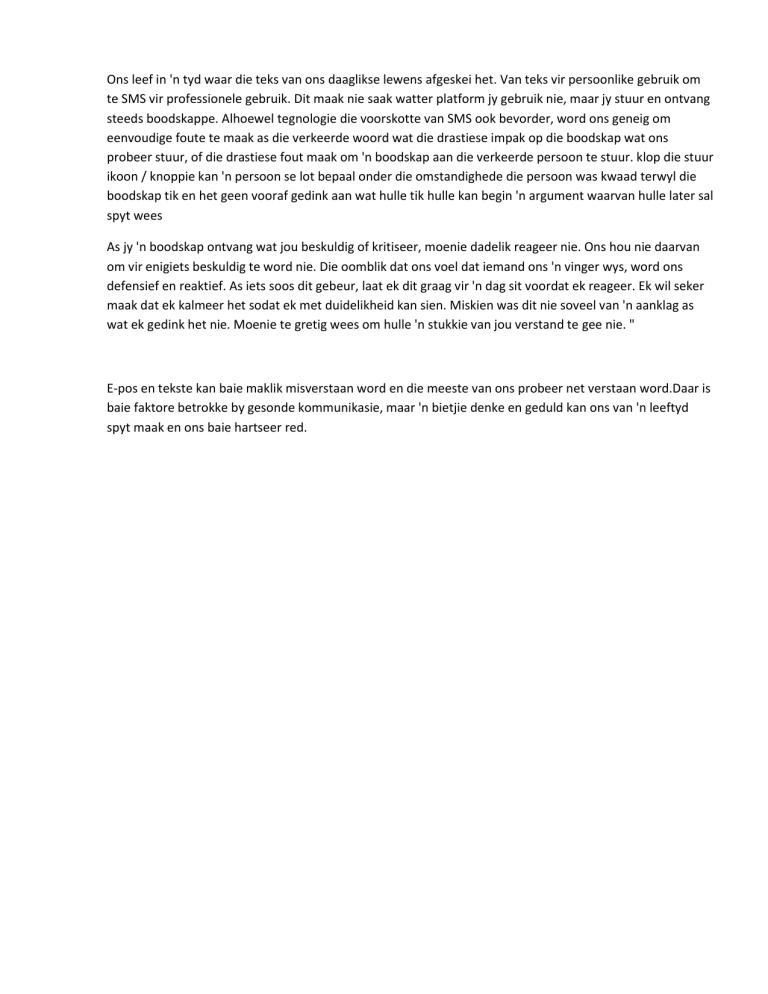 Ons leef in 'n tyd waar die teks van ons daaglikse lewens afgeskei het. Van teks vir persoonlike gebruik om te SMS vir professionele gebruik. Dit maak nie saak watter platform jy gebruik nie, maar jy stuur en ontvang steeds boodskappe. Alhoewel tegnologie die voorskotte van SMS ook bevorder, word ons geneig om eenvoudige foute te maak as die verkeerde woord wat die drastiese impak op die boodskap wat ons probeer stuur, of die drastiese fout maak om 'n boodskap aan die verkeerde persoon te stuur. klop die stuur ikoon / knoppie kan 'n persoon se lot bepaal onder die omstandighede die persoon was kwaad terwyl die boodskap tik en het geen vooraf gedink aan wat hulle tik hulle kan begin 'n argument waarvan hulle later sal spyt wees
As jy 'n boodskap ontvang wat jou beskuldig of kritiseer, moenie dadelik reageer nie. Ons hou nie daarvan om vir enigiets beskuldig te word nie. Die oomblik dat ons voel dat iemand ons 'n vinger wys, word ons defensief en reaktief. As iets soos dit gebeur, laat ek dit graag vir 'n dag sit voordat ek reageer. Ek wil seker maak dat ek kalmeer het sodat ek met duidelikheid kan sien. Miskien was dit nie soveel van 'n aanklag as wat ek gedink het nie. Moenie te gretig wees om hulle 'n stukkie van jou verstand te gee nie. "
E-pos en tekste kan baie maklik misverstaan word en die meeste van ons probeer net verstaan word.Daar is baie faktore betrokke by gesonde kommunikasie, maar 'n bietjie denke en geduld kan ons van 'n leeftyd spyt maak en ons baie hartseer red.