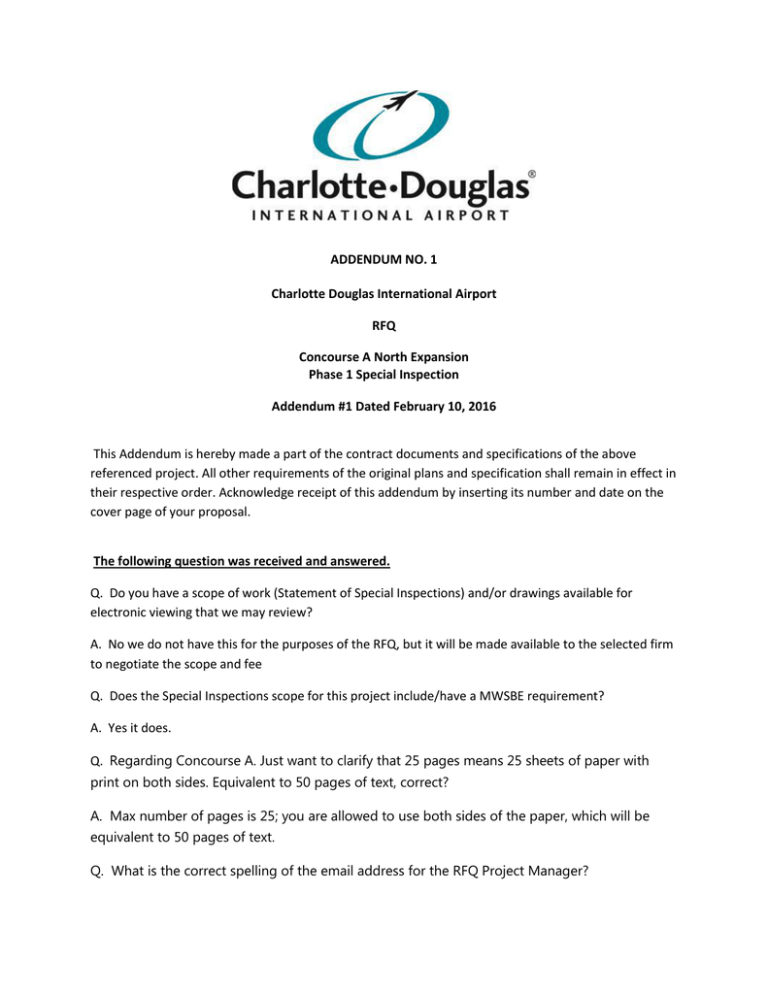 ADDENDUM NO. 1
Charlotte Douglas International Airport
RFQ
Concourse A North Expansion
Phase 1 Special Inspection
Addendum #1 Dated February 10, 2016
This Addendum is hereby made a part of the contract documents and specifications of the above
referenced project. All other requirements of the original plans and specification shall remain in effect in
their respective order. Acknowledge receipt of this addendum by inserting its number and date on the
cover page of your proposal.
The following question was received and answered.
Q. Do you have a scope of work (Statement of Special Inspections) and/or drawings available for
electronic viewing that we may review?
A. No we do not have this for the purposes of the RFQ, but it will be made available to the selected firm
to negotiate the scope and fee
Q. Does the Special Inspections scope for this project include/have a MWSBE requirement?
A. Yes it does.
Q. Regarding Concourse A. Just want to clarify that 25 pages means 25 sheets of paper with
print on both sides. Equivalent to 50 pages of text, correct?
A. Max number of pages is 25; you are allowed to use both sides of the paper, which will be
equivalent to 50 pages of text.
Q. What is the correct spelling of the email address for the RFQ Project Manager?
A. On Page Three (3) of the RFQ, the correct spelling of my email address is
ghpeeples@cltairport.com
End of Addendum.