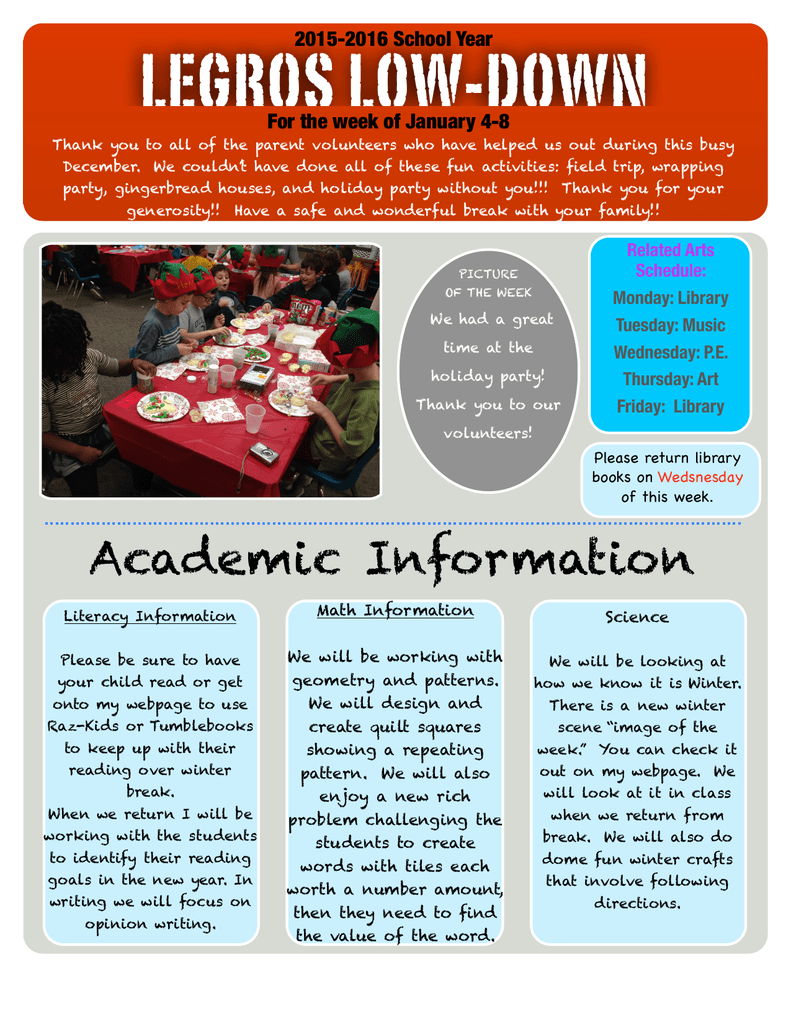 2015-2016 School Year
LEGROS LOW-DOWN
For the week of January 4-8
Thank you to all of the parent volunteers who have helped us out during this busy
December. We couldn't have done all of these fun activities: field trip, wrapping
party, gingerbread houses, and holiday party without you!!! Thank you for your
generosity!! Have a safe and wonderful break with your family!!
Related Arts
Schedule:
Monday: Library
Tuesday: Music
Wednesday: P.E.
PICTURE
OF THE WEEK
We had a great
time at the
holiday party!
Thank you to our
Thursday: Art
Friday: Library
volunteers!
Please return library
books on Wedsnesday
of this week.
Academic Information
Literacy Information
Math Information
Science
Please be sure to have
We will be working with
geometry and patterns.
We will design and
create quilt squares
showing a repeating
pattern. We will also
enjoy a new rich
problem challenging the
students to create
words with tiles each
worth a number amount,
then they need to find
the value of the word.
We will be looking at
your child read or get
onto my webpage to use
Raz-Kids or Tumblebooks
to keep up with their
reading over winter
break.
When we return I will be
working with the students
to identify their reading
goals in the new year. In
writing we will focus on
opinion writing.
how we know it is Winter.
There is a new winter
scene "image of the
week." You can check it
out on my webpage. We
will look at it in class
when we return from
break. We will also do
dome fun winter crafts
that involve following
directions.