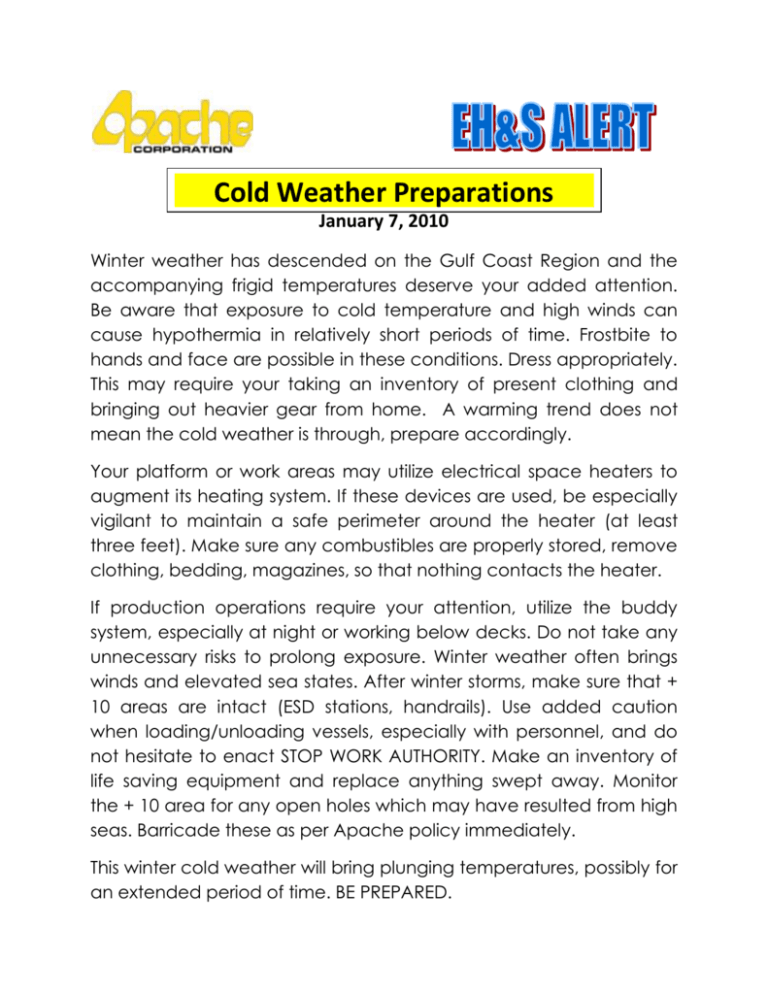 Cold Weather Preparations
January 7, 2010
Winter weather has descended on the Gulf Coast Region and the
accompanying frigid temperatures deserve your added attention.
Be aware that exposure to cold temperature and high winds can
cause hypothermia in relatively short periods of time. Frostbite to
hands and face are possible in these conditions. Dress appropriately.
This may require your taking an inventory of present clothing and
bringing out heavier gear from home. A warming trend does not
mean the cold weather is through, prepare accordingly.
Your platform or work areas may utilize electrical space heaters to
augment its heating system. If these devices are used, be especially
vigilant to maintain a safe perimeter around the heater (at least
three feet). Make sure any combustibles are properly stored, remove
clothing, bedding, magazines, so that nothing contacts the heater.
If production operations require your attention, utilize the buddy
system, especially at night or working below decks. Do not take any
unnecessary risks to prolong exposure. Winter weather often brings
winds and elevated sea states. After winter storms, make sure that +
10 areas are intact (ESD stations, handrails). Use added caution
when loading/unloading vessels, especially with personnel, and do
not hesitate to enact STOP WORK AUTHORITY. Make an inventory of
life saving equipment and replace anything swept away. Monitor
the + 10 area for any open holes which may have resulted from high
seas. Barricade these as per Apache policy immediately.
This winter cold weather will bring plunging temperatures, possibly for
an extended period of time. BE PREPARED.