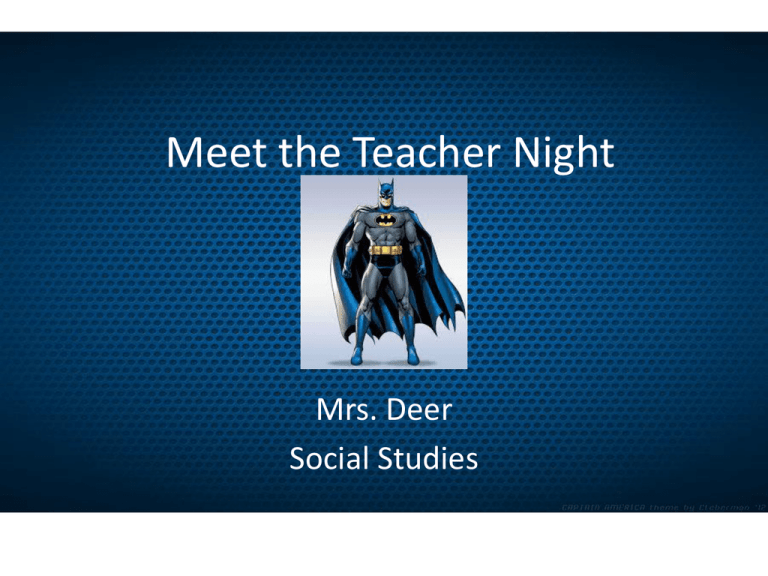 Meet the Teacher Night
Mrs. Deer
Social Studies
Expectations
Grades
Grading Policy
6th Grade Classes
Homework/Class work
Tests/Quizzes/Projects
30%
70%
Advanced Classes
Homework/Class work
Tests/Quizzes/Projects
20%
80%
• Grades at or above an 89.5 are rounded
to an "A"
Homework
WE WANT THIS
NOT THIS
• Your child can expect 45-60 minutes of homework
every day.
• Homework serves as practice for skills learned in
class.
• It is okay to help your child with homework, however,
we all know there is important learning involved
when working through tough problems.
• Communicate with your child's teacher if you have
questions or concerns.
Student Integrity
• Student integrity is a mark of good character; honesty and
responsibility are expected. We discuss each situation
individually with a student.
• Our policy for confirmed cases of cheating are:
– Parents are contacted in cases of cheating on homework or
practice work, and the student receives a score of zero on the
assignment.
– In the event of cheating on tests we refer students to
administration, and they receive a score of zero for the test (this
includes plagiarizing material on reports/other writing).
• We use Academic Lab time to provide specific instruction
to students on the issue of plagiarism and how to avoid it.
It's Late
 We have an expectation that students will
complete all class and homework on time.
 In the event that the work is late, full
credit cannot be given, but we still expect
the work to be done. The student will be
consulted about the revised grade.
If your child is sick or has to be out of school:
• Students have equal days as days absent to make up work
(including homework).
– It is the student's responsibility to determine missed
assignments and copy missed notes upon return to class
• We make sure that all assignments are posted in class or
online for the week
• Students can consult their agenda (a good reason to keep
agendas current)
• You can email the teachers in advance if your student is
going to be absent in order for us to provide work.
I need a snack!
Snacks
• Students can enjoy a healthy snack
during their 2nd period
– Water
– Fruit/vegetables
– Crackers/granola bars
– String cheese
– No C's (candy, cookies, cakes, chips)
– No snack that requires utensils to eat
Sixth Grade Curriculum
World History from its earliest
cultures through the Middle Ages
Early Civilizations in the Americas
Mesopotamia
Egypt
India
China
Greece
Rome
My kids
About Me
I grew up in
Illinois. My
husband and I
moved to
Arizona almost
17 years ago.
This is my 18th
year teaching
and my 16th year
at Aprende.
In my free
time, I like to
read, cook, go
to baseball
games, travel
and cheer for
my kids.
I graduated from
Eastern Illinois
University. Tony
Romo went to
school there too!