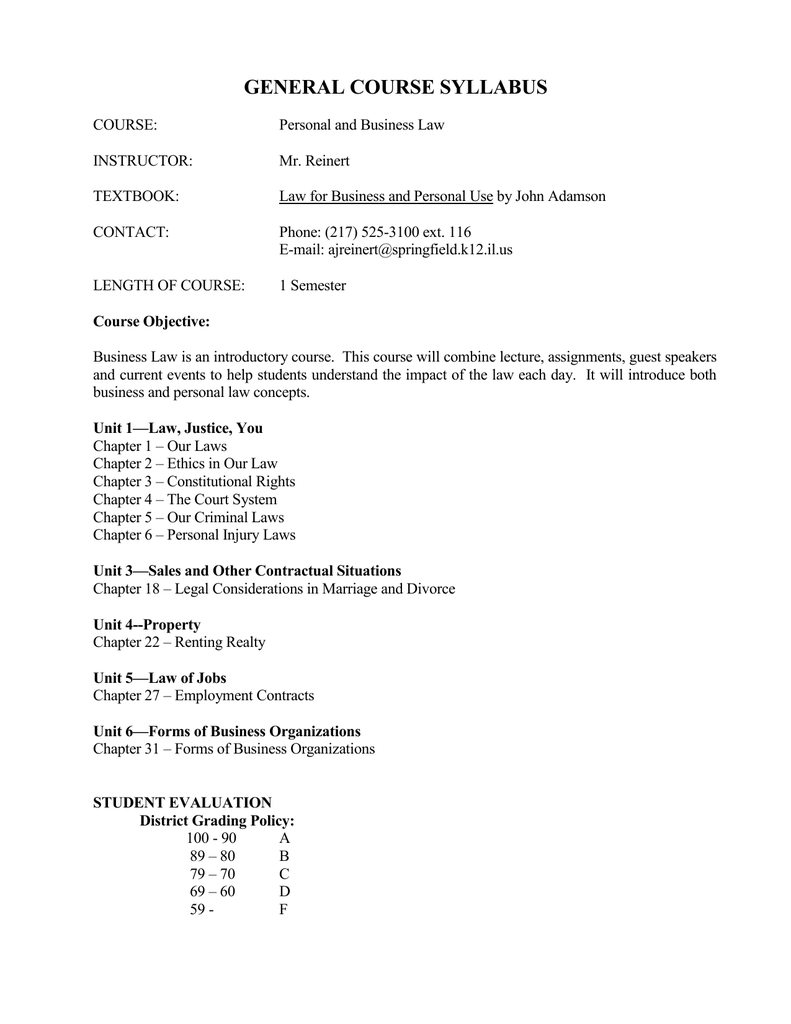 GENERAL COURSE SYLLABUS
COURSE:
Personal and Business Law
INSTRUCTOR:
Mr. Reinert
TEXTBOOK:
Law for Business and Personal Use by John Adamson
CONTACT:
Phone: (217) 525-3100 ext. 116
E-mail: [email protected]
LENGTH OF COURSE:
1 Semester
Course Objective:
Business Law is an introductory course. This course will combine lecture, assignments, guest speakers
and current events to help students understand the impact of the law each day. It will introduce both
business and personal law concepts.
Unit 1—Law, Justice, You
Chapter 1 – Our Laws
Chapter 2 – Ethics in Our Law
Chapter 3 – Constitutional Rights
Chapter 4 – The Court System
Chapter 5 – Our Criminal Laws
Chapter 6 – Personal Injury Laws
Unit 3—Sales and Other Contractual Situations
Chapter 18 – Legal Considerations in Marriage and Divorce
Unit 4--Property
Chapter 22 – Renting Realty
Unit 5—Law of Jobs
Chapter 27 – Employment Contracts
Unit 6—Forms of Business Organizations
Chapter 31 – Forms of Business Organizations
STUDENT EVALUATION
District Grading Policy:
100 - 90
A
89 – 80
B
79 – 70
C
69 – 60
D
59 F
Semester grades:
First nine weeks
Second nine weeks
Semester Final
40%
40%
20%
Business Department Grading Guidelines










Students will be graded on Classroom Work/Homework which will include book assignments,
group assignments, bell work, teamwork, and daily participation.
Multiple assessment opportunities will be provided for students to show what they understand
and how they can use what they learn.
We will use rubrics to provide feedback on formative performances.
Assessments will meet rigorous design with clear expectations.
We will ensure students understand how their grade is determined.
There will be regular communication between student and teacher regarding their achievement.
Students will be challenged to think critically by comprehending, applying, analyzing,
synthesizing and evaluating the content in the courses.
If a student has an excused absent, they will have as many days as they were absent to make up
the work that they missed.
If a student is unexcused, they will receive a zero for work missed. If they make up that work,
they will receive 50% of the assignment grade, and will get as many days as they missed to
make up the work.
Late work for students who are in attendance must be turned in by the end of the unit with a
one letter grade penalty.