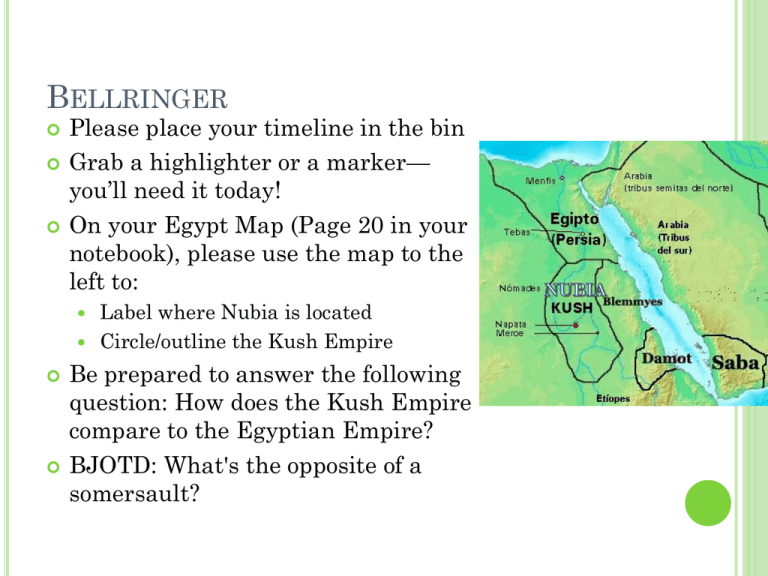 BELLRINGER



Please place your timeline in the bin
Grab a highlighter or a marker—
you'll need it today!
On your Egypt Map (Page 20 in your
notebook), please use the map to the
left to:
Label where Nubia is located
 Circle/outline the Kush Empire



Be prepared to answer the following
question: How does the Kush Empire
compare to the Egyptian Empire?
BJOTD: What's the opposite of a
somersault?
EGYPT AND KUSH
DECLINE OF THE MIDDLE KINGDOM

Hyksos invasion
RISE OF THE NEW KINGDOM (1570-1075
BCE)

New Weapons:


Bronze weapons and chariots
Emphasis on conquering
HATSHEPSUT

Encouraged trade instead of war
RAMSES II
Warleader
 Made first peace treaty with the Hittites
 Built many architectural monuments


Abu Simbel
THE HITTITES

Read the selection, use your highlighter, and be
able to answer the following questions:
Who were the Hittites?
 How did the Hittites use their land (3 ways!)
 What were the Hittites most famous for (2 things!)

EGYPT'S DECLINE
"People of the Sea" invaded after Ramses died
 Kingdom split apart, then invaded by the
Libyans

THE RISE OF KUSH (2000 BCE-1000
BCE)

A kingdom located in Nubia


Nubia: region of Egypt straddling the Upper Nile
Spread to include the rest of Egypt from Nubia to
the Mediterranean
PEOPLE OF NUBIA
Trading kingdom
 Culture glorified Egypt—Kush felt as if it was
the guardian of Egyptian values


Used hieroglyphics, built pyramids, kicked the
Libyans out of Egypt (King Piankhi was responsible
for taking back Egypt)
DECLINE OF KUSH

Kicked out of Egypt by the Assyrians
MEROE
Wealthy trading nation;
emphasis on metal
working
 Ruled like pharaohs



No dynasties
Declined from 250 BCE
to 150 BCE
ACTIVITY

Complete the Processing Page by using Ramses
II as the second leader (the woman is a leader of
Meroe)

Find similarities and differences between the two
groups

Consider: religion, government, architecture, language, the
priority of the government, etc.
CHINA VS. EGYPT
Category
of
Analysis
D
D
S
Why?
SUMER VS. EGYPT
Category
of
Analysis
D
D
S
Why?
CHINA VS. SUMER
Category
of
Analysis
D
D
S
Why?