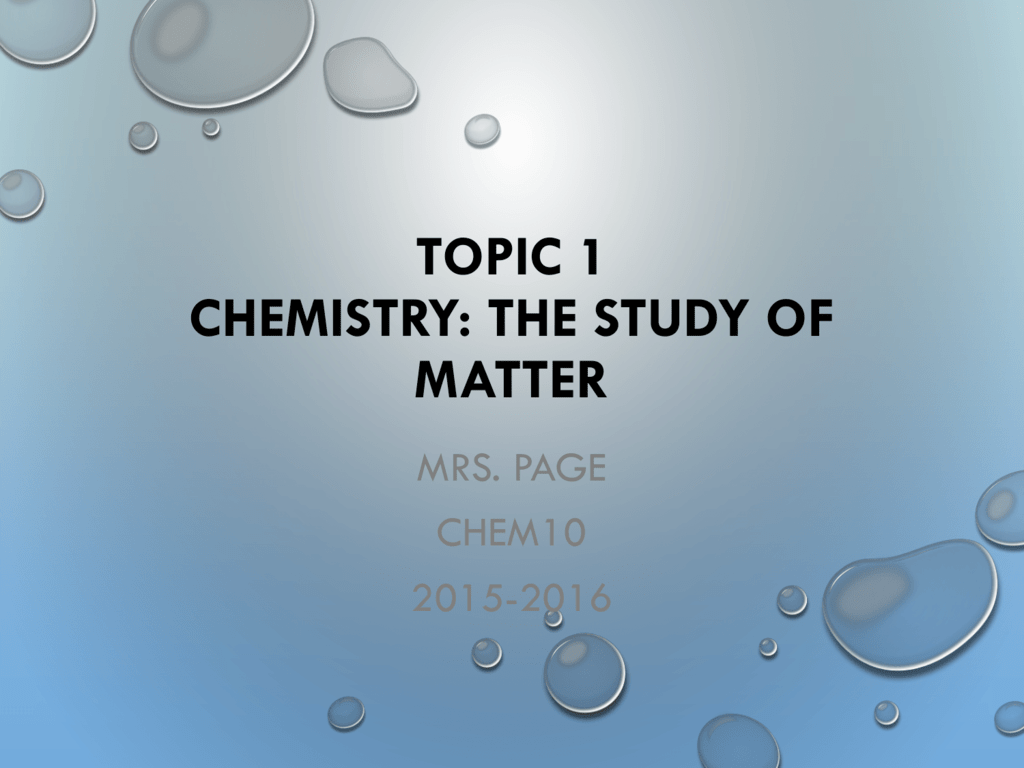 TOPIC 1
CHEMISTRY: THE STUDY OF
MATTER
MRS. PAGE
CHEM10
2015-2016
DAILY OBJECTIVES
• DISTINGUISH BETWEEN THE PHYSICAL PROPERTIES AND CHEMICAL
PROPERTIES OF MATTER.
• EXPLAIN SOLID, LIQUID, AND GAS STATES IN TERMS OF KINETIC PARTICLE
THEORY.
• INTERPRET PHASE CHANGE DIAGRAMS
• DISTINGUISH BETWEEN PURE SUBSTANCES, HETEROGENEOUS MIXTURE,
AND HOMOGENEOUS MIXTURE, GIVING EXAMPLES OF EACH
• LIST THE SI UNITS FOR LENGTH, MASS, TIME, VOLUME, DENSITY AND
PRESSURE
• DISTINGUISH BETWEEN MASS AND WEIGHT
WHAT IS CHEMISTRY?
• THE STUDY OF THE MATTER, ITS
COMPOSITION, PROPERTIES, AND
THE CHANGES IT UNDERGOES.
WHAT IS MATTER?
• MATTER IS ANYTHING THAT HAS VOLUME AND MASS.
• VOLUME: THE AMOUNT OF SPACE AN OBJECT TAKES UP
• VOLUME IS MEASURED IN LITERS (L) OR CUBIC CENTIMETERS
(cm3)
• MASS IS THE AMOUNT OF PARTICLES IN AN OBJECT
• MASS IS MEASURED IN KILOGRAMS (kg)
MASS VS WEIGHT
• MASS
• THE AMOUNT OF MATTER IN AN OBJECT
• CONSTANT
• SI UNIT KILOGRAMS (kg)
• WEIGHT
• THE FORCE OF GRAVITY ON AN OBJECT
• CHANGES WITH LOCATION (EX: MOON
VS EARTH)
• SI UNIT NEWTONS
https://www.youtube.com/watch?v=1whMAIGNq7E
CLASSIFYING MATTER
• PURE SUBSTANCE (ELEMENTS & COMPOUNDS)- MADE
OF 1 TYPE OF PARTICLE. IT CAN'T BE SEPARATED IN A
PHYSICAL WAY.
• MIXTURE- MORE THAN ONE SUBSTANCE "MIXED"
TOGETHER. IT CAN BE SEPARATED IN PHYSICAL WAYS
(FILTERING, EVAPORATION, PICKING APART, USING A
MAGNET, ETC.)
• GIVE SOME EXAMPLES OF PURE SUBSTANCES AND
MIXTURES FROM YOUR EVERY DAY LIFE.
CLASSIFYING MATTER
2 TYPES OF MIXTURES:
• HOMOGENEOUS MIXTURE- THE COMPONENTS
THAT ARE MIXED ARE EVENLY DISTRIBUTED. THE
SAME THROUGHOUT
• HETEROGENEOUS MIXTURE- THE PARTS
MAKING UP THE MIXTURE ARE NOT EVENLY
DISTRIBUTED. NOT THE SAME THROUGHOUT
• DRAW A PICTURE REPRESENTING A PURE
SUBSTANCE, A HOMOGENEOUS MIXTURE & A
HETEROGENEOUS MIXTURE. GIVE EXAMPLES OF
EACH.
BRAIN BREAK
• HTTP://WWW.WATCHKNOWLEARN.ORG/VIDEO.ASPX?VIDEOID=541
81&CATEGORYID=17404
• HTTP://WWW.WATCHKNOWLEARN.ORG/VIDEO.ASPX?VIDEOID=541
82&CATEGORYID=17404
PROPERTIES OF MATTER
• PHYSICAL PROPERTIES• A PROPERTY THAT CAN BE OBSERVED AND
MEASURED WITHOUT CHANGING THE
COMPOSITION.
• CAN BE OBSERVED WITHOUT A CHEMICAL
CHANGE OCCURRING
• EXAMPLES?
• COLOR, MELTING POINT, STATE OF MATTER,
CONDUCTIVITY, HARDNESS, DENSITY, MAGNETISM
PROPERTIES OF MATTER
• CHEMICAL PROPERTIES• A PROPERTY THAT CAN ONLY BE OBSERVED BY
REARRANGING THE ATOMS IN THE SUBSTANCE.
• REQUIRES A CHEMICAL REACTION TO OBSERVE
• EXAMPLES?
• REACTIVITY, PH, FLAMMABILITY, OXIDATION (EX:
RUSTING)
STATES OF MATTER
• SOLID- HAS DEFINITE SHAPE AND VOLUME. THE
PARTICLES CANNOT MOVE PAST EACH OTHER.
PARTICLES SHAKE IN PLACE BUT LOW ENERGY.
• LIQUID- DEFINITE VOLUME BUT TAKES THE SHAPE OF
ITS CONTAINER. THE PARTICLES SLIDE PAST EACH
OTHER. PARTICLES HAVE MEDIUM ENERGY AND
MOVE AROUND.
• GAS- A SUBSTANCE WITHOUT DEFINITE VOLUME OR
SHAPE, IT FILLS ITS' CONTAINER. THE PARTICLES ARE
VERY SPREAD OUT. PARTICLES HAVE HIGH ENERGY
AND MOVE AROUND RAPIDLY
https://www.youtube.com/watch?v=_rsqBNhFG1Y
States of Matter
Definite Definite
Volume? Shape?
Compressible?
Solid
YES
YES
NO
Liquid
YES
NO
NO
Gas
NO
NO
YES
CHANGES OF STATES
Condensation
Freezing
Melting
Solid
Evaporation
Liquid
Gas
PHASE CHANGE DIAGRAMS
INTERPRET
TICKET OUT THE DOOR
1. Define matter
2. What is the difference between mass and
weight?
3. What are the two properties of matter? Give
an example of each.
4. Describe the 3 states of matter using the
kinetic molecular theory.
5. How do you feel about the first week of
chemistry?