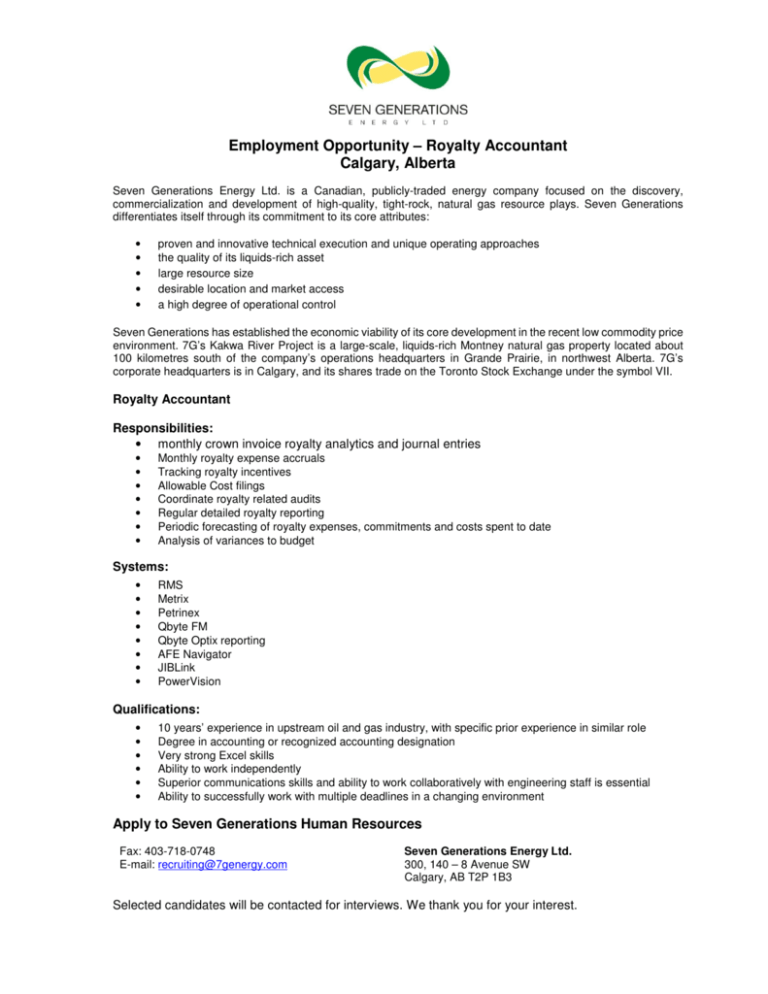 Employment Opportunity – Royalty Accountant
Calgary, Alberta
Seven Generations Energy Ltd. is a Canadian, publicly-traded energy company focused on the discovery,
commercialization and development of high-quality, tight-rock, natural gas resource plays. Seven Generations
differentiates itself through its commitment to its core attributes:
•
•
•
•
•
proven and innovative technical execution and unique operating approaches
the quality of its liquids-rich asset
large resource size
desirable location and market access
a high degree of operational control
Seven Generations has established the economic viability of its core development in the recent low commodity price
environment. 7G's Kakwa River Project is a large-scale, liquids-rich Montney natural gas property located about
100 kilometres south of the company's operations headquarters in Grande Prairie, in northwest Alberta. 7G's
corporate headquarters is in Calgary, and its shares trade on the Toronto Stock Exchange under the symbol VII.
Royalty Accountant
Responsibilities:
• monthly crown invoice royalty analytics and journal entries
•
•
•
•
•
•
•
Monthly royalty expense accruals
Tracking royalty incentives
Allowable Cost filings
Coordinate royalty related audits
Regular detailed royalty reporting
Periodic forecasting of royalty expenses, commitments and costs spent to date
Analysis of variances to budget
Systems:
•
•
•
•
•
•
•
•
RMS
Metrix
Petrinex
Qbyte FM
Qbyte Optix reporting
AFE Navigator
JIBLink
PowerVision
Qualifications:
•
•
•
•
•
•
10 years' experience in upstream oil and gas industry, with specific prior experience in similar role
Degree in accounting or recognized accounting designation
Very strong Excel skills
Ability to work independently
Superior communications skills and ability to work collaboratively with engineering staff is essential
Ability to successfully work with multiple deadlines in a changing environment
Apply to Seven Generations Human Resources
Fax: 403-718-0748
E-mail: [email protected]
Seven Generations Energy Ltd.
300, 140 – 8 Avenue SW
Calgary, AB T2P 1B3
Selected candidates will be contacted for interviews. We thank you for your interest.