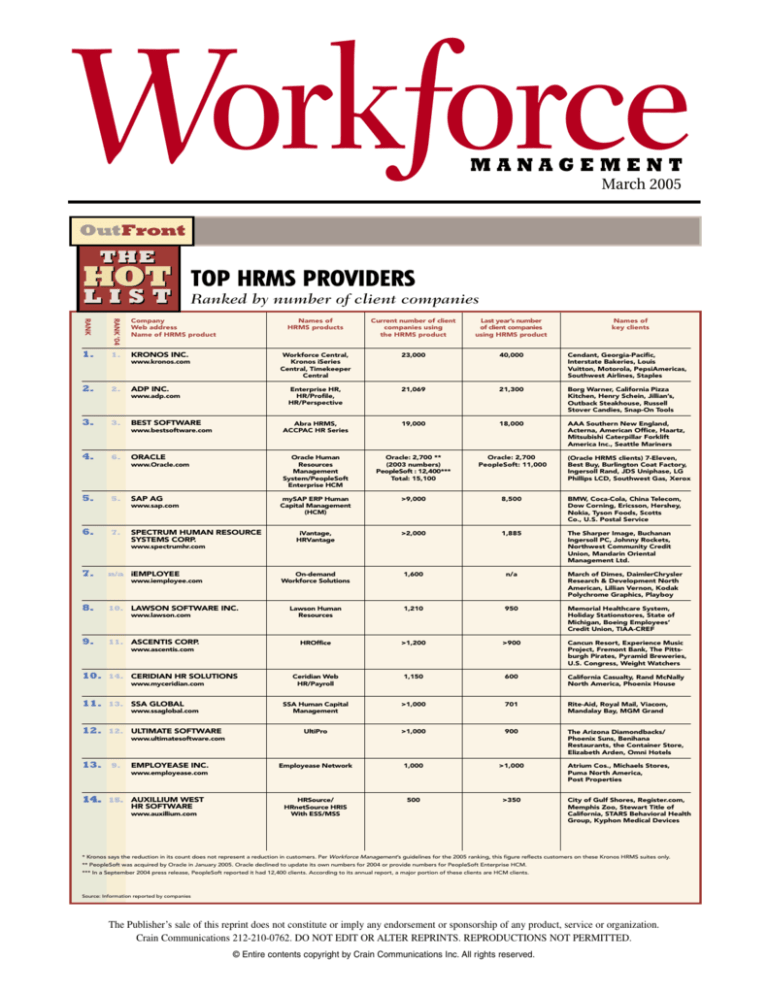 Workƒorce
MANAGEMENT
March 2005
OutFront
THE
HOT
LIST
TOP HRMS PROVIDERS
Ranked by number of client companies
RANK
RANK '04
Company
Web address
Name of HRMS product
1.
1.
KRONOS INC.
www.kronos.com
2.
2.
ADP INC.
www.adp.com
3.
3.
BEST SOFTWARE
www.bestsoftware.com
4.
6.
ORACLE
www.Oracle.com
5.
5.
SAP AG
www.sap.com
6.
7.
SPECTRUM HUMAN RESOURCE
SYSTEMS CORP.
Names of
HRMS products
Current number of client
companies using
the HRMS product
Last year's number
of client companies
using HRMS product
Workforce Central,
Kronos iSeries
Central, Timekeeper
Central
23,000
40,000
Cendant, Georgia-Pacific,
Interstate Bakeries, Louis
Vuitton, Motorola, PepsiAmericas,
Southwest Airlines, Staples
Enterprise HR,
HR/Profile,
HR/Perspective
21,069
21,300
Borg Warner, California Pizza
Kitchen, Henry Schein, Jillian's,
Outback Steakhouse, Russell
Stover Candies, Snap-On Tools
Abra HRMS,
ACCPAC HR Series
19,000
18,000
AAA Southern New England,
Acterna, American Office, Haartz,
Mitsubishi Caterpillar Forklift
America Inc., Seattle Mariners
Oracle Human
Resources
Management
System/PeopleSoft
Enterprise HCM
Oracle: 2,700 **
(2003 numbers)
PeopleSoft : 12,400***
Total: 15,100
Oracle: 2,700
PeopleSoft: 11,000
mySAP ERP Human
Capital Management
(HCM)
>9,000
8,500
BMW, Coca-Cola, China Telecom,
Dow Corning, Ericsson, Hershey,
Nokia, Tyson Foods, Scotts
Co., U.S. Postal Service
iVantage,
HRVantage
>2,000
1,885
The Sharper Image, Buchanan
Ingersoll PC, Johnny Rockets,
Northwest Community Credit
Union, Mandarin Oriental
Management Ltd.
On-demand
Workforce Solutions
1,600
n/a
March of Dimes, DaimlerChrysler
Research & Development North
American, Lillian Vernon, Kodak
Polychrome Graphics, Playboy
Lawson Human
Resources
1,210
950
Memorial Healthcare System,
Holiday Stationstores, State of
Michigan, Boeing Employees'
Credit Union, TIAA-CREF
HROffice
>1,200
>900
Cancun Resort, Experience Music
Project, Fremont Bank, The Pittsburgh Pirates, Pyramid Breweries,
U.S. Congress, Weight Watchers
Ceridian Web
HR/Payroll
1,150
600
California Casualty, Rand McNally
North America, Phoenix House
SSA Human Capital
Management
>1,000
701
Rite-Aid, Royal Mail, Viacom,
Mandalay Bay, MGM Grand
UltiPro
>1,000
900
The Arizona Diamondbacks/
Phoenix Suns, Benihana
Restaurants, the Container Store,
Elizabeth Arden, Omni Hotels
Employease Network
1,000
>1,000
HRSource/
HRnetSource HRIS
With ESS/MSS
500
>350
www.spectrumhr.com
7.
n/a
iEMPLOYEE
www.iemployee.com
8.
10.
LAWSON SOFTWARE INC.
www.lawson.com
9.
11.
ASCENTIS CORP.
www.ascentis.com
10.
14.
CERIDIAN HR SOLUTIONS
www.myceridian.com
11.
13.
SSA GLOBAL
www.ssaglobal.com
12.
12.
ULTIMATE SOFTWARE
www.ultimatesoftware.com
13.
9.
EMPLOYEASE INC.
www.employease.com
14.
15.
AUXILLIUM WEST
HR SOFTWARE
www.auxillium.com
Names of
key clients
(Oracle HRMS clients) 7-Eleven,
Best Buy, Burlington Coat Factory,
Ingersoll Rand, JDS Uniphase, LG
Phillips LCD, Southwest Gas, Xerox
Atrium Cos., Michaels Stores,
Puma North America,
Post Properties
City of Gulf Shores, Register.com,
Memphis Zoo, Stewart Title of
California, STARS Behavioral Health
Group, Kyphon Medical Devices
* Kronos says the reduction in its count does not represent a reduction in customers. Per Workforce Management's guidelines for the 2005 ranking, this figure reflects customers on these Kronos HRMS suites only.
** PeopleSoft was acquired by Oracle in January 2005. Oracle declined to update its own numbers for 2004 or provide numbers for PeopleSoft Enterprise HCM.
*** In a September 2004 press release, PeopleSoft reported it had 12,400 clients. According to its annual report, a major portion of these clients are HCM clients.
Source: Information reported by companies
The Publisher's sale of this reprint does not constitute or imply any endorsement or sponsorship of any product, service or organization.
Crain Communications 212-210-0762. DO NOT EDIT OR ALTER REPRINTS. REPRODUCTIONS NOT PERMITTED.
© Entire contents copyright by Crain Communications Inc. All rights reserved.