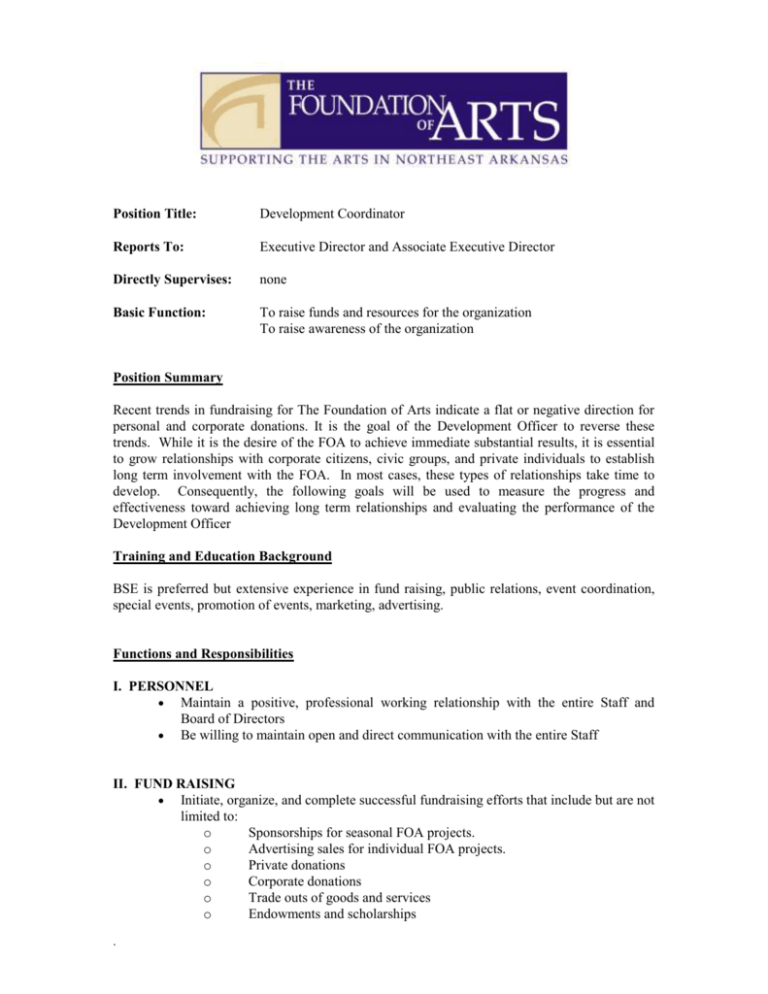 Position Title:
Development Coordinator
Reports To:
Executive Director and Associate Executive Director
Directly Supervises:
none
Basic Function:
To raise funds and resources for the organization
To raise awareness of the organization
Position Summary
Recent trends in fundraising for The Foundation of Arts indicate a flat or negative direction for
personal and corporate donations. It is the goal of the Development Officer to reverse these
trends. While it is the desire of the FOA to achieve immediate substantial results, it is essential
to grow relationships with corporate citizens, civic groups, and private individuals to establish
long term involvement with the FOA. In most cases, these types of relationships take time to
develop. Consequently, the following goals will be used to measure the progress and
effectiveness toward achieving long term relationships and evaluating the performance of the
Development Officer
Training and Education Background
BSE is preferred but extensive experience in fund raising, public relations, event coordination,
special events, promotion of events, marketing, advertising.
Functions and Responsibilities
I. PERSONNEL
 Maintain a positive, professional working relationship with the entire Staff and
Board of Directors
 Be willing to maintain open and direct communication with the entire Staff
II. FUND RAISING
 Initiate, organize, and complete successful fundraising efforts that include but are not
limited to:
o
Sponsorships for seasonal FOA projects.
o
Advertising sales for individual FOA projects.
o
Private donations
o
Corporate donations
o
Trade outs of goods and services
o
Endowments and scholarships
.


o
Grants from public, private, or corporate organizations
Serve on Development Committee of the Board of Directors
Work extensively on Development Committee to plan and execute fund raising events
III. COMMUNITY AWARENESS and PUBLIC RELATIONS
 Coordinate all FOA public relation events with civic clubs, chamber of commerce,
community organizations and local media.
 Promote and encourage participation in all activities related to the Foundation of Arts,
the Arts Center, and Forum.
 Foster mutually beneficial partnerships with other non-profit organizations.
 Restore old relationships and establish new relationships with private individuals,
businesses, corporations, civic organizations, and community groups for the
immediate and long term goals of donations and exchange of goods and services that
contribute to the operational efficiency and financial stability of FOA.
IV. REPORTING
 Provide details of all contacts (and the results of those contacts) to Executive
Director for inclusion in Administrative Report for Board of Directors
V. BUDGET

VI. OTHER
 Serve as FOA representative as needed
 Other appropriate duties as defined/assigned by Executive Director
Personal Requirements
 Positive Attitude
 Creativity, self motivation with initiative
 Diplomacy and confidentiality
 Excellence in written and oral communications
 Organization and attention to accuracy and detail
 Solid work ethic
 Possession of Driver's License
Professional Requirements
 Grant writing experience preferred
 Experience (in some capacity) with non-profit organizations
.