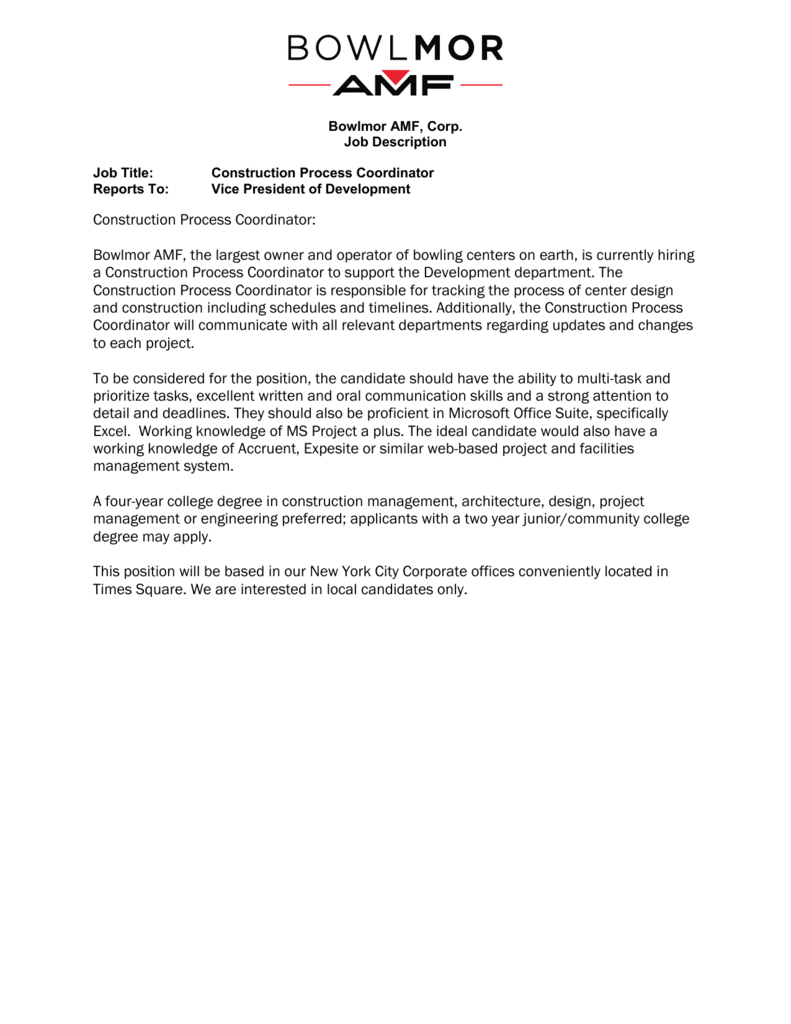 Bowlmor AMF, Corp.
Job Description
Job Title:
Reports To:
Construction Process Coordinator
Vice President of Development
Construction Process Coordinator:
Bowlmor AMF, the largest owner and operator of bowling centers on earth, is currently hiring
a Construction Process Coordinator to support the Development department. The
Construction Process Coordinator is responsible for tracking the process of center design
and construction including schedules and timelines. Additionally, the Construction Process
Coordinator will communicate with all relevant departments regarding updates and changes
to each project.
To be considered for the position, the candidate should have the ability to multi-task and
prioritize tasks, excellent written and oral communication skills and a strong attention to
detail and deadlines. They should also be proficient in Microsoft Office Suite, specifically
Excel. Working knowledge of MS Project a plus. The ideal candidate would also have a
working knowledge of Accruent, Expesite or similar web-based project and facilities
management system.
A four-year college degree in construction management, architecture, design, project
management or engineering preferred; applicants with a two year junior/community college
degree may apply.
This position will be based in our New York City Corporate offices conveniently located in
Times Square. We are interested in local candidates only.