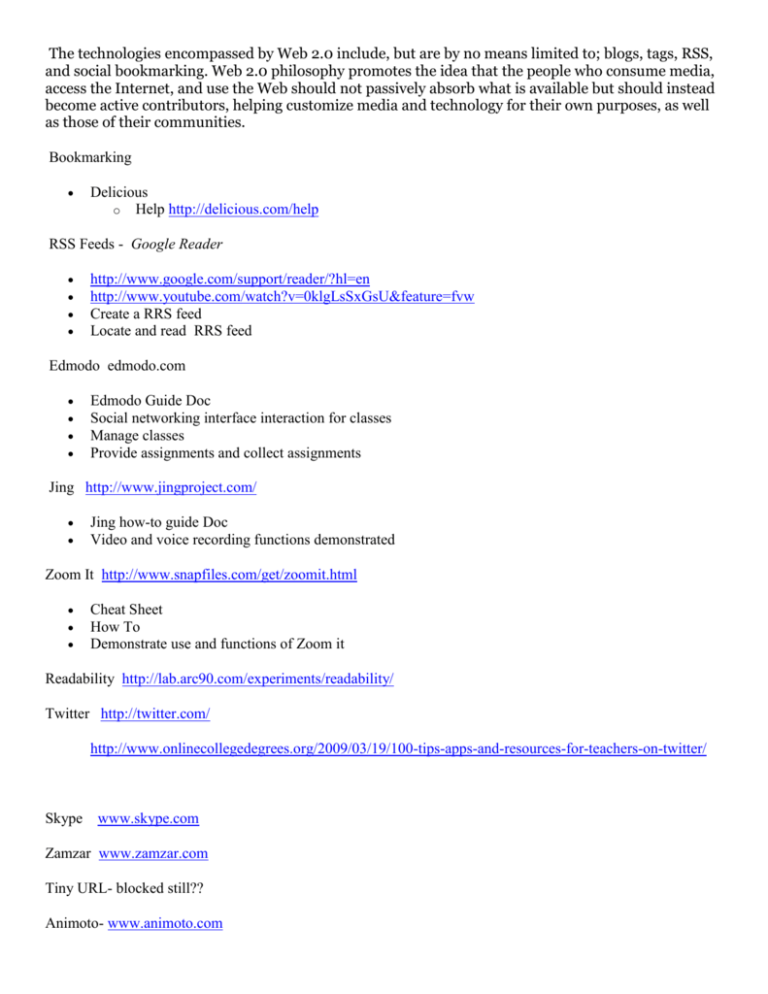 The technologies encompassed by Web 2.0 include, but are by no means limited to; blogs, tags, RSS,
and social bookmarking. Web 2.0 philosophy promotes the idea that the people who consume media,
access the Internet, and use the Web should not passively absorb what is available but should instead
become active contributors, helping customize media and technology for their own purposes, as well
as those of their communities.
Bookmarking

Delicious
o Help http://delicious.com/help
RSS Feeds - Google Reader




http://www.google.com/support/reader/?hl=en
http://www.youtube.com/watch?v=0klgLsSxGsU&feature=fvw
Create a RRS feed
Locate and read RRS feed
Edmodo edmodo.com




Edmodo Guide Doc
Social networking interface interaction for classes
Manage classes
Provide assignments and collect assignments
Jing http://www.jingproject.com/


Jing how-to guide Doc
Video and voice recording functions demonstrated
Zoom It http://www.snapfiles.com/get/zoomit.html



Cheat Sheet
How To
Demonstrate use and functions of Zoom it
Readability http://lab.arc90.com/experiments/readability/
Twitter http://twitter.com/
http://www.onlinecollegedegrees.org/2009/03/19/100-tips-apps-and-resources-for-teachers-on-twitter/
Skype
www.skype.com
Zamzar www.zamzar.com
Tiny URL- blocked still??
Animoto- www.animoto.com
See who is taking the class and maybe add some new stuff?????