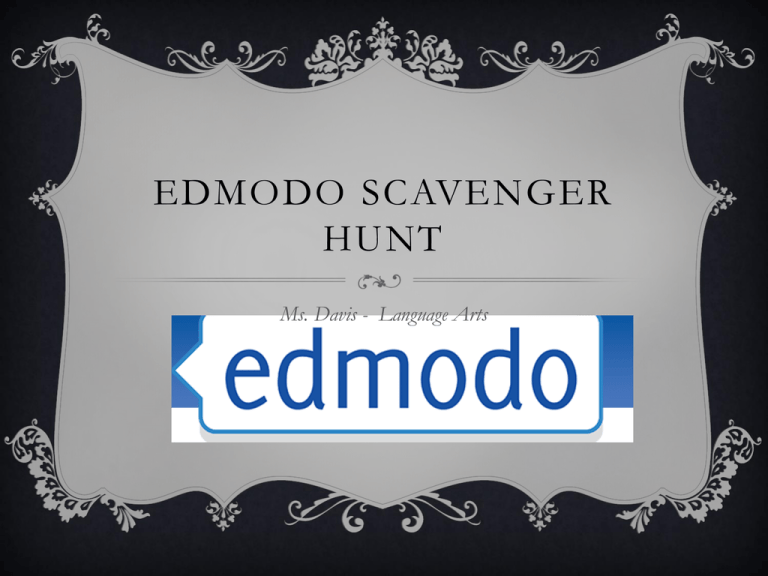 EDMODO SCAVENGER
HUNT
Ms. Davis - Language Arts
INTRODUCTION
 This assignment will introduce you to the features of Edmodo.
 Each step of the scavenger hunt has its own instructions and
assignments.
 Once you have completed all of the instructions in one step, move
on to the next step.
 Since we will be working on this project for two days, this will be
worth 200 points (100 classwork and 100 homework).
10 SCAVENGER HUNT
BADGES
 There are 10 badges that can be
earned by successfully completing
the steps of the scavenger hunt.
Badges are ways to recognize your
accomplishments in my classroom,
and there will be several
opportunities throughout the
school year.
STEP 1 – CREATE ACCOUNT
 Go to
www.phsd144.edmodo.com. Use
this web address every time you
log in to Edmodo. Edmodo may
be accessed from anywhere you
have Internet.
 Click "I AM A
STUDENT".
STEP 1 – CONT'D

Enter in the group code for your class, which is
listed on the whiteboard.

Students new to Edmodo will create a new
account. Come up with a unique username and
password. Write them down in your Language Arts
notebook in the front cover. You may enter an email
if you have one, and your first and last name. Please
be sure to capitalize the first letter of your first and
last name as they are proper nouns.

Students that have had accounts prior need to
see me for that login information. You will login as
usual and join the group for your class period.