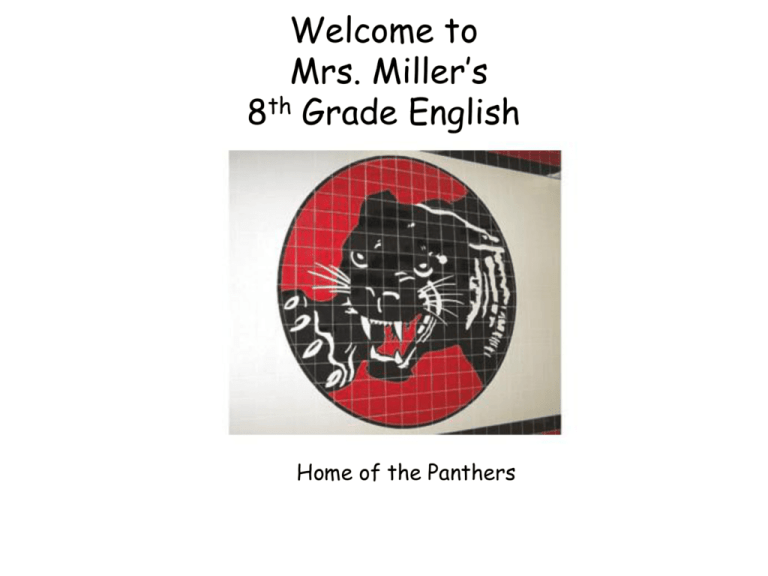 Welcome to
Mrs. Miller's
8th Grade English
Home of the Panthers
Allow me to introduce myself•
•
•
•
•
•
•
I grew up in western New York State
I got my B.A. in English and French
from Houghton College, N.Y.
I taught high school for five years in
California and got my master's
degree in Special Education from
Santa Clara University.
We moved to Oklahoma 19 years
ago.
I was a homemaker for 18 years,
raising a daughter and son.
I was an active Assistant Scoutmaster
in the Boy Scouts for 11 years.
1
9191919
•
•
•
•
I was an active Assistant Scoutmaster
in the Boy Scouts for 11 years.
I have been an member of QSUMC
for 19 years.
I returned to teaching two years ago;
I subbed in the 3 Edmond high
schools in 12-13 and taught 8th grade
here at Cimarron last year.
I am looking forward to a GREAT year
of preparing your sons and
daughters for their transition to high
school and beyond!
What do we do in here
and why?
Course Objectives
1. Enable students to be fluent,
effective communicators and
lifelong learners who have an
understanding of language
and its importance in their
lives.
2. Develop students' language
proficiency to prepare them
for college, career and
citizenship.
3. Go beyond the basics of
literature and grammar to
ensure that students can
successfully solve problems
and think both critically and
creatively in all subject areas
and in real life situations.
The Four Parts of Language Arts
Oklahoma Academic Standards
(OAS)
1.
2.
3.
4.
Reading
Writing
Language (Grammar and Vocabulary)
Speaking and Listening
***BONUS MATERIAL!***
• Visual Literacy (being able to interpret, analyze, and
evaluate complex visual media)
• Conduct short research projects to answer a question
4 "Modules"
Each module contains:
• An extended novel or text(s)
• 2-3 Short stories or poems
• 1-2 Informational texts (nonfiction)
• 1 Research project
• Writing (routine writing; 4-6 literary analyses
which argue, inform or explain; and 1
narrative writing assignment)
Semester One
Module A
Theme: Outsiders and Misfits
Essential Question: How can
we bridge the divisions that
exist between groups of
people?
The Outsiders novel by S.E. Hinton
"Nothing Gold Can Stay" poem by Robert Frost
"Us and Them" essay by David Sedaris
"Going Where I'm Coming From" memoir by Naomi
Shihab Nye
"Great Rat Hunt" memoir by Lawrence Yep
"Dreams from My Father" autobiography by Barack
Obama
Module B
Theme: Risks Worth Taking
Essential Question: When is a
risk worth taking?
Harriet Tubman: Conductor on the Underground
Railroad by Ann Petry
Narrative of the Life of Frederick Douglas, an
American Slave by Frederick Douglas
"Flowers for Algernon" short story by Daniel Keyes
The Diary of Anne Frank drama by Frances Goodrich
"Through the Tunnel" short story by Doris Lessing
"My First Free Summer" memoir by Julia Alvarez
"One More Person" media clip from Schindler's List
Semester Two
Module C
Theme: Moving Ahead
Essential Question: How do
people carry on after tragic
events?
Chasing Lincoln's Killer nonfiction by James Swanson
"Pandora's Box" myth retold by Louis Untermeyer
" O Captain! My Captain" poem by Walt Whitman
"The Pearl" novel excerpt by John Steinbeck
"The Mysterious Mr. Lincoln" biography by Russell
Freedman
Killing Lincoln documentary film by Bill O'Reilly
Module D
Theme: The Unknown
Essential Question: What
frightens us? How does an author
create suspense?
"Sorry, Right Number" teleplay by Stephen King
"The Hitchhiker" radio play by Lucille Fletcher
"Sorry, Wrong Number" radio play by Lucille Fletcher
"The Elevator" short story by William Sleator
"The Tell-Tale Heart" by Edgar Allen Poe
"The Monkey's Paw" by W.W. Jacobs
"Full Fathom Five" poem by William Shakespeare from
The Tempest
"The Cremation of Sam McGee" by Robert Service
Danse Macabre essay by Stephen King
"The Curious Lives of People Who Feel No Fear" article
by Christie Aschwanden
Let's keep in touch…
1. 726-5523
2ND HOUR PLAN (8:43-9:36am)
2. robin.miller@edmondschools.net
3. www.edmondschools.net/cimarron/
TEAMS/Yale/R Miller-English
4. Edmodo.com
Pinnacle Internet Viewer
• Blank space = I haven't entered a grade yet
• X= your student was excused from this
assignment; it does not affect his/her grade
• Z= I never received this assignment from your
student; time to find out why and get rid of
this zero
Grade Monitoring
• Please track your student's grades in P.I.V.!
• I print out reports every weekend and highlight
missing or redo assignments (below 70%)
• I pass the report (random organization by student
id number) during class on Monday and post on
the back wall for the week.
• Not doing work is NOT an option. ASA every
Tuesday and Thursday until 4:30pm. Bus home
provided.
EDMODO
• Edmodo is a free and secure social learning
network for teachers, students and schools.
• It provides a safe and easy way for us to
connect, share content and access homework
and school notices.
• Only my students and their parents with our
(class) group code can access it, and I will be
monitoring all communication.
Parent Accounts
You will be able to• Send messages to your student and me, either
together or individually
• View/print homework assignments and due
dates
• Receive updates on class and school events
To join EDMODO
• Go to Edmodo.com
• Select Parent Signup
• Type the parent password (found in the lower
left corner of your student's Edmodo page)
• Create a username and password
• Select Sign Up.
Save those little rings on top of your cans and send them
into your youth's Cimarron homeroom!
PULL TABS PROGRAM
to benefit
Ronald McDonald House
Charities
of Oklahoma City
PTO is accepting your donations TONIGHT
at their table in front of the library. I think
there are even FREE COOKIES!!!