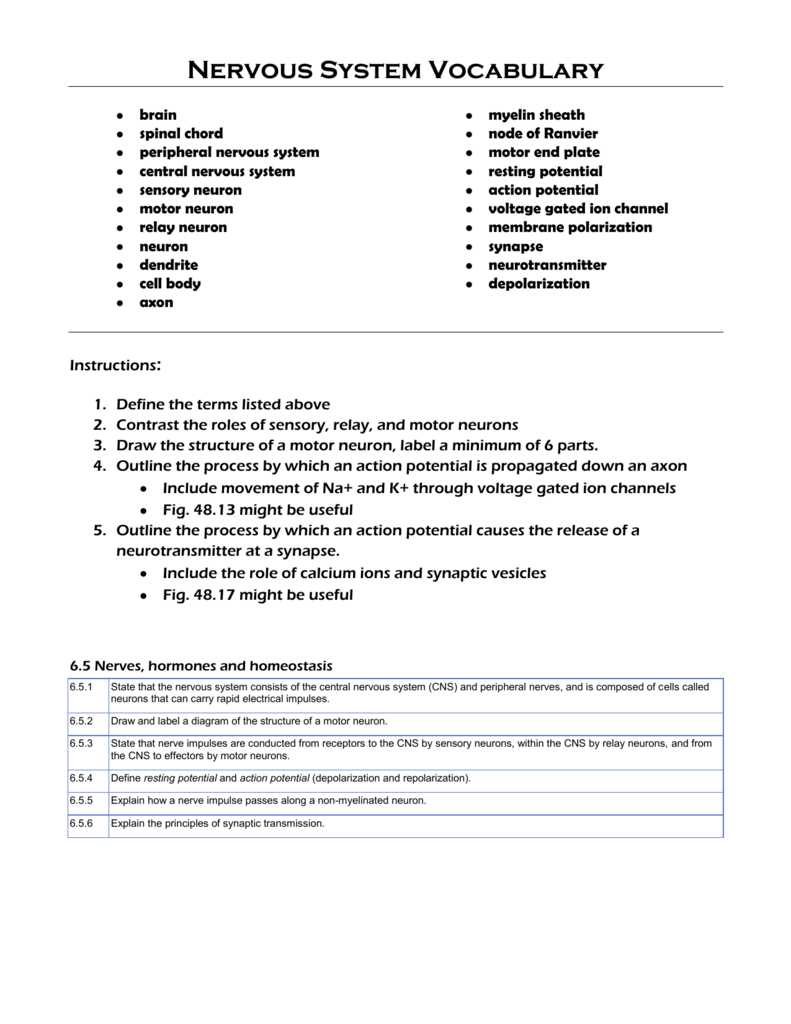 Nervous System Vocabulary
brain
spinal chord
peripheral nervous system
central nervous system
sensory neuron
motor neuron
relay neuron
neuron
dendrite
cell body
axon
myelin sheath
node of Ranvier
motor end plate
resting potential
action potential
voltage gated ion channel
membrane polarization
synapse
neurotransmitter
depolarization
Instructions:
1.
2.
3.
4.
Define the terms listed above
Contrast the roles of sensory, relay, and motor neurons
Draw the structure of a motor neuron, label a minimum of 6 parts.
Outline the process by which an action potential is propagated down an axon
Include movement of Na+ and K+ through voltage gated ion channels
Fig. 48.13 might be useful
5. Outline the process by which an action potential causes the release of a
neurotransmitter at a synapse.
Include the role of calcium ions and synaptic vesicles
Fig. 48.17 might be useful
6.5 Nerves, hormones and homeostasis
6.5.1
State that the nervous system consists of the central nervous system (CNS) and peripheral nerves, and is composed of cells called
neurons that can carry rapid electrical impulses.
6.5.2
Draw and label a diagram of the structure of a motor neuron.
6.5.3
State that nerve impulses are conducted from receptors to the CNS by sensory neurons, within the CNS by relay neurons, and from
the CNS to effectors by motor neurons.
6.5.4
Define resting potential and action potential (depolarization and repolarization).
6.5.5
Explain how a nerve impulse passes along a non-myelinated neuron.
6.5.6
Explain the principles of synaptic transmission.