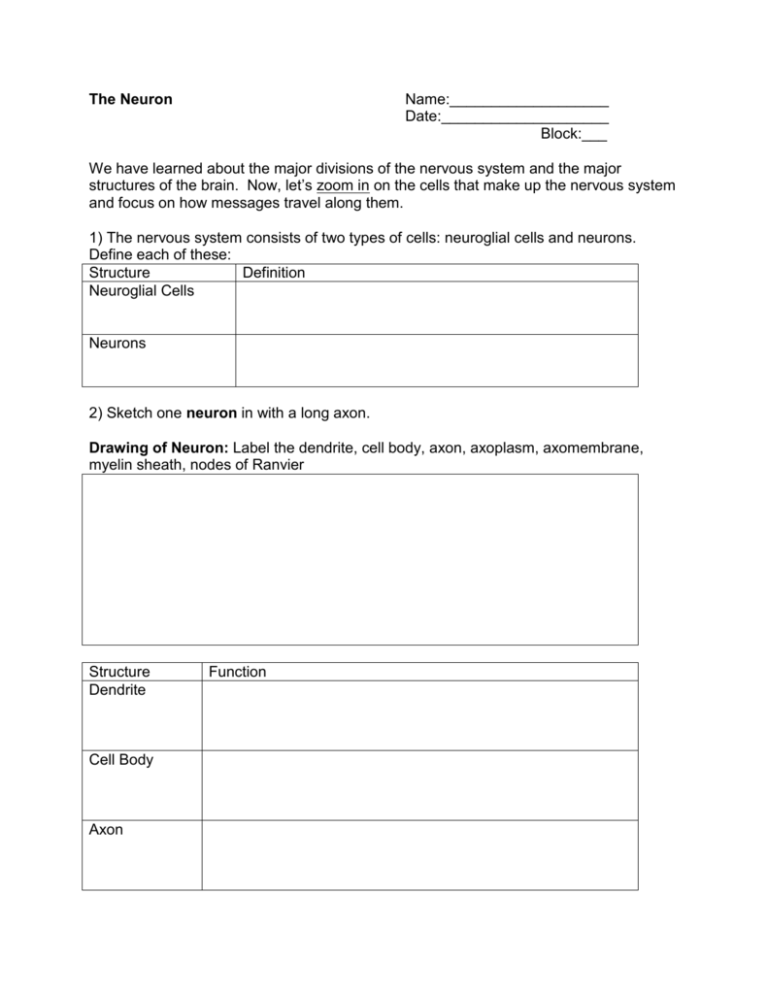 The Neuron
Name:___________________
Date:____________________
Block:___
We have learned about the major divisions of the nervous system and the major
structures of the brain. Now, let's zoom in on the cells that make up the nervous system
and focus on how messages travel along them.
1) The nervous system consists of two types of cells: neuroglial cells and neurons.
Define each of these:
Structure
Definition
Neuroglial Cells
Neurons
2) Sketch one neuron in with a long axon.
Drawing of Neuron: Label the dendrite, cell body, axon, axoplasm, axomembrane,
myelin sheath, nodes of Ranvier
Structure
Dendrite
Cell Body
Axon
Function
3) There are three main classes of neurons that we need to know. They are sensory
neurons, interneurons, and motor neurons. Distinguish between these with respect
to structure and function in the chart below:
Sensory Neuron
Interneuron
Motor Neuron
Structure:
Dendrite –
Cell Body –
Axon –
Function
4) Sketch a drawing that includes all three types of neurons and their arrangement.
Label the dendrite, cell body, and axon, in each type respectively. Use Figure 17.2 as a
model.