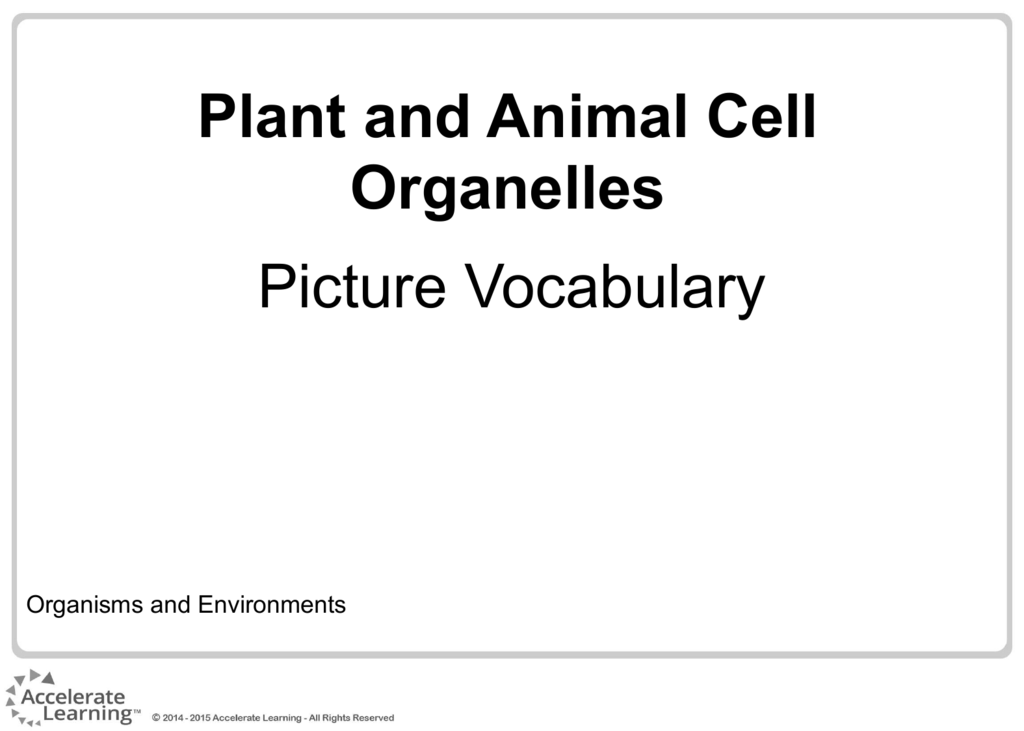 Plant and Animal Cell
Organelles
Picture Vocabulary
Organisms and Environments
Organelle
A 3D
illustration of
an animal cell
cross section
A specialized part of a cell that has a
specific function.
Cell Membrane
Cell Membrane
The thin tissue that forms the outer surface of
the cytoplasm of a cell and regulates the
passage of materials in and out of the cell.
Nucleus
Cell Nucleus
The organelle found in eukaryotic cells that
contains genetic material responsible for
controlling the activities of the cell.
Cytoplasm
Cytoplasm
The jellylike material that makes up much
of a cell inside the cell membrane and, in
eukaryotic cells, surrounds the nucleus.
Mitochondrion
An organelle in the cytoplasm of eukaryotic cells
that functions in energy production, the power
factory of the cell.
Vacuole
Vacuole
The organelle that stores water and food in both
plant and animal cells.
Chloroplast
Chloroplast
The green organelle in plant cells that converts
light energy into chemical energy.
Cell Wall
Cell Wall
Surrounds the cell membrane of a plant to give
structure and protection to the cell.